A Family Friendly Thanksgiving Craft
Keep the kids busy with this easy Thanksgiving project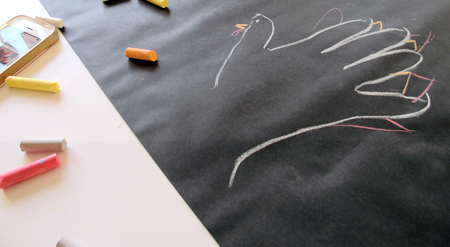 Preparing for holiday meals with children can be a bit of a puzzle, but it doesn't need to be difficult! One thing to keep in mind is that busy hands and minds means more time for you to prepare a feast—and the more hands-on projects you have for them to do, the longer kids will be entertained as dinner is prepared. For indoor play, I suggest having a drawing project, a kinesthetic project (something like playdough), and a board game or two for older children.
For this drawing project, I purchased chalk paper which can be found at craft supply stores or your local Target. I asked my kids to make turkeys with their hands and decorate it with their choice of chalk colors. We talked about what we were thankful for and made a list on the paper. The paper wipes off easily with a damp paper towel. Because the chalk can be a little messy, this project would be a good candidate for a back porch or quiet part of the kitchen.
Craft projects are a fun way to pass time (without the aid of TV shows or tablets), and before they know it, Thanksgiving dinner will be ready! When the craft paper turkeys are complete they can be cut into placemats for the kids table or hung on the refrigerator. If you choose to make them a keepsake, spray with a clear fixative.