A Farm, a Dinner, and a Story
What happens when you bring together a hunky evangelist for eating local, an old bus, piglets, a farm, and 100 new friends? An evening to remember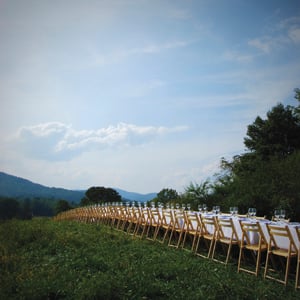 When you log on to the Web site for Outstanding in the Field, you'll fall in love with a single, pristine photo of a long, winding, cloth-covered farm table that meanders up and down green, rolling pastures like a centipede in a flowing habit.
My friend Page discovered Outstanding in the Field (OITF), a traveling farm-to-table road show that crisscrosses the country showcasing the unappreciated art of family farming and its tremendous gifts. The idea is that instead of taking a farmer's bounty to a restaurant, patrons go to the bounty. So OITF takes you to a farm, where you dine al fresco with the farmers and folks who grew, prepared, and harvested the food on your plate. Now this is interesting, as Page and I are not outdoorsy gals (i.e., you will not find us poring over the selection of down parkas in the L. L. Bean catalog). Page hates the heat. I have a freakishly heightened sense of smell (which doesn't serve me well in rural venues). Page travels extensively, and her locales of choice are most often metro. I like wearing cute shoes — no lug soles, if you please. If asked to choose between a hike in the mountains or lunch at our favorite bistro, Page and I would be arguing over who gets to ride shotgun on our way to Lulu. So what draws city girls to the country? Or, rather, what draws nine of us from the Queen City to a small farm in Fairview, North Carolina?
Well, certainly the food, which is all local, sustainable, and in season. And the wine, sourced from a small, organic boutique vineyard in France. And of course, the company of the people we knew and the folks we didn't (all 100-plus of them). But I would guess that if Page and I had to pick the most compelling draw of all, it is this:
Everyone loves a good story. And Jim Denevan tells a great story.
Jim Denevan is A hunk. Forget the fact that he hadn't showered in days and was riper than the cows trolling in the pasture. He's tall, tanned, and wears a cowboy hat. His Elvis Costello specs give him a hip, professorial look. He walks the farm and the length of the table (and it's a very long table, remember) with confident and lengthy strides. He is very interested in your experience. He is equally interested in sharing his. We were smitten.
Jim Denevan is a chef. His brother, Bill, is a farmer. They grew up in California, the hotbed of organic farming and culinary adventure. Jim saw his brother (and sometimes joined him) busting it twenty hours a day on his Santa Cruz farm to get high-quality, locally grown food to restaurants. Jim felt compelled to share this story — he knew that diners (really, folks like you and me and Page) needed to know more about their food and their food sources.
Since then, Jim has been a passionate advocate for the farmer, searching for ways to bring farmers and diners together. At first, it was farmer dinners at his restaurant in California. It was good, but not enough. There wasn't enough of the earthy, real-world experience when he brought farmers to the restaurant. So he decided to bring diners to the farm.
Outstanding in the Field was born. The event in Asheville, the first OITF dinner in North Carolina, was the 163rd dinner hosted by Jim and his small band of traveling disciples who traverse the country in a (no kidding) 1962 GM bus. Jim's "at-the-source" dinners were basic and ground breaking at the same time. His philosophy is simple — eat local food from farms that raise animals and grow produce in a humane and sustainable manner and appreciate the integrity of the experience.
For the Asheville dinner, Denevan partnered with Jamie Agers (a farmer) and Jacob Sessoms (a chef), which is how Napa Valley and Swannanoa Valley came to meet.
Warren Wilson College sits in a swell of the Swannanoa Valley, just outside Asheville. It has always been a different gig. Sure, it's an accredited four-year college that's been around for more than a century, but it's also a working farm replete with a meditation hut and a dean of work. At Warren Wilson, all students work to keep the college and the farm running. I grew up in Asheville and I knew that students who attended Warren Wilson were not choosing the traditional collegiate experience. Milking cows at 5 in the morning is a far cry from hangovers and fraternity parties. In other words, Warren Wilson was doing the local, organic, farming, sustainability thing long before it was übercool (or even remotely cool, for that matter).
That's where Jamie Ager and Jacob Sessoms met each other and their wives. After they graduated, Jamie decided to help run Hickory Nut Gap Farm, his family farm in nearby Fairview. Jacob gave up a career as an electrical contractor to get a graduate degree from the French Culinary Institute, and he worked at restaurants in New York City. He and his wife returned to Asheville and eventually opened Table, a little restaurant with big ambitions.
Fast forward nearly a decade and here they are, together again, along with the groovy apostle from California — and Page and me! And the other guests lucky enough to get themselves to Hickory Nut Gap Farm on this perfect day in September.
The reality of life on a farm is a bit like the reality of marriage — despite all the wonderful and noble traits of both, there are still some stinky elements. In the case of Hickory Nut Gap Farm, it was the pigs. The piglets were adorable, but stinky. The horses were majestic, but still stinky (not as stinky as the pigs, of course). The farm wasn't photo ready, rather it was real-life ready. Equipment was on standby, engines still warm from use.
And the Agers? Well, they were the real deal, too. Jamie spoke of the Ph balance of cows, how in 1916 his great-grandfather relocated from a wealthy Chicago suburb to this lovely acreage in Western North Carolina, why he and his wife decided to move into the house in which his father was raised to try to run a farm. It was a great story. (Well, the discussion regarding the Ph balance of cows lost us a bit …)
Jamie's wife, Amy, soldiered through the evening forty weeks pregnant, with her sun-kissed cheeks shining, happy at the notion, I think, of sharing this special place where she is raising her three boys. I chose to interpret her vibe as "It's wonderful here, a wonderful way of life. What took you so long to get here?"
Page and I got here as fast we could, Amy, I swear.
Page and I aspire to the perfect dinner party, as guests and hostesses.
We want to live Barbara Kingsolver's life in her book Animal Vegetable Miracle without having to visit Amish people or harvest cherries at midnight. Kind of like Ruth Reichl meets Frances Mayes — dreamy, out of focus, and so very earthy and romantic. Therein lies the beauty of something like Outstanding in the Field. It forces us to think about our story.
Every good story includes good food, of course. And the food was terrific. We stomped around and communed with the piglets while snacking on watermelon chunks stuffed with black olives; a buttery, savory monkey bread; and apple slices (one cooked and one raw) layered with locally made goat cheese and rosemary and wrapped with ham. All this served with a French rosé that defied explanation for me. Up until that very moment, every fiber of my being resisted rosé wine (it seemed so very Franzia). We strolled around, meeting other diners and gazing at horses grazing and sunflowers so bright they nearly burned the eyes.
Then, far off, across the pasture, up a winding gravel road, across the swell of a hill, if you squinted and shielded the sun from your eyes, you could almost see it. The centipede in the flowing habit. The beautiful, pristine dining table that told the story of OITF was in our field in Fairview.
So we took a field trip of sorts, walking up the hill, hearing from the Agers along the way, checking out the elaborate outdoor kitchen that Jamie and his team had assembled near the centipede. We watched lean, attractive wait staff scale the hill with supplies to equip a table that looked as if it had been dropped from the heavens (by way of Martha Stewart's house). The dinner was family style — large platters spilling with amazing food and a different wine for each course spilling into our glass.
Rabbit pâté with pickled watermelon, pear mostarda, large hunks of freshly made bread, and four-spice butter.
Fresh baby arugula with yellow and red tomatoes sliced big and chunky, lamb and beef tongue, and fresh salsa verde.
Warren Wilson pig stuffed with Hickory Nut sausage, tomato and potato boulangere, and cured fennel.
Sure, there is a pork theme here, but we're eating on a pig farm, no?
We ate, tasted, tried some things for the first time, rediscovered tastes and textures, drank wine (lots of wine) and met each other. And the sun set over the Blue Ridge Mountains and the beautiful centipede in the white habit grew dim in the twilight. More wine was poured and guests shared their tales — why this story made them come to Fairview to create a new one. Votives were lit and scattered down the table. Other area farmers made their way down the table, meeting guests, answering questions, and, of course, sharing their stories. Dessert was served by candlelight: cornmeal cake with sorghum cream and wood-roasted figs and plums.
I'm not sure how Jim Denevan wants each Outstanding in the Field evening to end, and I would imagine every farm, every chef, every evening is different. But if his goal is to make diners think about and appreciate how local, sustainable food gets to our table, it was a great story.
Charla Muller is a Charlotte writer and author of 365 Nights: A Memoir of Intimacy. She is at work on her second book.