A "Foreign" Concept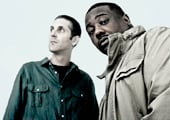 Geezers like me just can't believe what the interweb makes possible. Including this: A band whose two members recorded an album entirely online. Without ever meeting in person.
Rapper/singer/songwriter Phonte (a Raleigh, N.C. native) and producer Nicolay "met" via the online hip-hop community okayplayer.com in 2002. After trading files over the web for more than a year, Nicolay (living in his native Holland) and Phonte formed Foreign Exchange and completed their debut album while living on different continents. The 2004 album, Connected, contains an inventive mix of hip-hop, R&B, and electronica.
They met in person, and apparently got on well enough to record a second album, Leave It All Behind (2008) and go on tour. The duo earned a Grammy nom ("Best Urban Alternative Performance") for the album's first single, "Daykeeper." They're touring to support their latest CD, Authenticity. Check out the video for its first single, "Maybe She'll Dream of Me."
The modern-day pen pals will be at the Neighborhood Theatre on Saturday, Sept 10. They sound as if they've been making music together — like, in the same room — for years. Details here.