A Former Pro Chef Enters Bojangles' New 'Biscuit Theater'
On making biscuits, and other lessons from the brand's latest area location at Waverly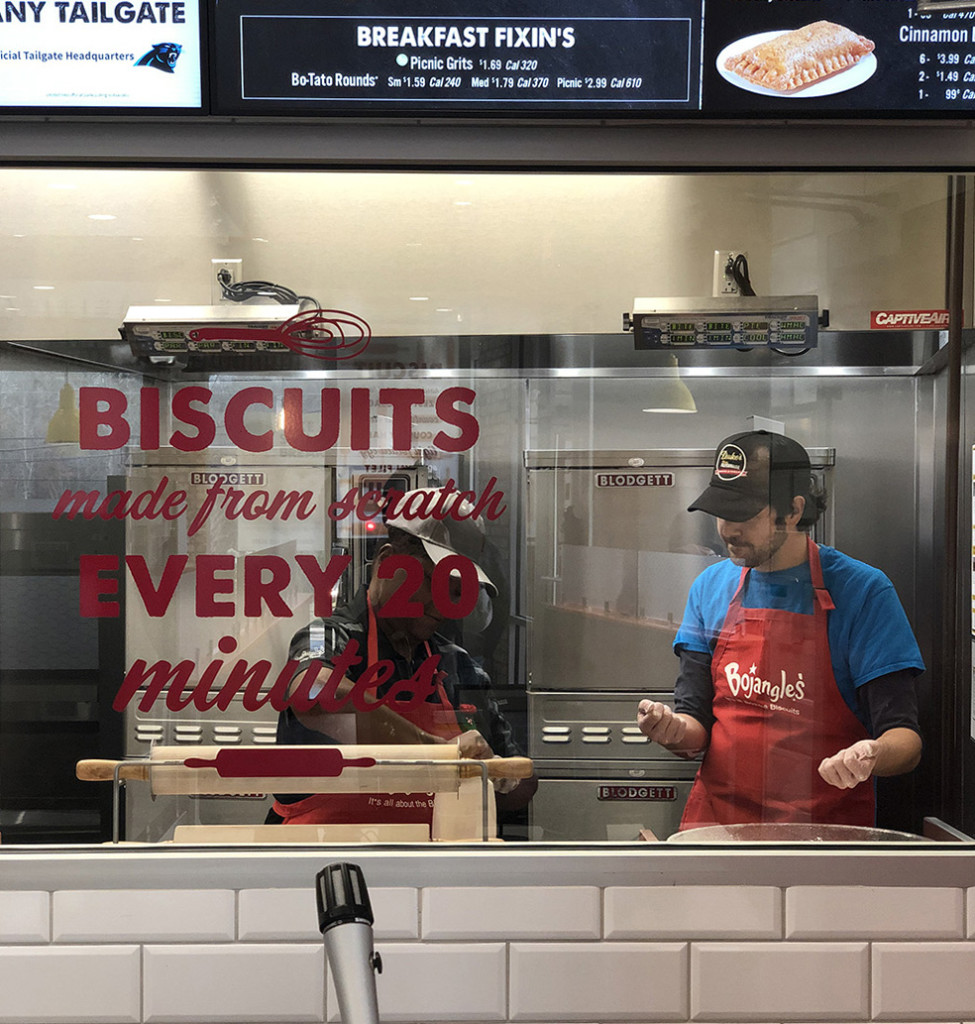 THE GOAL, Kimberly Bradham reminds me, is "a hot, fresh Bojangles' biscuit." But on this chilly December morning, I just don't want to screw them up.
Bradham is a corporate biscuit trainer, who travels to store openings, like the new Waverly location. Stepping into Bojangles' shiny, new restaurant, I feel as I did on that first day in culinary school—unsure of my skills and myself—in my mind, exploring all the embarrassing possibilities that may arise in the kitchen. Surely my biscuits won't make the cut, I think. I'll be asked to leave my red apron and dignity at the door.
Not that I haven't made biscuits before—I've made plenty. In fact, I pride myself on several recipes, particularly an egg-shaped drop version I've made in the hundreds for hangry brunch guests during my time as a chef in Asheville.
But these are Bojangles' biscuits, y'all. Any Southerner worth his or her weight in seasoning salt knows the comfort of a well-made Bojangles' biscuit. I learned at an early age. A white paper bag was a regular Saturday morning sight on our kitchen counter—greeting my sleepy eyes with the promise of familiar comfort. Inside, my warm, buttery biscuit lay wrapped on the bottom, next to my father's empty wrapper and flattened grape jelly packet.
Kimberly didn't make those biscuits of my childhood. But as a Bojangles' Centralized Training Manager, it's her job to ensure that each one reaches the standards set by the company, and by your favorite biscuit memories. She travels to store openings, educating staff on the 48-step process that results in a perfect Bojangles' biscuit.
And the steps matter.
Shortening pieces are too large? "That makes craters in your biscuit," says Kimberly.
Tough, hard biscuit? "Overworking the dough—you have to be very gentle with it."
All the biscuits are perfect but made longer than twenty minutes ago? Toss them. Start fresh.
Kimberly admits, "One of the good things about being in the training department—you can walk past and look at the biscuits. After a while, you can say, let me tell you what step you skipped."
She talks about pride in biscuits: "It's part of our culture. That is what I love about Bojangles'. We coach. We teach. We encourage. We show, we demonstrate. Because most people want to learn to do it right. That's our culture."
She describes the company as a "nurturing brand." When Bradham was diagnosed with breast cancer almost four years ago, she says company leaders remained close and checked in throughout her treatment. "I don't think I could leave the brand. That's how well they treated me. I felt like a CEO—because they made me feel important—that what I was going through was important to them. It would have been okay if they hadn't because it's a business. But they cared."
Topped with a Panthers hat, a tall man in his thirties waves, smiling through the glass separating the dining room from the kitchen. Kimberly smiles right back. "That's one of my trainees."
The glass is a part of Bojangles' new 'Biscuit Theater,' where customers will be able to witness buttermilk biscuits being made from scratch every 20 minutes by a certified Bojangles' Biscuit Maker like Kimberly. The same branding campaign has upfitted two other North Carolina locations—one in Boone and one in Wadesboro—along with the new building in the burgeoning Waverly area just off Providence Road and I-485.
Other enhancements include an updated food display area, a modern, open seating plan perfect for small and large groups alike, free Wi-Fi and more. Customers will also notice a striking piece of metal artwork of the Charlotte skyline visible on the drive-thru side of the building, a nod to the brand's 40-plus year history in the Queen City.
Bojangles' will open its newest restaurant at 6308 Providence Farm Ln. on Thursday. It's Kimberly's job to ensure your biscuit deserves the title of "World Famous" even after she passes the responsibility along to the new thirty-five-member restaurant team. Despite being on the road, traveling to store openings like the one in Waverly, Kimberly's family is still there for her when she needs them.
"I had to go get a mammogram," she says. "And hating to go. And one of the people in my department said, 'Set the date and you, and I will go get one together.' How awesome is that? That's what we are. We're a family."
As for my biscuits, eleven of fifteen made the cut. I sent a photo to my father who claimed they looked almost as good as his mother's—but he's being generous. I guess that's what family is there for, no matter how you define yours.