A Fresh Take on Teen Angst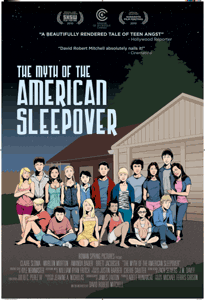 In the tradition of cinematic tributes to teens on the brink of adulthood, The Myth of the American Sleepover follows a group of teens on the last night of summer. They cross paths as they explore their suburban milieu in search of love and adventure. The movie has been compared to Dazed & Confused, but it has its own, original take on the old coming-of-age story. Myth was an official selection of Cannes Critics Week and won a Special Jury Prize at SXSW. Its cast — all newcomers — has been heralded as uniformly terrific.
Writer/director David Robert Mitchell's film credits include the shorts Flashbulb Kiss, Fourth of July and Virgin, which was an official selection in more than twelve festivals, including the Los Angeles Short Film Festival, the Philadelphia International Film Festival, and the Fort Lauderdale Film Festival, where it was awarded first place in the Florida Shorts category.
It's part of Light Factory's First Run Film Series. Sept 8 – 10 at 7:30 p.m. at Hodges Taylor. Details and trailer.