A Gallery Grows in South End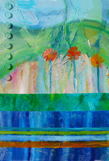 With recent news of some of Charlotte's best art galleries closing (I miss Green Rice*), it's nice to hear about one that's expanding.
When it opened in 2008, Ciel Gallery + Mosaic Studio became the first gallery in the country to dedicate itself to the exhibition of mosaic art. Three years later, the concept has obviously caught on. The gallery is growing.
The new location opens Sept 1 on East Park Ave. in South End and includes more than twice the exhibition space, a classroom with space for more than twenty-five students, and studio space. Ciel has exhibitions, offers classes and open studio time, and is committed to creating art in the community. Learn more here.
While Green Rice's funky space in NoDa has closed, the gallery still has a web presence.