A Governor, an Attorney General, and a Transgender Kid
Breaking down Pat McCrory's seemingly out-of-the-blue request of his gubernatorial opponent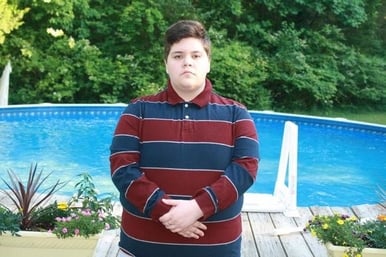 Late Saturday afternoon, Governor Pat McCrory's office issued a release and social media posts that warned of a grave impending danger. Here's what the office posted on the governor's Facebook page:
I asked Attorney General Roy Cooper to stop the federal government from taking over our schools, and challenge the ACLU and President Obama's attempt to force local districts to open sex-specific locker rooms and bathrooms to individuals of the opposite biological sex.
The Obama Administration has already informed school authorities in North Carolina and around the country of this directive, and is threatening resistant schools with legal action and loss of federal funding.
This federal overreach is unacceptable and must be stopped.
Where the heck did this come from?
The root of it is a pending federal civil rights case that involves a 16-year-old transgender boy and high school junior named Gavin Grimm. Last year, Gavin sued his school district in Gloucester County, Virginia, after the school board prohibited him from using the boys' bathroom at Gloucester High School.
But what's vaulted the case into a matter of national import is the continuing war over The Restroom Thing—a fight over recognition of transgender people as worthy of the same basic rights as the rest of us, which flared up in Charlotte in March and will soon again. What's pushed it onto McCrory's must-address list is its potential as a wedge issue in the governor's race.
First, the case, G.G. v. Gloucester County Public School Board: Last April, a psychologist diagnosed Gavin, then a freshman and female, with gender dysphoria and started her on treatment to begin the transition to male. Gavin legally changed her name, switched the gender on her driver's license, began using the men's room when not at school, and started hormone treatments. (This is the point at which I'll also start using male pronouns.)
At the start of his sophomore year, 2014-15, Gavin and his mother, Dierdre, told high school officials about the gender transition and name change.
Although G.G. initially agreed to use a separate restroom in the nurse's office, he soon found this option stigmatizing and inconvenient, as well as unnecessary, as his teachers and peers generally respected that he is a boy. Accordingly, upon G.G.'s request, the school permitted him to begin using the boys' restrooms, which he did for seven weeks without incident.
In November 2014, however, some adults in the community learned that G.G. was using the boys' restroom and demanded that the Gloucester County School Board (GCSB) bar him from doing so. On December 9, 2014, after two public meetings, GCSB enacted a policy limiting students to restrooms corresponding to their "biological genders" and requiring students with "gender identity issues" to use "an alternative appropriate private facility."
The next day, G.G.'s principal informed him that, due to GCSB's new policy, he could no longer use the boys' restroom and would be disciplined if he attempted to do so.
The ACLU of Virginia sued on Gavin's behalf in June, saying the school board violated the Constitution's Equal Protection Clause and Title IX, the 1972 federal law that prohibits schools that receive federal funding from discriminating on the basis of sex. The federal district court dismissed the Title IX claim in July. The case is now pending in the 4th U.S. Circuit Court of Appeals in Richmond, which—key point here—has jurisdiction over both Carolinas.
The factual summary quoted above comes from one of five amicus, or friend-of-the-court, briefs filed on Gavin's behalf on October 28, specifically the one from—another key point—the U.S. Justice Department. The crux of the government's case is that preventing Gavin from using the boys' room constitutes discrimination under Title IX: "Treating a student adversely because the sex assigned to him at birth does not match his gender identity is literally discrimination 'on the basis of sex.'"
That explains the basis of the language about "federal takeover of our schools," "the ACLU and President Obama's attempt to force local districts to open sex-specific locker rooms and bathrooms to individuals of the opposite biological sex," and "threatening resistant schools with legal action and loss of federal funding."
The source is another matter, one I've written about before: Alliance Defending Freedom, an Arizona-based advocacy nonprofit that's providing legal and financial resources across the nation to organizations that want to keep transgender people out of the public restrooms of their choice. (The ADF prepared a legal memo this year for Don't Do It Charlotte, the group that opposed transgender-friendly changes to Charlotte's nondiscrimination ordinance.)
The ADF has assured the Gloucester County school board that, as it often does in these cases, it would represent the board for free in any litigation. The group argues that the board has every right to prevent Gavin from using the boys' room, and its legal rationale has an ingenious elegance: In essence, it refuses to acknowledge the idea of "transgender."
"No court has ever interpreted Title IX as requiring schools to give students access to opposite-sex restrooms and changing areas," an ADF attorney wrote the school board a year ago. In other words, there is no such creature as a "transgender boy" or "transgender girl." A transgender boy is a girl, and vice versa, and Title IX doesn't mean girls get to use the boys' room.
McCrory's full letter to Cooper on Saturday echoes ADF's reasoning. Specifically, it asks Cooper, as attorney general, to join the South Carolina Attorney General's Office by Wednesday in its amicus brief in support of the Gloucester County school board. "A decision favoring the Obama Administration in the Fourth Circuit … would remove local districts' flexibility and force the federal government's extreme views on all of our schools," McCrory wrote. If Cooper sides with the ACLU and Justice Department, "I will sign on in my capacity as Governor of North Carolina to protect the autonomy of our local school districts."
There it is: instant campaign issue. No one in politics can possibly ignore the heat generated this month by voters' rejection of the proposed Houston Equal Rights Ordinance, a ballot referendum made necessary by the Texas Supreme Court's strikedown of the same kind of ordinance changes that failed before the Charlotte City Council in March. In Houston, as in Charlotte, the opposition zeroed in on imagined perversions in the stalls. "No men in women's bathrooms," was the primary campaign slogan for opponents, who won with 61 percent of the vote.
So a year before the gubernatorial election, McCrory's letter forced Cooper, his Democratic opponent, to make a highly uncomfortable choice: Risk alienating a large chunk of his left-leaning base yearning for a meaningful alternative to McCrory; or open himself up to heaven knows how many attack ads, funded by heaven knows which Super PACs and 501(c)(4)s, painting him as an enabler of amorality in public bathrooms and, worse, an Obama sacking of North Carolina public schools.
On Monday, Cooper announced his decision through a spokeswoman—his office wouldn't be joining the South Carolina brief. Line drawn. Said campaign spokesman Jamal Little: "Last week Governor McCrory was raising money off people fleeing terror but skipped out on an important security briefing. This week, he's found another group to politicize. Adolescence is hard enough without being bullied by an elected official."