A Growing Goal
At Carolinas Medical Center, a new limb-lengthening program brings innovative surgical care to the Charlotte region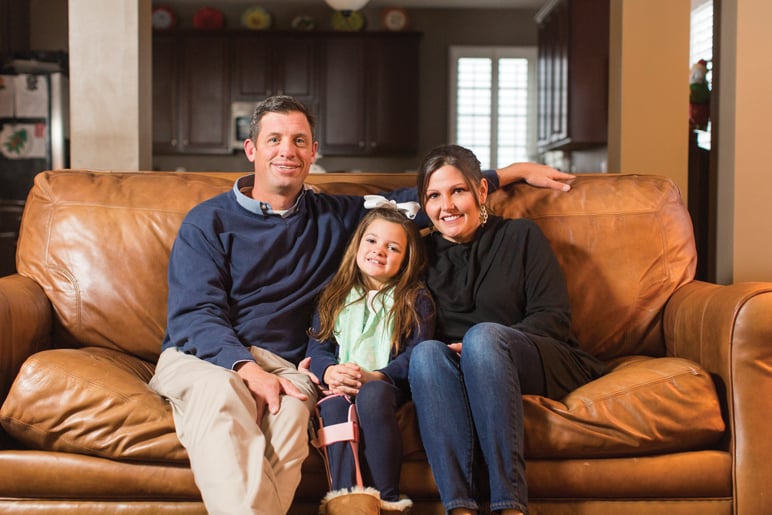 SADIE ABSHER LOVED her fuzzy, brown UGG boots. They were hip and stylish. But the extra piece of rubber on the bottom right sole was clunky and awkward. It made Sadie self-conscious. It looked odd and threw her posture off-kilter.
Sadie needed the extra inch and three-quarters to compensate for a deformity in her right femur. Without the boost, Sadie leaned badly to one side, bending at the hips and waist.
"Not the most appealing thing for a little girl who's super fashionable," says Jessica Absher, Sadie's mother.
Sadie's struggle started in 2009 when she was 3 1/2. She developed a cold and high-grade fever. Her parents took her to the emergency room, and Sadie's condition deteriorated.
"Within four hours, she became paralyzed from the waist down," Jessica says.
The doctors first thought Sadie contracted meningitis. But they determined she had a condition called transverse myelitis, which attacks the central nervous system and causes inflammation around the spinal cord. The doctors were stumped, Jessica says. Transverse myelitis, a rare inflammatory disease, affects roughly one in 5 million people.
"'Where are we going from here?'" Jessica remembers asking. "'What is this?' It was very scary to think no one really knew what was truly wrong with her and why this happened to a normal, healthy child."
After four weeks of physical therapy, Sadie regained most of the function in her left leg. But the damage to her right leg was more severe. As she grew taller, the right femur would not be able to keep up. The doctors sent the Abshers home to a new reality. "You're discharged from the hospital, and you come home, and you have no idea how this happened," Jessica says. "We were being fitted for walkers and wheelchairs and leg braces."
***
DR. JOSEPH HSU is an orthopedic surgeon who specializes in traumatic bone injuries. During the wars in Iraq and Afghanistan, he treated dozens of service members with combat wounds that caused severe damage to their limbs.
"We had very complex bone and soft-tissue injuries from the war," Hsu says.
Hsu, who completed his service with the Army as a lieutenant colonel nearly two years ago, gained tremendous experience with limb injuries, specifically those that lead to limb-length discrepancies. He trained at centers in Russia and Italy, where many limb-lengthening techniques were conceived and refined.
When Hsu came to Carolinas HealthCare System in April 2013 following his military service, he teamed up with Dr. Brian Brighton, a pediatric orthopedic surgeon, to start the limb-lengthening unit at Carolinas Medical Center. Hsu's expertise in the field of traumatic injuries complements Brighton's experience with young, growing skeletons. Hsu and Brighton now offer limb-lengthening procedures in Charlotte that once required patients to travel outside the state.
"While the technology exists and the techniques exist, it's not commonly done in the United States," Hsu says. "There are only a handful of surgeons who routinely do these surgeries."
The procedures can be highly technical, requiring a surgeon with specific experience. Limb lengthening is also a niche specialty within a specialty, and there just aren't that many doctors who pick it up as a practice. About a dozen medical centers in the United States routinely perform limb-lengthening surgeries.
Hsu, Brighton, and their team have now performed more than a dozen limb-lengthening or deformity-correction surgeries in Charlotte. About half of the procedures involved correcting traumatic injuries, while the other half dealt with conditions caused by bone infections and diseases, such as Sadie's.
Depending on the patient's situation, an orthopedic surgeon has several options. In what surgeons consider a simple case, they insert pins, rods, and plates known as internal fixation. More complicated procedures require embedding pins and wires in the bone and attaching them to metal rings outside the body known as external fixation. In some of the most extreme cases, Hsu will cut out the bad bone and tissue, shorten the bone, and slightly bend the limb.
"You can close the wound and then you gradually straighten out the limb," Hsu says. "The tissue regenerates, and the skin grows and stretches with it. It's a direct correlation of techniques we used during the war that can be used in [severe] cases back home."
Previously, many of these injuries resulted in amputation. Today, limb-salvage and limb-lengthening surgeries enable many patients to return to what Hsu calls "high-level function," participating in daily tasks, such as running errands, or even ambitious physical activities, such as playing sports. On the website for the Limb Lengthening and Reconstruction Society (llrs.org), the professional organization for surgeons like Hsu and Brighton, patients are seen rock climbing, swimming, and skiing with their external fixators.
"Before, we'd counsel patients and say, 'You're just going to be disabled, and that's just the way that it is,'" Hsu says. "Some of these end goals were not attainable. Now you can get people back to work, back to high-level activity even though they've had a really, really bad injury."
***
SADIE COMPENSATED and excelled in spite of her lopsided legs. She placed fifth in butterfly at a summer league swim meet, beating 40 kids with two good legs of equal length. But the Abshers knew that Sadie would eventually need limb-lengthening surgery. By January 2014, Sadie, who was then 8 years old, reached the point where the rubber piece on her right boot couldn't compensate. She was growing too quickly, and the temporary fix hit its limit.
The Abshers refused to consider limb lengthening with an external fixator. A metal device and wires would sideline Sadie's athletic adventures and would be cumbersome at school.
Luckily for the Abshers, Brighton and Hsu had just launched their limb-lengthening and deformity service at Carolinas Medical Center and were planning to operate on a boy who would receive an internal device that lengthens damaged bones like Sadie's femur. The operation involves a metal rod and screws—items that look better suited for a Lowe's hardware store than an operating room. Magnets inside the rod gradually lengthen the limb as the body grows new bone and tissue.
After consultations with Sadie's other doctors, a meeting with the manufacturer of the metal rod, and a successful report from Brighton and Hsu's first CMC patient, the Abshers thought the internal device was a viable option. The procedure meant at least four more surgeries for their daughter. But it also afforded them the hope to imagine her one day walking unassisted on the pool deck, across the graduation stage, down the wedding aisle. The Abshers decided to give it a shot, as long as Sadie agreed.
"I was scared a little bit that it was going to hurt," Sadie says. Then she quickly adds, in the optimistic way only a child can, "But I was excited it was going to make my leg longer."
When nurses wheeled Sadie into the operating room in August, she became the second child in Charlotte to have this specific limb-lengthening surgery. "We've traveled a lot in the last four years," Jessica says, "and this is the first time we've been able to stay at home for one of Sadie's surgeries."
***
BRIGHTON COMPARES the limb-lengthening procedure to the process for correcting a broken leg. But in this case, the surgeon creates the break and then inserts a rod across it.
Brighton implanted a device in Sadie's leg called the "Precice nail." Over time, it's designed to add four centimeters to Sadie's femur, giving her a permanent boost. The external magnet used in combination with the internal rod is called a "remote control." Jessica describes it as "the size of an iPad but 10 times heavier."
The device is hard, black plastic, with two handles and a couple of brightly colored buttons. For eight weeks after the surgery, Jessica held the remote control over Sadie's thigh for two and a half minutes, three times a day. It makes an awful whirring sound, the mechanical grind of metal turning. The sound is the worst part. The Abshers worried Sadie would feel the magnets turning inside her leg. But the routine was painless.
By the time the Abshers got used to the sound, Sadie's leg had gained 1 3/4 inches. The increase allowed Sadie to ditch the rubber lift on the bottom of her right boot.
She still wears a large brace that runs to the middle of her thigh. She's gradually overcoming the deterioration of her leg muscles, both from her original deformity and the post-surgery downtime, and building up the strength to walk unassisted. She quickly pulls herself through the room on a pair of forearm crutches. Eventually, she'll get rid of those, too.
"A shorter brace and no more crutches and a longer leg," Jessica says. "She's like a new woman."
Within 18 months after the first surgery, Brighton will operate on Sadie again to remove the "Precice nail" from her femur. When she hits puberty, she'll need another surgery to lengthen the tibia, one of the bones in the lower leg, to accommodate for the teenage growth spurt.
The last time the Abshers saw their daughter run, she was a toddler, bobbing along after her older brother. One day soon, they hope to see her break into a sprint. Other changes are less dramatic, but perhaps more important.
"This will help her to stand taller with her peers," Jessica says. "And not just heightwise."
The stylish 9-year-old has already gained confidence.
Adam Rhew is a freelance writer in Charlotte. Reach him via email: adam.rhew@gmail.com or on Twitter: @AdamRhew.
---
Health Care Innovators
The Charlotte medical community is not only committed to high-quality patient care, but also to researching and delivering the latest advances in treatment options.
Smoothing Sleep Patterns
Novant Health offers a new treatment for central sleep apnea called the remedē System by Respicardia. A breathing machine is the most common form of treatment for obstructive sleep apnea, but the machine doesn't work in treating central sleep apnea, a less common form of the disease where the brain does not send signals to the diaphragm telling it to breathe. Central sleep apnea can be particularly dangerous for patients with heart failure because continuous interrupted sleep causes stress on the heart and vascular system. According to Novant Health, one in three patients hospitalized for heart failure also has central sleep apnea. Dr. Kenneth Weeks is screening patients for the remedē device and has successfully completed one patient procedure. The device, similar to a pacemaker, helps improve respiratory rhythm. The doctor implants the device below the collarbone and connects it to the phrenic nerve with a wire. The device helps patients with central sleep apnea maintain a more natural breathing pattern by transmitting the brain's signal that tells the diaphragm to breathe.
A Helping Hand
OrthoCarolina now operates two clinics through its Hand Center. The Congenital Hand Clinic is devoted to infants and children born with genetic differences that result in deformities of the hand and upper extremities. The clinic uses a multidisciplinary approach, including three hand surgeons and a pediatric orthopedist. A pediatric neurologist, a geneticist, and hand therapists also serve as consultants. Cases involve such innovative surgeries as operating on a child born with no thumb and moving the index finger to replace the thumb. The second clinic is the Brachial Plexus Clinic where doctors treat patients with severe nerve injuries due to traumatic events, such as a car crash. The nerve damage often results in a paralyzed arm, which may require surgery to replace the damaged nerves with nerves from the leg or ribs. The clinic is currently treating about 100 patients. Each clinic involves metrics to measure patients' progress. "A growing buzz word is 'evidence-based medicine,'" says Dr. Glenn Gaston, chief hand surgeon at OrthoCarolina who participates in both clinics. "It's no longer acceptable for people to say, 'I do it this way because I was taught this way.' People want evidence. … One of our big initiatives at OrthoCarolina is to provide quality care, and you can't provide quality care without a definition of what is quality."