A Heart Condition Doesn't Stop This Charlottean's Love of Cycling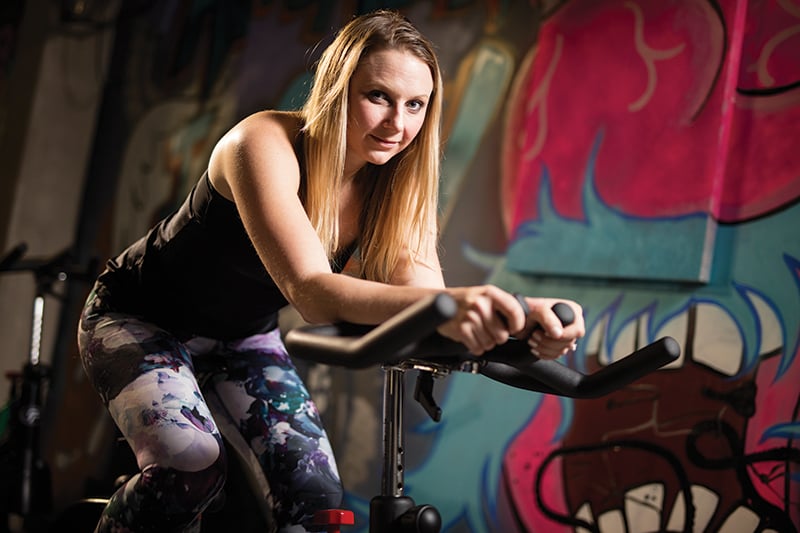 KAREN HILL WALKS through the dozen women riding to tempo at her South End cycling and fitness studio. She's wearing a ripped tank with a white skull, a juxtaposition to her wide smile and encouraging words to the class.
"You have 20 seconds left; do not give up. I want everything you have until we finish," she says, her voice firm as she speaks to her cyclers—myself included. As my legs pedal faster, I wonder if she spoke this same message of motivation to herself on the day, 10 years ago, when she laid panicked in a hospital bed after doctors told her they needed to stop her heart.
Hill grew up in an active household, but preferred to cheer for her All-American athlete brother from the stands. It wasn't that she disliked sports, but spells of dizziness, blackouts, and chest pain made participating a challenge. From the time she was a kid and well into adolescence, her symptoms befuddled professionals. She was diagnosed with sun poisoning, prescribed antidepressants, and even faced skepticism from doctors. It wasn't until Hill was 25 years old that her still-mysterious condition attacked her body unlike it ever had before.
In 2008, Hill was walking through her Dilworth apartment when everything suddenly went black. Her vision was restored in minutes, but brought with it bouts of violent shaking. "I tried to be a strong, independent woman, but I needed help. I called a friend and was like, 'something is not right,'" Hill says.
Within the hour, she was being wheeled into the emergency room at CMC Main with a resting heart rate three times the norm for someone her age and of a healthy weight. A swarm of medical personnel surrounded her, crash cart in tow, prepping to stop her heart—the only way to restore it to a healthy resting heart rate.
That day, she was diagnosed with supraventricular tachycardia due to a congenital heart defect that causes rapid heart rate and, in her case, required surgery as soon as possible. One year after her procedure, she was diagnosed with a completely different medical condition that affected her heart and could be treated only with daily medication.
After her second diagnosis—which made it more difficult for Hill to sustain an active lifestyle—she decided to embrace, rather than hide from, the limitations that had been placed on her. Once her condition was under control, she felt ready to explore activities that she had always sworn off. She took jiu-jitsu classes, worked with a personal trainer, and then started cycling. Spinning was especially exhilarating for her. "I said to my brother, 'Man, we should open a cycling studio,' and a year later, our doors opened," Hill says.
Since First Wind Cycling & Fitness opened in 2015, Hill has been on a mission to build a fierce community of people dedicated to their health, one 50-minute cycling class at a time. Anyone can shout encouragement to cyclers as they reach the peak of a tough workout, but Hill has lived that battle with her own health. "I really feel like I'm on my first wind of life, and I want other people to find that same feeling," she says.
---
IF YOU GO
First Wind Cycling
1930 Camden Rd., Ste. 120
$30 for 30 days unlimited classes
(new clients only)