A History of Lake Norman
Fifty years ago, a river became a lake and woods became water. Ever since, Lake Norman has shaped lives and traffic patterns and even the language of this once-rural region of North Carolina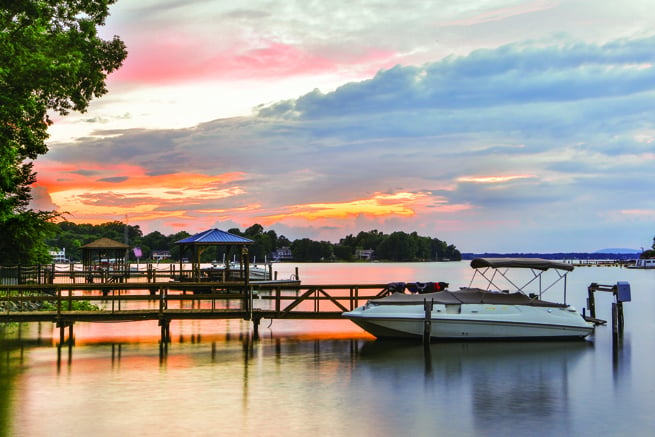 On a weekday afternoon by the lake, a breeze ripples through pine and oak leaves. A rope patters against a metal flagpole. And in the distance, a speedboat sends a faint buzz across the quiet waters.
Dianne Robinson peers across Lake Norman from the backyard of her home in Cornelius. A spacious one-story with high ceilings and more than a couple of thousand square feet, it's still modest by this neighborhood's standards.
"Michael Jordan just bought a place over there," she says in a matter-of-fact tone, the light catching her jewelry as she points around a bend in the cove.
She points again across the water, drawing a line from the brightly colored roofs of boathouses on the water to a spot a few hundred yards offshore. She smiles.
"That's where our farm was."
A mile away, out on Catawba Avenue, it's a different late-afternoon scene. Engines idle. Horns blare. Brakes groan from constant grinding. The traffic here is some of the worst in the Charlotte area. Every afternoon, cars stream out of uptown parking garages and suburban office parks—north from Charlotte, south from Mooresville—and rush onto Interstate 77, which the lake squeezes like a vice down to two lanes around Huntersville. Roads and driving play an outsized role in life here on the Mecklenburg-Iredell County border. This summer, a proposal to widen I-77 with toll lanes is bringing spirited crowds out to meetings of usually obscure transportation boards. In the 1990s, as new subdivisions sprouted so quickly that it became impossible to keep up with their names, the interstate and its exits became shorthand. Natives and newcomers alike developed their own way of talking to keep themselves oriented with the rapidly changing geography.
Where y'all from?
New Jersey, but we're at Exit 28 now.
Ease off the traffic-clogged roads and into one of the countless shopping centers and you're as likely to hear a Long Island clip as a Southern drawl. As Charlotte sprawled outward, folks from around the country streamed into towns around the lake. They came from Ohio and Michigan, leaving fading Rustbelt towns for office jobs in data centers and banks. And from Connecticut and California, escaping bone-chilling winters and overheated housing markets. You can see the growth and change in the bars and bakeries and the Italian market that draws displaced Northeasterners from hours away to get ingredients for Nonna's meatball recipe. Or you can follow the Census Bureau's lead and count the people. Population figures since 1990 show Davidson doubled, Mooresville tripled, Cornelius quintupled, and Huntersville grew sevenfold.
The story of the lake doesn't begin with booming subdivisions and bustling shopping centers and backlogged roads. It begins years earlier, when few in the tiny hamlets 20 miles north of Charlotte could envision such change. And it begins with the few who had a vision for progress and the means to work toward it.
Progress. It was on Governor Luther Hodges' mind one muggy September day in 1959 when he set off the ceremonial charge of dynamite that would make Lake Norman possible, sending clumps of red dirt flying. The Mooresville High School band played a fanfare as Duke Power employees held back the crowd of 1,000 threatening to rush as close to the blast as they could.
The Cowans Ford Dam and the lake it would create were projects for their time—massive in scale and ambitious in scope. The lake was meant to quench an ever-growing thirst for electricity and water. Between 1,200 and 1,500 engineers, laborers, and managers made calculations, poured concrete, and cleared land during the four years it took to build and fill. In all, Duke Power spent $62 million on the project—in today's money, that's $481 million. And every day, local folks came to watch as another familiar farmhouse or patch of forest fell to the bulldozer and the land disappeared under the slowly rising waters.
Duke and its predecessor, Southern Power Company, had been building dams and flooding lakes up and down the Catawba River since the early days of electricity—Wylie and Wateree, Mountain Island and Lookout Shoals, Hickory and Rhodhiss. They all harnessed the power of rushing water to spin and cool turbines, lighting up farmhouses and factories along the river basin. Lake Norman would dwarf them all.
Thirty-two thousand, five hundred acres of surface water, 520 miles of shore, 50 square miles of land.
That's one way to measure progress.
For a girl growing up on the banks of the Catawba River in the late 1950s, progress meant paved roads, and paved roads meant she could finally use the roller skates her aunt bought her for Christmas. Later, Dianne Robinson could watch the lake fill each day from her yard off Nantz Road. The area was different then. Dirt and gravel roads snaked through verdant forests to the muddy red-clay banks. Everyone farmed, whether for a living or for extra food. "There was nothing else to do out here," Robinson says.
Farming connected the area to its past. Technology had changed many day-to-day tasks, and more people sought success in factories or office jobs. Still it was easy in 1959 to imagine the rural landscape around the Catawba looking similar to the day in 1781 when Cornwallis and British troops crossed the Catawba at Cowans Ford, taking the life of General William Lee Davidson. Road names such as Sherrills Ford and Beatties Ford served as constant reminders of the earliest white settlers and spoke to the river's importance. Back in the 1750s, these restless travelers discovered the area, flowing north on the Charleston Highway and south from Pennsylvania on the Great Wagon Road. The Sherrills and the Beatties and the Pottses. The Davidsons and the Cowans and the Jettons. They found the narrowest and shallowest spots in the river—the fords—and claimed them as their crossings. They also found land. Rich, dark bottomland that had for centuries provided corn and squash and beans to the Native American tribe living along the riverbanks—the Catawbas, or as they called themselves, Ye Iswa, "the river people."
These farmers—and for many years their slaves—would produce corn and cotton and wheat and watermelon. Cash crops like cotton gave some families a country-style affluence. But James Buchanan Duke and his successors at Duke Power had plans for an industrialized South. In addition to other projects along the Catawba and Wateree rivers, the company had been snapping up farms in the area in preparation for the dam since around the 1910s. Some farmers sold out, then rented the land back from Duke to keep farming. The desperation of the Great Depression only sped the process. Others sold outright for as little as $80 an acre to as much as $1,000 an acre and moved into town or another farm. The luckiest—or most forward-thinking—sold the land that would be flooded but held on to the future lakefront property.When the waters filled the lakebed in early 1963, newspapers predicted a boom of development. Charlotte's first "genuine suburb." Mooresville changed its slogan to "Port City," hoping to lure businesses and bodies to the small mill town. But growth swelled slowly after an initial burst of excitement. A 1965 Duke Power map shows a sparse shoreline—only eight places to get gas, five to get groceries, and two restaurants.
It was hard to get there. The lake had severed the old network of farm-to-market roads, cutting access and connections between communities in Mecklenburg and Iredell and Lincoln and Catawba counties. The only moderately efficient way from Charlotte became U.S. Highway 21.
"The lake wasn't a big draw at first," Davidson College archivist Jan Blodgett says. "Initially, it was this big thing in the way."
Stories of missed opportunities abound from those early days too. At some point during the 1960s, a Davidson College fraternity wanted to build a lakefront house. But it balked at the land price—$700 for a half-acre, Blodgett says.
"No one imagined you'd have $1 million homes on the lake," Blodgett says.
But signs of potential were there. Weekenders from Charlotte and Winston-Salem drove boats down to fish or parked their Ford Fairlanes 30 yards from shore to take a dip. Others took tours on a replica steamboat, the Robert E. Lee, or on what the Outrigger Harbor called its
"Polynesian war boat."
And land prices inched up too. Subdivisions of half-acre lots sprouted with vacation-themed names—Moonlight Bay, Point Largo, Surfside Estates, Malibu Beach. Weekend homes sold for as much as $25,000 at a time when the average home price nationwide was $18,000. As one developer predicted, "there will be no shacks here."
Robinson's parents bought three lakefront acres from Duke Power in 1965 for $1,500. By the early 1970s, they had divided and sold six half-acre lots.
"They retired on that money," Robinson says.
There aren't many places to view Lake Norman unless you know someone who lives there. So much of the land has been built on and subdivided. You can see the lake up close from a backyard or catch a fleeting glimpse from a car on the I-77 causeway at 70 miles an hour. That highway view, residents say, has caused annoying and dangerous slowdowns as rubberneckers hit the brakes to catch a view of shimmering waters or sunbathers in skimpy swimsuits. Frustrated officials seriously considered in the mid-2000s building a fence to block drivers' views.
There are places where you can launch a boat or use a grill—like the lakefront parks in Mecklenburg County, Ramsey Creek and Jetton and Blythe Landing. But years ago, the county banned swimming. Too many people drowning meant too many chances to get sued.
There are plans to change that. Mecklenburg County intends to build a public swimming area near Ramsey Creek Park sometime between 2014 and 2016. It will be the first public swimming beach in the county since the 1970s.
It's a different place from what it was in the 1970s, when Mooresville teens raced on the cleared roadbed that would become I-77, then found a place off N.C. 150 to cool off in the water, leaving their cars on the roadside, caked in red clay.
"The lake was a place to go and hang out," says Mooresville Library historian Andy Poore. "Those of us who grew up here, we didn't see this idea of possession. 'Oh, here's a dock, but you've got to be a member.' You see that more today."
After the interstate connected the area to Charlotte in 1975, the trickle of growth—a cluster of cabins here, a new marina there—grew to a steady stream of homes and restaurants. The lake wasn't just a weekend destination anymore. It was now an easy commute to and from an uptown office tower. Developers rushed through a tide of subdivisions unprecedented in size and price. These projects carried forceful names oozing exclusivity—The Peninsula, The Point. With each lot, another acre of shoreline became the backyard of a banker, hospital executive, or NASCAR driver.
"Everywhere there's a little bit of water, someone has built a house," Robinson says. "There doesn't even have to be that much of it."
All those new roofs and lawns and parking lots aren't good for the environment, says Rick Gaskins. An environmental lawyer and executive director of the Catawba Riverkeeper Foundation, Gaskins quotes a statistic—37 percent of land around the lake that was forest in 1988 had by 2008 become impervious areas like rooftops or parking lots. Runoff flows into the lake that provides drinking water for the towns in northern Mecklenburg, southern Iredell, and eastern Lincoln counties. It carries oil, gasoline, rubber, and chemicals from the surface into the water. Rapid growth strains sewers too, causing overflows. Fortunately, the lake is big enough to dilute most of that. Water quality is good, Gaskins says, "but the trends are not."
Four counties and a dozen or so municipalities have claim to area surrounding the lake, which makes controlling growth more complicated. Newcomers often don't realize what jurisdiction controls what area. "You've got a lot of entities involved in what goes on at the lake but no one taking charge and saying, 'Look, here's a one-stop shop. You can come here and get your permit for the dock, or you can report if you see someone's boat leaking oil,'" Gaskins says. "Everybody else thinks somebody else will take care of the problem."
It's everyone's lake, and it is no one's lake.
Dianne Robinson drives her black Mercedes slowly down a neighborhood side street, looking for the lake through the trees and houses. The word "house" doesn't really capture these structures. They are behemoths—some ornate, some downright opulent. A glint there between the pine needles of a manicured tree line. Is that water?
Robinson is nostalgic but in no way wistful. She sometimes wishes her granddaughter could have some of her childhood experiences—riding for hours on bikes through the countryside or sneaking watermelons from a neighbor's farm. That seems impossible now. But growth has been good to her, as it was good to her parents. After high school graduation, she left the new lakefront. She went to college. She got married. She helped her husband build a successful concrete business. They installed curbs and gutters in Virginia and Florida, transforming other rural areas into suburbs that now look much the same as Cornelius.
In 2011, a few years after her husband died, she decided to come home. Only, on Lake Norman, the home she found wasn't the home she left. On family visits through the years, she had seen the area grow. But change is swift here. A few months gone and you miss a lot. One day, not long after she moved back, she went driving around Huntersville. She let her mind wander as minds are prone to do in familiar territory. A few turns later, the roadside didn't seem so familiar. She kept turning, hoping to pass something she recognized—an old house or store or sign. She turned past gas stations and car lots and grocery stores and strip malls. On N.C. 73 by the Lincoln County line, she found the one structure that could guide her home, the last sign of permanence in the wholly changed landscape.
"I saw the dam," she said. "Then I knew where I was."
Chuck McShane is a freelance writer in Davidson. He can be reached at chuckmcshane@gmail.com.