A Holiday Season for the Dogs
During the most stressful four weeks of the year, when family tends to disappoint as much as uplift, a little canine-style comfort comes in very handy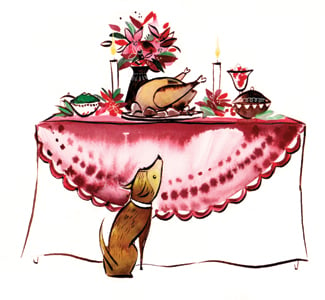 Placing her teacup back on the saucer, Shereé points to the bulldog. He stands defiantly, his legs like short stumps, a canine Winston Churchill. He just needs a cigar.
"That's how I felt yesterday," she says as she describes her family's attitude during a photo shoot for a Christmas card. They were not cooperating. It took the determination of a bulldog to keep everyone on task. She felt frustrated and ignored. Why couldn't they appreciate her efforts?
Scattered around the plates of chocolates and cookies are china dogs: a dachshund on his hind legs, a retriever with her pups, a hunting dog on point, a German shepherd, an English sheepdog with one eye peeping out from under a mass of hair. They're props for the annual tea party I host the day after Thanksgiving. My girlfriends and I get together to discuss the previous day's insanity—it's therapeutic and a good way to prepare for the upcoming demands of December. If you can't explain how you're feeling, the dogs help. Did you have to beg for attention? Were you constantly pointing people in the right direction? Did you feel like you couldn't see what was going on? We laugh, cry, rant, and rave.
Thanksgiving is America's biggest family holiday, and expectations are high that we'll have a Norman Rockwell time. From here we go straight into the holiday madness; as soon as we finish shoving turkey into freezer bags, it's time to go shopping for a Christmas tree. It's the most stressful four-week period on the calendar.
The afternoon tea tradition began several years ago when I had a private meltdown after hosting a Thanksgiving gathering. I somehow kept my disappointment under wraps, my family blissfully unaware of the drama playing out in my mind. But thoughtless comments and selfish attitudes had me wondering why I ever thought having children or getting married were good ideas. My female martyr complex was running on all four cylinders. Why wasn't family as important to them as it was to me? Where was their respect? I was angry and hurt.
The next morning it was raining and I was moping around the house, feeling very, very sorry for myself. I don't know if women in other parts of the country do this, but GRITS (girls raised in the South) call their friends and get out the Motown. This is how you throw a pity party. Soon the rooms were thumping. R-E-S-P-E-C-T. Find out what it means to me. Miraculously, everyone was available to come over that afternoon to compare notes. Help was on the way.
The tea party that year was such a relief that I've hosted it each year since. It's so civilized. Hot tea poured out of a silver pot. Pretty teacups. Treats in petite portions. Dogs. Prompted by the canine props, we talk about the dogs. The dogs we've been and the dogs we've dealt with. It's fun. It's healing. We share our funny moments but also the disappointments, accepting the limitations of the holiday. I am gently reminded to focus on giving, not receiving, and to laugh off the blues and be grateful. With perspective you realize that lots of people would like to have a family to complain about.
After that, I can get out the Christmas ornaments with a different attitude. Scrooge, be gone; Tiny Tim, bless us all.
I need a metaphor to manage my expectations and keep a sense of humor,
and in this, dogs have saved me.
Throughout Charlotte this month—a Southern city full of churches—the Christian holiday of Christmas will overtake us, believers and nonbelievers alike. The city lights up from the malls to McAdenville. Choirs will practice, costumes will be shaken out and pressed, and a few sheep and donkeys will make their way into town. Christians will reenact and reexamine an ancient story about how God became man. The tale includes angels, an immaculate conception, a mute, a birthing-center barn, a king who murders children, astrologers, a star, mysterious gifts, and livestock handlers. It ends with the main characters running away in the middle of the night.
The season seduces me with cinnamon candles and pumpkin lattes, music and the tinkling bells on horses at the tree farm. Each year an idea forms in my mind of what this Christmas will be—something wonderful, like a closing act of a fabulous opera—and each year, at some point during the holiday, I find myself looking at a sink of dirty dishes and thinking about guests who have hurried off to their next event. How does this happen, that life's biggest celebrations are so ordinary? That I am just a moment in a month of moments?
Like the poor villagers in the Christmas story, I struggle with a reality that doesn't fit my expectations. They expected a king; they got a baby. I expect a Martha Stewart month: well planned, beautifully packaged, and delicious to the last bite. But I get a month populated by dogs—wonderful, irresistible, impossible dogs. Gifts disappoint, a BlackBerry appears on the dining table, conversations flag.
Every twelve months this ritual repeats itself, pressing me to ponder a story of confinement, both God's and mine. Big things are restricted to small spaces, whether it is the glory of the universe confined to a manger or my yearning for peace on Earth confined to a few hours around a table at Christmas Eve.
I need a metaphor to manage my expectations and keep a sense of humor, and in this, dogs have saved me.
There are many kinds of dogs, but in the end, they're dogs. They bark, wag, or leap at the slightest hope of attention, run from harmless things like vacuum cleaners, and think treats are the best thing in the world. They live in the moment, never sorry for a misdeed until found out, and then their remorse is so overwhelming it's funny. A dog will never be a cat or a human or a car. Do what you want—put him in a Superman costume at Halloween or pay the spa for pink bows and nail polish—you still have what you started with, a dog.
Dogs live within the story of their owners, and I live within the narratives of others. No matter how seductive the season's promises, that truth is not going to change. And while a dog may be man's best friend, a dog and a tea party are mine. During the crazy-wonderful days of December, I think back to the day after Thanksgiving and smile. A cup of tea with friends, a collection of china dogs, and a bit of barking and whining set things in order.