A Holiday Spread
ATC's Every Christmas Story Ever Told (and Then Some) offers audiences a one-stop show of favorite holiday stories.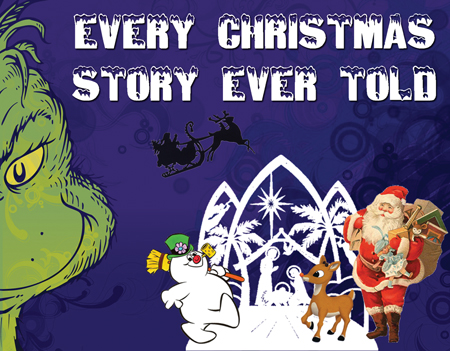 Getting into the holiday spirit is a logistical nightmare. We've garnered tradition upon tradition to honor each season. How many times have you heard someone say, "Christmas just isn't Christmas without [fill in activity here]"? We have to see The Nutcracker, make gingerbread houses, go sledding, watch A Christmas Carol on TV, and go visit Santa—or else Christmas just won't be Christmas.
Of course, there are only so many hours in the day, making this tradition-filled holiday an impossibly high standard.
Every Christmas Story Ever Told (and Then Some), directed by Craig Spradley and showing at the Actor's Theatre of Charlotte until December 18th, is an appealing theatrical concept for just this reason. One theatre, one 90-minute show, and a short taste of all those quintessential stories, referred to throughout the play as BHCs—beloved holiday classics.
As you can imagine, Every Christmas Story is a high-spirited production blazing with one-liners and banter from the three-person cast, and is driven with goofy takes on seasonal favorites (think a sleazy, bawdy Frosty with a rough Jersey accent). Playwrights Michael Carleton, James FitzGerald, and John Alvarez, who co-wrote the play in the early 2000s, premised the holiday mash-up on three actors putting on an annual production of A Christmas Carol; tired of the well-worn tale, the three break scene and decide they're going to put on a montage of holiday stories.
The cast (Chip Bradley, Joe Klosek, and Maret Decker Seitz, all performing under their own names) has all the energy and animation they need to pull this show's blistering pace. Klosek plays an endearing (if dimwitted) Christmas enthusiast, while Bradley, reluctant to let go of his coveted role as A Christmas Carol's narrator,is established as the play's Scrooge, Grinch, and Santa slanderer. The fiery Seitz often takes the reins of this comedic sleigh, calling the storytelling shots and providing narration during tales like "Gustave the Green-Nosed Raingoat" (so named for legal purposes).
While the ATC cast lobbies holiday crack after holiday crack with rapid fire, slapstick delivery, the pun-packed dialogue has drooping moments.
Often, during speedy monologues rife with alliteration or scenes so boisterous they feel overdone, it seems like the playwrights, in an attempt to forge a flurry of holiday cheer, staged a comedic blizzard that sometimes is more overwhelming than fun. Faux trivia about international holiday cultures turn out off-color (Klosek plays a foot-stomping, tongue-thrusting indigenous Easter Islander on a dating show hosted by Seitz). There are a couple attempts to engage the audience directly during the play, through a call for story suggestions or for an extra on-stage character, but the dialogue doesn't allow for any real improvisation with these moments, and they end up feeling contrived.
But by and large, the play's spirited performers, and its extensive coverage of holiday favorites, fill in the dialogue's gaps. The ATC, for the first time in Charlotte, is offering this unique, quick-witted show that will leave you exactly as a tradition-packed holiday should—overwhelmed, but cheery.