A Home Worth A Two-Year Wait
After two years of longing, the Smith family bought their dream home in Longview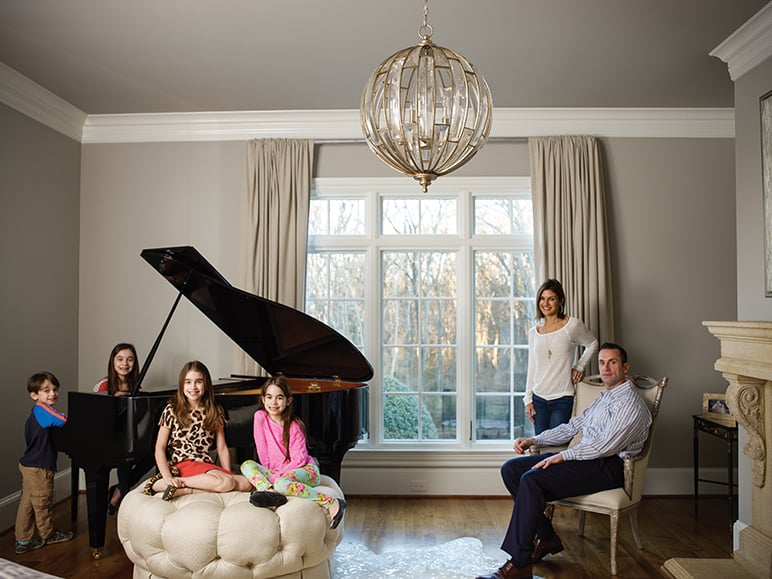 KIRAN DODEJA SMITH remembers how she felt when she first saw her neighbor's house in The Club at Longview in January 2013. At the time, she and her husband, Jared, had four young kids in a Mediterranean-style home they had built a few blocks away. But it wasn't even the home that first put the thought of moving into her head; it was the backyard.
She told her husband how much she loved the 8,500-square-foot home—it fit a family of six better than theirs—and he shared something with her, too: The homeowners were soon to be empty nesters, and would possibly consider selling.
Kiran was elated at the potential.
"We ended up walking through the house with no expectations," she explains, "and walked away loving the floor plan."
Then, she had to wait.
The timing was wrong for both families to move, and they agreed to revisit the idea of a sale in one year. In January 2014, the Smiths walked through the house a second time—and loved it again. Still, the home's owners weren't quite ready to sell.
The Smiths put their house on the market anyway, selling it later that summer. Despite looking feverishly, Kiran couldn't find anything she wanted more than the Longview house down the street. They decided to rent in the interim, winding up in a house across the street from their old home.
"We looked and looked at options, but [this] was still the house that we had on our minds," Kiran says. "There are not a lot of houses out there that have four bedrooms plus a playroom on the second floor, and that was what we desired."
Finally, in February 2015, both families were ready for a change. The Smiths came to an agreement to buy the house and closed three months later. Next came a five-week window to up-fit the interior to their specifications.
"During that five weeks, we had a family trip to Italy," Kiran says. "I personally think that it was a blessing in disguise—especially for our designer to have us out of her hair!"
The home was originally decorated in an Old World style, including dark wood, dramatic faux paint, and a heavier aesthetic than Kiran wanted. She turned to Monica Duncan, owner of The Duncan House Fine Interiors in Weddington, for help. The designer had also worked with Kiran on their former home in Longview.
"When we built our first house, I was 30 years old, pregnant with my third child, and knee-deep in work," Kiran says. "I leaned heavily on our designer, Monica, for advice. Not only was I busy, I also was not so sure of myself when it came to the décor."
For this renovation, Kiran was much more confident in her style.
Duncan's first impression of the home was similar to Kiran's: It had good bones.
"The flow of the home was perfect, but the aesthetic was something they desired to completely change, so it would reflect a new energy that would be perfect for their family," Duncan says.
The goal was to create a relaxed modern energy that was also elegantly minimalist.
First, Duncan lightened the home's color palette, using varying tonal shades of Benjamin Moore gray mixed with pops of color. In the breakfast room, dark wooden beams were lye-washed to create an aged, vintage look, and throughout the home, a clean, geometric motif is repeated, from the silk, geometric Phillip Jeffries wallpaper used in the foyer to every light fixture.
"It is the smallest attention to detail that weaves a home together," Duncan says.
One of Kiran's favorite rooms is the kitchen, decorated using a white color palette and creamy marble countertops. The stone top on the bar has a waterfall edge that falls to the floor. Duncan decided to use the same stone in lieu of a different backsplash, keeping the lines throughout clean and sleek.
A stunning stainless steel quatrefoil pendant warms and defines the room. "It is enormous," Duncan says of the more than five-foot-long fixture that took three people to hang.
In the keeping/breakfast room, window treatments by Magnolia Fabrics mirror the recurring geometric print, paired with artwork by Alabama artist Amber Ivey Lane that features cool blue shades with soft tonal colors, highlighted by flecks of gold leaf. Throughout, the furniture is modern and minimalist.
Kiran also enjoys the peaceful retreat of her master bedroom. The gray palette deepens in this room, providing a dramatic backdrop to an oversized velvet headboard by Lili Alessandra, paired with luxurious Incanto bedding and custom pillows. A custom-made chaise and tufted bench in mocha velvet add a romantic feel, while pops of yellow bring energy to the room. The home's geometric element is repeated in the bedroom's light fixture, marked with elegant crystal accents.
In the children's rooms, Kiran incorporated bright hues "without being obnoxious," she laughs. Perhaps the most striking bedroom belongs to her 7-year-old daughter, Shaela. The room has a stunning hot pink ceiling and an elegant chandelier. Throughout the upstairs, a mixture of textures and hues creates energy and interest, fitting for the couple's four children. "Our dream was to have a 'kids floor'—they should be so lucky, right?" Kiran jokes, "And to have a basement that was more for adults, which would grow with the family to a place where we can all hang out."
The Smiths' home affords plenty of spaces for the family to gather, from the upstairs playroom to a media room and an expansive outdoor living area with a pool, spa, trampoline, and even a cozy nook with a fireplace.
After waiting for more than two years, Kiran is happy to be settled in the home of her dreams. "I always loved the house because of the floor plan," she says. "I knew, from the moment that I walked in, that it was the perfect house for our family."