A 'Label' for Charlotte Nightlife
New nightclub at NC Music Factory has quickly become a hotspot, and still has room to grow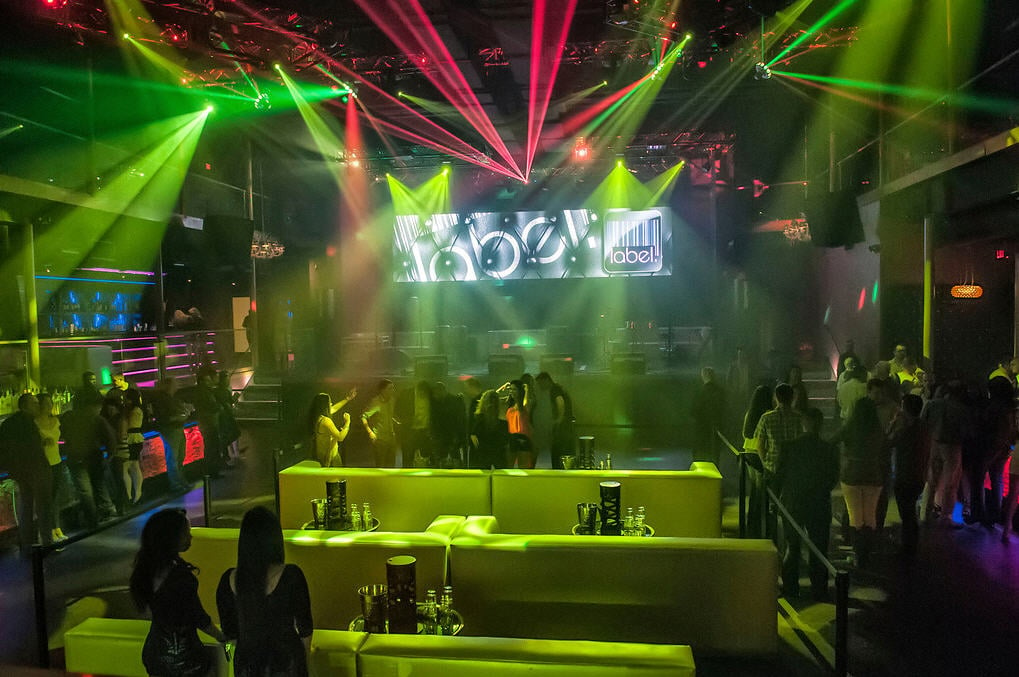 Label opened a little more than a month ago at NC Music Factory. And just about anyone I've encountered—in person or on social media—who's visited the nightclub has walked away impress.
One thing that's interesting about many of the venues that have opened at NC Music Factory over the last few years is that the spaces they eventually fill were seemingly unnoticed until a new spot opened its doors. Label—with its large, black-and-white, barcode-inspired logo out front, is now the first venue you see at the entertainment complex as you drive down NC Music Factory Boulevard (it's located on the side of the building that houses The Saloon, The Comedy Zone, and Wet Willie's).
Described as a "mega club," Label is big, opulent, and has great sensory appeal. From the valet-led parking lot up front, there's a covered walkway that leads you to a ritzy entrance where doormen await. As you make your way down the hall, you'll most likely enter the main room, which is an expansive open space, where VIP sections and the dance floor meet with seemingly no borders, multiple bars line the walls, and a large video screen hovers over a stage befitting of a concert hall.
The light show and video screen displays are incredible, and will undoubtedly help put you in the party mood. The stage has played host to several live bands, and on the opposite side of the room is a DJ booth perched high enough to insinuate that the guys (and ladies) who will spin the turntables here are in control of the action.
White leather couches are everywhere, signaling where the very important people sit and order bottle service. Beautiful servers in provocative black dresses and knee-high boots keep the drinks flowing. When the stage isn't in use for a live band, it becomes a VIP area as well. And equally blending is the elevated VIP row behind one of the bars.
Whereas there's plenty of action in the main room, Label offers a more relaxed atmosphere in a bar and lounge area that's enclosed in its own room. It's a sleek space, with dim lighting, leather-covered walls, and digital mirrors showcasing rotating Label graphics. There's a full-service bar with adjoining DJ booth, so a completely separate party can go on in here. And in the far corner are a few couches, comfortably placed in front of a radiant, glass-enclosed fire pit—similar to the one in the lounge of The Ritz-Carlton. This bar/lounge area is actually akin to what you'd find inside a hip hotel.
Label is undeniably an attractive nightclub, but a testament to its long-term success will likely come from the great variety of events it features and big-name artists and DJs it brings in weekly. Grand opening weekend featured Nina Sky, DJ Carnage, and T-Pain. And since then, the DJ booth, stage, and video boards have been ignited by the presence of Chanel West Coast, Playboy Playmates, DJ Girl 6, Ken Shamrock, Jump Smokers, and other popular acts. Hip hop group Travis Porter headlines the party this Wednesday (November 21), acclaimed jazz musician Alex Bugnon graces the stage November 27, and El Gran Combo, the renowned salsa band from Puerto Rico, performs November 29 for the first time ever in Charlotte as part of Label's International Thursdays series, which has quickly become a hot weekly event, featuring live music.

Photos by Jon Strayhorn/Media Arts Collective.
There's more to come with Label, as the top floor of the club is still under construction, which will only provide more views and more room to party. And when the warm weather returns you can expect the opening of a lavish outdoor courtyard. Click here to see photos from Label's first month in action.
Label, 900 NC Music Factory Blvd., 704-910-0456, labelcharlotte.com.
Be sure to bookmark www.charlottemagazine.com/Blogs/Dusk-Till-Dawn to stay plugged into Charlotte nightlife. Follow me on Twitter @HollidayInk; email me at jarvish@grownpeopletalking.com.