A Legacy of Friendship: Hans Bechtler's Birthday Book
A birthday gift to Hans Bechtler, now on display at his family's namesake museum, sheds light on the institution's beginnings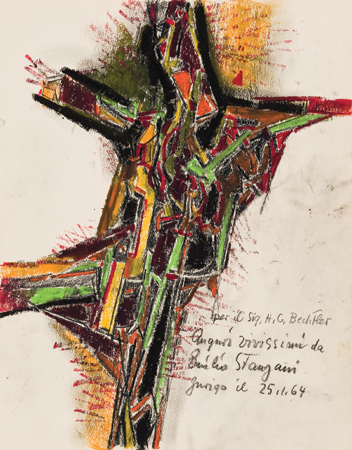 Hanging in the lobby of the Bechtler Museum of Modern Art is a painting that tells you a bit about Hans Bechtler. Part of a series that makes up a family portrait by Andy Warhol, it depicts a dark-haired, handsome man. But the eyes say the most. They are inquisitive and kind. A new exhibit on the uptown museum's second floor confirms and expands upon that glimpse of personality.
A Legacy of Friendship: Hans Bechtler's Birthday Book features fourteen artworks presented to him in 1964 on his sixtieth birthday. Included are worthies such as Alberto Giacometti and Barbara Hepworth. As collectors, Bechtler and his wife, Bessie, not only had an eye for the work of undiscovered artists, but also became their friends. This small but satisfying show reveals that web of relationships—and how exciting making art can be.
The exhibit also illuminates the genesis of the Bechtler Museum. A successful Swiss businessman, Hans Bechtler expanded his textile-related company to the United States. His son, Andreas, came to Charlotte in the 1970s to help run it. After his parents died, Andreas offered his inherited portion of the collection to the city in return for space to house it.
To honor the birthday of "Uncle Hans the art collector/Who we all love dearly," as a dedication passage states, his sister and niece asked the artists to contribute a work on a nine-by-twelve-inch sheet of paper. Imposing this limitation was key.
A common belief is that to create great work, every artist needs the biggest canvas, tubs of paint, and all the time in the world. Actually, what an artist needs is a problem—limitations—for his or her skill to rub up against.
The solution to the problem is the work of art.
For their works in the book, this group of mostly European modernists used watercolor, pencil, crayon, pastel, gouache, and collage, and approaches ranging from loose to tight, dense to spare, color rich to color poor.
In the mid-1960s abstract expressionism still exerted influence, and Gerard Schneider used the style's gestural quality in a piece with washes of blue, red, yellow, and purple.
Emilio Stanzani's abstraction has an anthropomorphic quality, and he uses the rectangle for maximum energy, placing his humanoid figure on a diagonal.
Crayon, that medium used by all budding child artists, becomes aggressive in the hands of Alfred Manessier. He builds up a dense surface, one color buried under another.
Robert Muller's ink drawing contains such a sense of volume that it's not hard to imagine him as the sculptor he is.
Another sculptor, Marino Marini, uses ink to make chaste shapes—curves and lines. They seem to float, like parts of an Alexander Calder mobile. You can almost see them move.
These artists seem moved by the exuberance of self-expression, and the chance to honor a patron they clearly respected. They made contact—which is what the best art always does.
Birthday Book is at the Bechtler Museum through April 16. 704-353-9200, bechtler.org.