A Legion of Support at Plaza Midwood Brewery
Phil Buchy couldn't fulfill his dream of opening a brewery without family and friends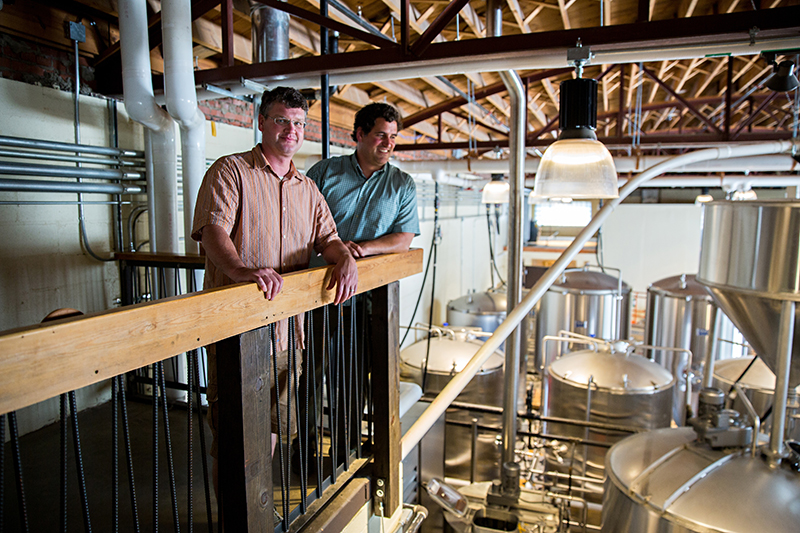 PHIL BUCHY'S 10-year plan to open a brewery was nearing its final stages. He already knew which beers he wanted to make, and had ideas for what he wanted to name the place. One thought was a name that paid tribute to historic Charlotte and the colonial trail that connected it to his childhood home of Roanoke, Virginia.
As they searched for a location for the brewery, however, Buchy and business partner Newton Craver had an idea for a new name, one more fitting to their own personal journey. They decided to call it Legion.
"We just wanted to pay tribute to our friends, who told us, 'Keep on going, your beer is awesome, don't give up,'" Buchy says. "It's kind of like our legion of friends helping us get where we are."
With the mantra of "Friends and Beer," Legion Brewing is the manifestation of Buchy's 10-year vision. It served its first customers eight days before Christmas 2015. An inviting, 11,000-square-foot home greeted Legion's earliest gatherers, surrounding them with smartly salvaged accommodations and an impressive variety of beer for a start-up brew house.
Legion may be a new brewery, but it looks like it's always been here. A century-old piano sits in the corner of the upper taproom, a nod to the brick building's previous life as the home to Brodt Music Company for more than 60 years. Reclaimed wood and thrift-store chairs add to the well-worn, comfortable feel.
Even Jenny, a 15-year-old black Labrador belonging to Legion's CFO (and Newton's cousin), Bill Craver, seems like a holdover from the Brodt days.
The dog is a neighborhood fixture often found holding court on the Commonwealth Avenue sidewalk out front. Jenny has been immortalized both in a David French painting of the brewery and as part of the 3-D street view that appears when you search for the brewery on Google Maps. "I think we're extending her life, because she loves hanging around here," Buchy says. "Now she's the life of the party."
Brodt signage—restored by the building's new owners—maintains a permanent home in the brewery's production area and on the roof, preserving the building's past history. Buchy says he gave tours to members of the Brodt family during construction.
"They're just so thrilled that we [gave] a second use to the building instead of just bulldozing it into condos," Buchy says, echoing a common lament in Charlotte's older neighborhoods. "[New builds are] just so cold and impersonal. To me, that's the opposite of the entire culture of beer. That just didn't fit for me. What I wanted was a warm, neighborhood place that I would just want to hang out in. You don't need to buy something new all the time."
Buchy relied on his background as a builder to sustain the building's spirit. The 39-year-old says he "took the scenic route" through college, which included stints playing college football as a tight end for the Air Force Academy and later Virginia Tech, where he earned a degree in civil engineering.
He dabbled in homebrewing after graduation, and eventually landed with Charlotte-based Rogers Builders. There, he served as project manager during construction of the Bechtler Museum of Modern Art and UNC Charlotte's new football stadium, among other Charlotte landmarks. "This is actually the smallest thing I've ever built," he says with a smile from inside Legion's taproom.
He also built a staff of about two dozen employees. Among his first hires was head brewer Alexa Long, formerly of Heist Brewery and Alternative Beverage. Though Long, 27, had several years of experience making her own beer at home and professionally, breaking into the male-dominated realm of brewing wasn't easy.
"I worked alongside a guy with a beer belly and a beard and people looked straight past me to go to him for questions," Long says. "And it's just a physically demanding job. You're lifting 55-pound bags of grain all day and you're lifting 100-plus-pound kegs every day. I guess it's just a little bit hard to be respected, but it's OK. I like the challenge."
Long's blend of farmhouse-style local and seasonal brews has proven popular. Distribution within the neighborhood began this spring, and Buchy said he hopes to begin bottling the brewery's best-sellers and seasonal one-offs by the end of this summer. "Our beer, we're not really interested in distributing any further than I can ride a bicycle," Buchy says. "We're going to keep it local and just focus on our neighborhood and our region."
That neighborhood focus stands out in both the beers and the building. Instead of trying to emulate Euro-centric or Pacific Northwest brewing styles, Buchy says Legion's focus is squarely on the Carolinas and using local ingredients—grain from Asheville, for example— wherever possible. The reclaimed building materials—plus a new mix of local walnut, red and white oak, cherry, pecan, sycamore, and doors of local Eastern Cedar—also reflect the philosophy.
Buchy helped build Olde Mecklenburg's sprawling location on Yancey Road in 2014 and Unknown Brewery a year earlier, with each project making him more eager for a brewery to call his own. After more than a decade of work and support from friends, he has it in Legion.
"I always knew that that's where I was going," Buchy says of brewing. "I love the art, love the science, love the engineering of it. It kind of scratches all the itches instead of just one itch. …
"I love building. I love this more."
Zack Albert is a writer, typewriter collector, and North Carolina native who has spent the past four years in Charlotte. Reach him at zackalbert@gmail.com or on Twitter: @zack_albert.
---
This article appears in the July 2016 issue of Charlotte Magazine
Did you like what you read here? Subscribe to Charlotte Magazine »
---