A Local Acting Dynasty
What happens when an entire family is bitten by the acting bug?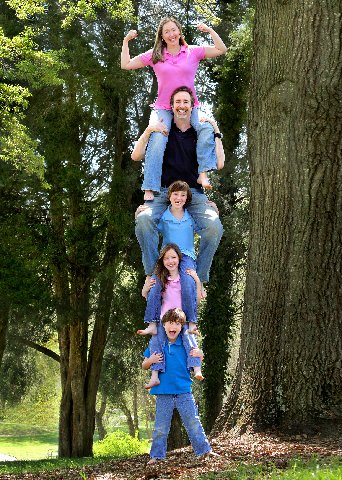 You've got your Barrymores and your Fondas and your Redgraves. But, those famous acting families have nothing on the Lewins of Charlotte. All five Lewins are actors, and they generally share the stage and the spotlight. They're rehearsing now for their next performance, in which they all five star. A Year with Frog and Toad runs Dec 1-4 at the Levine JCC.
Unlike a lot of show biz families, there wasn't a pushy stage parent nudging the Lewin kids into the field. It was the eldest son who got interested … and then got the family hooked.
Son Max, now ten, was the first to hear the siren song of the stage. When he was five, he wanted to audition for the J's production of Seussical. He asked his dad for a ride to the audition and then suggested his dad try out for a part, too. Two stars were born that day, as Max got a part, and his dad, Marc, got … the lead!
Max had aspirations from a very tender age. "I saw the movie Annie when I was two or three and I started acting out the parts. I've wanted to act since then," he said. He sounds like a seasoned veteran when asked about the best acting advice he's ever gotten. "One of my directors once told me that when you're on the stage, I should forget who I am and pretend that I'm the character that I'm supposed to be. That really works well for me," he said.
He already knows it's the career he wants to pursue. He's not giving up his studies, though. The Providence Spring Elementary fifth grader is learning early about the rigors of balancing a life in the theater with other responsibilities. "Some shows are tough," he confessed. "Recently, I was in The Will Rogers Follies at CPCC. I had to rehearse many school nights and also miss a lot of school. It was really worth it, though."
Max gets plenty of support from his mom and dad. They understand what he's going through. They're balancing careers with rehearsals and performances, too. Mom Laura is an eighth grade guidance counselor at Carmel Middle School. Dad Marc is a family practice physician.
No one is more surprised by this newfound love of acting than the doctor himself. "I am quite surprised to have been bitten by the acting bug twenty years into my medical career," he said. "Who knows where I'd be if I had discovered acting earlier?"
Laura sounds a bit surprised by her path to the stage. "I used to be in shows at summer camp when I was younger, but then I didn't get back into musical theater until Max wanted to audition for Seussical. Marc was so excited … he ended up playing Cat in the Hat. Kate and Max and I were "Whos" from "Whoville," and Charlie was added at the last minute as the "Elephant Bird" who was born at the end of the show. He was three years old and not very excited about it but he was a good sport and got a great laugh from the audience!"
Each year since, there's been a musical that at least two Lewins have performed in. Their credits include The Wiz, Honk, and Joseph and the Amazing Technicolor Dreamcoat. Laura is quick to praise her husband's acting gifts. "He made a great Elvis impersonator Pharaoh," she said.
The Lewins don't let theater rule their lives; they're not constantly rehearsing as a family at home. "The only time we rehearse together as a family this year is when Max and Kate are trying to show me a dance in one of the main numbers," Laura said. "They pick things up much more quickly than I do!"
Kate Lewin, nine, got her big break in the J's production of Seussical. The third grader at Park Road Montessori said her favorite role ever was in Dare to Dream because she "got a big solo." Still, acting is just a hobby for her. She wants to be a scientist.
Youngest son Charlie, seven, says Seussical was his best experience on stage because, he said, "I got to put on a fun costume and make the audience laugh." A future comedian, perhaps?
Max, too, enjoys the spotlight. His best role ever was as the Tin Man in The Wiz. Why? "Because I had so much fun, and it was a really big part," he said.
Dr. Lewin finds there's more to love about acting than just the spotlight and acclaim. "There are many things I love about acting. One is how fun it is to really get to know and work intensely with a group of random people for several weeks at a time. Another is the thrill of being in front of an audience and hearing the laughter and applause."
Catch the Lewins in their latest production from Dec 1-4. Find out more.