A Long Tuesday
In the largest city in one of the biggest swing states in the election, the rest of the country seems very far away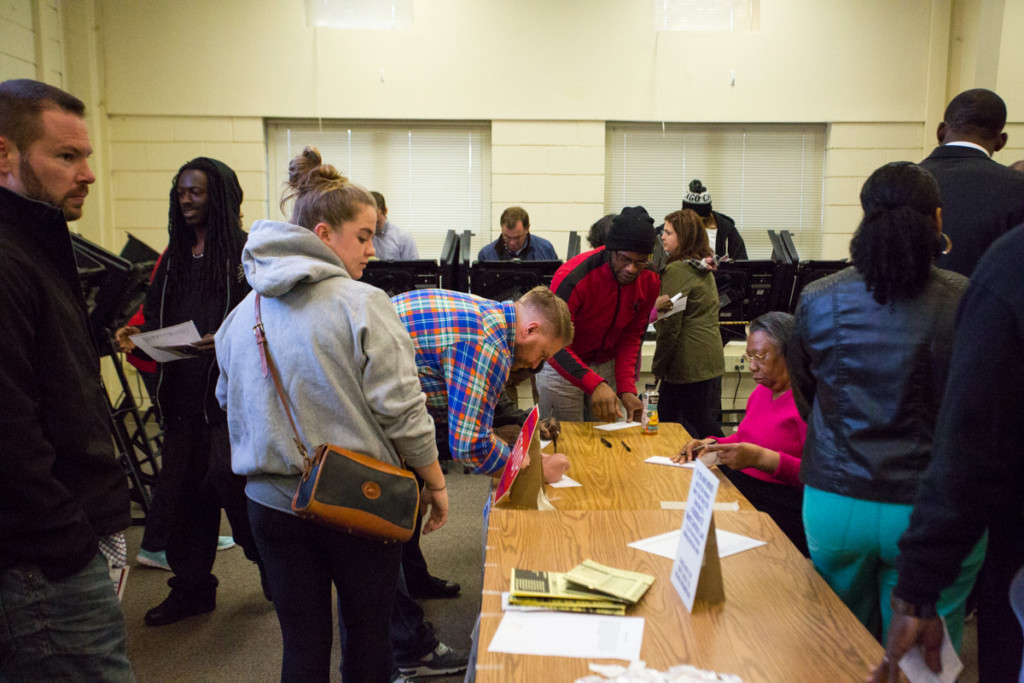 Adam Rhew and Greg Lacour contributed to this story.
ON THE OUTSKIRTS of Charlotte Tuesday afternoon, Beverly Brewer was still sore over a friend's Facebook post from the night before. The post was something about Chelsea Clinton and Hillary Clinton and donations from the Clinton Foundation. Brewer couldn't remember the exact phrasing on the spot, but it left her, a grandmother, so upset that she was thinking about it 18 hours later.
"I think a lot of people are just tired of how mean the Democrats are being," Brewer said, standing in front of JM Alexander Middle School in Huntersville, Precinct 241 of 243 in Mecklenburg County. She was wearing a "No Tolls" T-shirt, in reference to the matter of tolls on Interstate 77, along with a button for Donald Trump and a "Make America Great Again" sticker.
The people of the United States elected a president who drew 32.9 percent of the vote in Mecklenburg County. Sixty-two percent, nearly two-thirds, voted for our new president's opponent. Brewer was a part of the one-third. She's a native of Clinton in eastern North Carolina, the wife of a retired chief operating officer of Universal Tobacco, and she sent Donald Trump to the White House.
There were 154,000 or so people like her in Mecklenburg County, many of whom flowed through this precinct. Two volunteers stood out front wearing "Make America Great Again" hats, and they were flanked Jeff Tarte, one of the more moderate Republicans in the very conservative state legislature, wearing a UNC fleece.
But for all of those 154,000 people like Brewer, there are more than 292,000 people in the county who woke up this morning wondering just what in the hell happened.
The 2016 presidential election loomed over one of the most difficult years in Charlotte history, with the repeal of a nondiscrimination ordinance by the state legislature, the loss of jobs and concerts and sporting events, a young woman's death at the Whitewater Center from a brain-eating amoeba that spurred swift call for review from the governor, and the police shooting of Keith Lamont Scott and the ensuing protests. Those are just the more serious issues, which say nothing of the pain delivered by one of our more pleasurable distractions when the Panthers lost in the Super Bowl. This election became more than an event that happens every four years. It became a chance to start over. It reminded of the approach of Y2K, with folks recognizing the risk that the night might not go their way, but still believing the worst that could happen was that we'd wake up with a hangover and a new year.
Instead, what happened, at least in the presidential race, was a reminder that people who live well outside of our city—a city with a growing Hispanic and Asian population, a deeply rooted and active yet still frustrated African-American population, healthy and diverse suburbs north and south of town, new attempts to desegregate schools to give poor kids the chance to get a better education, public transportation projects, and new skyscrapers going up every six months—look at us and see a world that's moving too fast. Hence, the hats and stickers.
In return, as the election results spilled off of television sets throughout Charlotte, many people here saw a country they didn't recognize. Or, to be more accurate, a country they've selectively forgotten.
"Words and ideas shape the world," Mecklenburg County public defender Toussaint Romain, whose image went around the world when he stood between officers and protesters during the Charlotte protests in September, told me in a recent interview for a story that will appear in our December issue. "When we apply the word black to black people or race or cultures, it's always in the vein of something bad or evil. And we apply the term white, it's good. It's privileged."
Romain, an African-American, is a registered Republican who's devoted his life to changing the criminal justice system for young black men.
"Trump says 'Make America Great Again,'" he told me in October. "And if 'great' is a synonym for 'good,' and if I'm substituting 'good' for 'white' and 'black' for 'bad,' what he's actually saying is, 'Make America White Again.' And if you listen to the coded message, he's saying, 'Blacks, Muslims, Latinos, you gotta get the hell out of here.'"
Just before 3 a.m., that message officially carried Trump into office as the 45th president, with the help of a three percentage-point victory in North Carolina, essentially a landslide when you consider the state was too close to call at the start of Tuesday.
***
A RED SKY hung over Charlotte as polls opened at 6:30 a.m. Tuesday. In uptown, a young couple out on a morning run jogged into the parking lot at First Ward Elementary to see a line flowing out the door. "Oh, shhh—," the young man said, stopping himself. "I guess this'll take awhile." Jeff Jackson, the Democratic state senator for the 37th District, which covers uptown and Elizabeth and Plaza Midwood, arrived and greeted voters with a smile and, "Today's the day!"
A few miles north at Newell Elementary School, the precinct where Keith Lamont Scott's family and neighbors would vote, a line stretched out of the school's multipurpose room, past a row of beige mobile classrooms.
At Greater Galilee Baptist Church in the Wilmore neighborhood, young voters lined up for several hundred yards when the polls opened, from the doors to the brick church past a telephone pole with ivy growing up its side and weeds that practically overtook the sidewalk. The precinct's map straddles South End—its new apartment homes are filled with affluent 20-somethings, many of whom moved to Charlotte since the last presidential election—and historically black, working-class Wilmore. "Mostly millennials, Gen. X," a poll volunteer said of the morning crowd.
By 9 a.m., the wait at all three locations was down to 30 minutes or less.
Outside Newell, next to a row of campaign signs, a middle-aged man with a small goatee and a tweed blazer shifted his weight from one foot to the other. Dave (he declined to give his last name) is a trusts and estates attorney from San Francisco. He volunteered to keep an eye on a polling place for the Clinton campaign. "I'm just here to make sure there's no funny business," he said. "There's not much happening in California, so I wanted to be on the front lines."
Around the same time, at Oaklawn Language Academy in the Beatties Ford Road area, two Department of Justice officials observed voting for about two hours. They were quiet and unobtrusive, witnesses said. They stood off to the side, took notes, and didn't say much.
Scenes like this played out across the county all day. For all the talk of voter intimidation tactics, Mecklenburg County remained disarmingly quiet.
Dave, who got into town Monday night and was scheduled to leave Wednesday morning, said it was his first trip to North Carolina. "I thought I would see (more) yard signs because of how split the state is," he said. "I guess people don't want to fly their colors here. It's too divisive."
Just before lunchtime, Brewer and the Republicans at the precinct at JM Alexander in Huntersville were easily outnumbering Democrats. Guy Beaumont, a Davidson resident, stood next to Brewer, handing out blue ballots with the Democratic selections to the few people who passed her.
"A lot of Republicans," Beaumont said softly.
A young man nearby in a red "Make America Great Again" hat handed out green ballots with Republican selections. When I asked if he'd seen anything crazy during the day, he said, "Just a few people with tattoos and nose rings."
Later in the afternoon, a few miles away at West Charlotte High School, a group of older black women gathered with a couple of young white men and women in the parking lot behind the school. One door near them led to the gym, where the girls' basketball team was practicing. Another led down a corridor, past lockers and water fountains, past the swimming pool, to the back room where people vote. The voting room was the wrestlers' room. Giant mats were rolled up and stacked against the far wall behind a bank of voting machines.
Outside, one of the women shouted about a voter's error: He was too busy staring at his smart phone to realize he was walking into basketball practice instead of the polling place. Otherwise, "Everything's gone smoothly," said Christine Bowser, a west Charlotte mainstay and Mecklenburg County Democratic Party chair for Precinct 25.
"We have women power!" exclaimed Mattie Marshall, who co-organized the parking lot gathering with Bowser. She held up a Clinton/Kaine sign. "We're stronger together!" By now, 3 p.m., not much remained on the folding table they'd set up: a half-gallon jug of tea, some McDonald's bags with fries, a half-empty box of Dunkin' Munchkins. "I'm eating too many of these," said one woman, dipping her hand into the box. About 50 feet away, under the covered walkway that wraps around the gym, a young man played an unintentionally ironic tune on an electric piano under an overcast sky, "You Are the Sunshine of My Life."
A few hours later, as evening rush hour traffic backed up on nearby Queens Road, the parking lot of Myers Park Traditional Elementary School was almost nonexistent. Three voters arrived in a span of 20 minutes.
Andrea Purcell and Dorie Neil, along with Neil's children, stood outside the school, the yellow glow of street lamps illuminating their campaign t-shirts. They were supporting state Rep. Rob Bryan's reelection bid and passing out GOP candidate guides.
"This go 'round, I feel like people have been more receptive to the campaigners," Neil said, comparing this election to the last campaign she worked for Bryan two years ago. "I've definitely heard more people say 'I've done my homework.'"
Both women said the Republican base in neighborhoods including Myers Park, Eastover, and Dilworth is enthusiastic about the party's candidates this election, but not outwardly so.
"Nobody wants to put a Trump sign in their yard but they're still voting for him," Purcell said. "I'm voting for him but I don't have a sign in my yard."
***
BY 9 P.M. in South End, where Democrats gathered at Slate, it was clear this would become a night for Trump. Less clear was the governor's race, which ended with Democrat Roy Cooper leading Republican and former Charlotte mayor Pat McCrory by 5,000 votes with a few provisional ballots left to be counted. More clear was the U.S. Senate race, won handily by Richard Burr.
Democratic U.S. Representative Alma Adams continued to own the 12th District, and she gave a victory speech at Slate. Mayor Jennifer Roberts, whose job wasn't up for re-election, stood in front of local news stations' cameras. Jackson, the state senator, played ping-pong with his 8-year-old son. Other notable local Democrats, including Vi Lyles, roamed around while a young and diverse crowd turned up drinks and watched televisions unroll results. Virginia was close. Ohio fell for Trump. Every other swing state, including North Carolina, leaned his way. People began to cry.
It can seem like a presidential election blocks out the sun. Especially this one. It can seem unfair to live in a place that overwhelmingly supports one candidate, but you get the other. It can seem like this is all that matters. But that would ignore all the other things that happened yesterday in Charlotte. I walked through the Charlotte Transportation Center Tuesday night after meeting with two young African-Americans who aspire to be leaders in the city—29-year-old Brittney Bogues and 32-year-old Andrew Fede. Bogues, the daughter of Muggsy, worked all day in her job at Safe Alliance, trying to help abused women and children. Fede, who has a J.D./MBA from Washington University in St. Louis, spent his day fighting off money laundering at his job as a vice president in legal and compliance at Citibank.
Roaming through the transportation center just after 7 p.m., past people getting on and off buses, it was hard not to consider the other work that occurred through the day here. All around Charlotte Tuesday, rubber gloves snapped against wrists that clean toilets, shoes carried cops that worked a beat, smiling men slathered chili on hot dogs with paper wrappers, elderly people in nursing homes grabbed handles on walkers and tried to take a few steps toward getting independence back, and kids in the children's hospital still rubbed their bald heads for hope. And near the Fourth Street side of the transportation center, a CATS driver hopped out of his bus in front of me and said, "Excuse me," while I glanced at the "I Voted" sticker on his jacket and said, "No problem."
Michael Graff is the editor of this magazine. He can be reached at michael.graff@charlottemagazine.com.