A Look at Life in Charlotte in 1968
Around the country, it's an explosive year. In Charlotte, tension simmers. But the city never erupts, and years of prosperity follow. Here, we recreate the story of 1968 through the eyes of an average Charlottean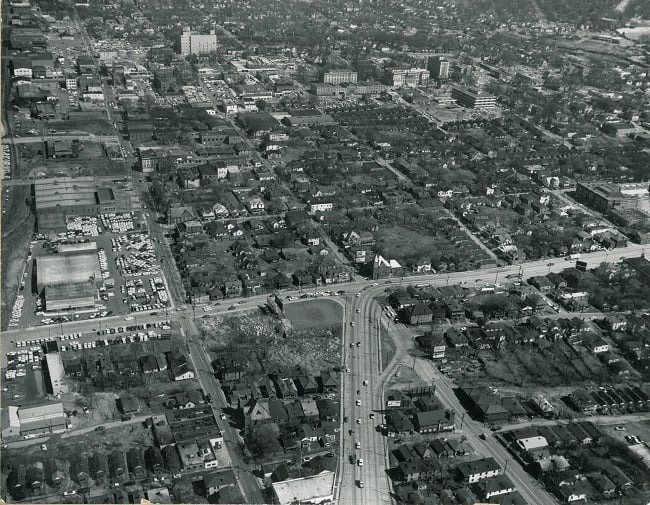 Place mouse over picture to see information.
YOU WORK in an office for Eastern Air Lines or Celanese or Westinghouse.
You're in distribution or sales or research for a textile company or a loan officer for a bank. You make about $9,000 a year. That's not bad—better than your parents did in the mill or on the farm. Much better than the national average of $7,000. And that's why you came to Charlotte from Lincolnton or Wilson or Kannapolis or Wilkesboro. Good jobs with good pay. It's why the city has tripled its population in 30 years. Charlotte is turning 200 years old in 1968, but it feels young.
You still shop at the downtown department stores sometimes. Not as much as you used to, certainly. And you sure as hell don't stick around down there after dark.If you own a home, you're dealing with a tax increase—from $1.60 per $100 to $1.74. Sales tax is up too, but you probably voted for that.
After all, you can get most of the stuff you need at the new Woolco or Zayre or Kmart without dealing with the vagrants or the grime or the parallel parking. Once they finish the new Belk-Sears-Ivey's center down in that cow patch off Fairview, maybe you won't have to go downtown at all. What are they calling that place again? SouthPark?
If you're young and single and just starting out, you live in one of the new apartment complexes down South Boulevard or out Park Road. If you're raising kids, you live in a ranch house on the east side. If you're moving into middle management, maybe you get a nice two-story in one of the new subdivisions off Providence. If you're hard up for cash or into the hippie lifestyle, you share an old house or apartment in Dilworth, where rent is cheap and pot is plentiful.
If you're black, the west side is becoming your only option.
You live in a city that boasts how it desegregated restaurants with little fuss five years ago. That's when Mayor Stan Brookshire walked into the Manger Inn on 10th Street with NAACP leader and funeral home owner Frederick Douglas Alexander and placed an order. That's how things get done in Charlotte. The mayor and the Chamber of Commerce say "Make it so," and it happens. It's the same city where in 1965, bombs went off at Alexander's and three other black leaders' homes. But it's also the city that voted Alexander onto the City Council that same year. In 1968, you can still get evicted from an apartment for throwing an interracial party. And the City Council won't vote on Alexander's motion to tear down a fence standing between the black and white sections of the city-owned Pinewood and Elmwood cemeteries. Alexander bides his time on the cemetery fence issue, waiting until one of his opponents misses a meeting with the flu. He brings the motion again. Brookshire breaks the tie, and the fence comes down.
A symbolic controversy over construction and demolition makes sense this year. It's a time for building up and a time for tearing down. Subdivisions and retail centers in the suburbs. High-rise dorms out on the edge of town at UNC Charlotte. Down at Tryon and Second, where vacant Victorian homes and turn-of-the-century shops stand creaking and crumbling, First Union bank breaks ground on a 32-story skyscraper—the tallest yet in the state. A few blocks to the east, a new courthouse and jail rise amid empty lots, leaving little trace of the neighborhood that had a decade ago been the heart of black Charlotte.
***
Brooklyn. They called it a slum. In some spots, that was true. Near the Little Sugar Creek bottom, narrow, clapboard houses were packed tightly together as children played in muddy, unpaved streets. Some of the houses had no indoor plumbing.
But farther up Stonewall Street toward Brevard were black-owned shops, a movie theater, and houses for black doctors and lawyers and the preachers of two dozen churches. For James Ross, taking the bus to Brevard Street as a boy in the 1950s was like stepping "out of segregation and into freedom." But that's mostly gone now or soon to be gone. Only a handful of houses and the still-segregated Second Ward High School remain, replaced by car dealerships and the Charlottetowne Mall.
Seventy-seven-year-old John Mobley is the neighborhood's last resident. He refuses to move from the shack on Bell Court he owned for decades until he gets the $2,000 he says it's worth. "If they paid me, I'd be gone." Problem is, he doesn't own it anymore. He fell behind on taxes a few years back. A couple of city police officers bought the land for $1,000, then sold it back to the city's urban development authority for $5,000. Someone got paid.
The water's been off for a year. Mobley carries empty cartons to fill up at a church each morning. Even his lawyer says he doesn't have a case.
Back in the late 1950s, politicians and the newspapers promoted "slum clearance" as a good thing. Brooklyn was too dense. Too old. Too rundown. Too black. For folks like Mobley, it was home. Now the 1,000 or so families and 216 business owners scramble for new places to stay. They fan out to First Ward and Belmont and Biddleville. The whispers start in white neighborhoods on the north and west sides: "They're coming; sell while you can." Realtors see dollar signs. They plant black families in vacant houses and wait for their panicked white neighbors to sell at steep discounts. Then they advertise the suburban dream to the same black families and their friends—at a steep markup, of course.
Brooklyn's demise leaves a bad impression among many. Urban renewal is nothing but black removal, they say. There is hope amid disappointment, though. Charlotte dentist Reginald Hawkins is running for North Carolina governor in the Democratic primary—the first black gubernatorial candidate in the 20th century.
He's a different kind of black leader from Alexander—direct and confrontational. Through the 1950s and early 1960s, Hawkins pushed for swift desegregation of hospitals and the YMCA. Back in 1963, he led a march of Johnson C. Smith University students to the courthouse on May 20—Mecklenburg Independence Day, the day white Charlotte celebrated the ephemeral document that allegedly made Mecklenburg County the first to declare independence from the British back in 1775. That type of freedom was limited to whites. Still is. And Hawkins isn't shy about saying it.
"We shall not be pacified by gradualism," he said on the courthouse steps in 1963. "We shall not be satisfied with tokenism. We want freedom, and we want it now."
Fred Alexander is not a fan. Hawkins' attitude threatens the behind-the-scenes alliances he and his brother Kelly Alexander have crafted with the businessmen who control the city. "It's stupid to think you can scare people who build 50-story buildings," Fred tells a national journalist, alluding to Hawkins. "You can be a nuisance."
***
In March, Hawkins gets good news. Martin Luther King Jr. agrees to campaign for him around the state. He'll be there in early April. But on April 2, King takes a detour to Memphis to help striking sanitation workers. A telegram from King's office sends Hawkins regrets but promises to get in touch in two weeks. Two days later, a rifle trained on the balcony of the Lorraine Motel cuts down the 39-year-old King.
Shock and sadness; anger and anxiety. Washington and Chicago up in flames. Dozens dead in riots around the country. President Johnson calls in federal troops. In Charlotte, it's more peaceful—some broken windows downtown. Only 19 scattered firebombs and $70,000 worth of damage. "Peaceful" is a relative term in 1968.
Mayor Brookshire calls a nighttime curfew and suspends liquor sales. Police in blue helmets stand watch on each block. George Leake, pastor of Little Rock AME Zion Church, warns of a "long hot summer" if racism isn't curbed. It's not a threat, just a candid warning. At a memorial service for King a few days later, white and black leaders, including Leake, hold hands and sing "We Shall Overcome."
And there is a lot to overcome. Hawkins loses in the primary, but the Poor People's March comes through town a month after King's assassination. The summer is long and hot around the country. Robert Kennedy is assassinated. Violence breaks out on the floor of the Democratic National Convention. In Charlotte, tension bubbles but never quite boils over. Sanitation workers strike in August, but it's quickly resolved with a 15 percent raise for most city employees and an admonishment from Brookshire not to consort with those union types again.
You can tune it all out at a backyard barbecue, where you talk about business or the Braves or wonder how Lefty Driesell's upstart Davidson Wildcats will fare against the Tar Heels this winter. You still worry about war and crime, though. Everyone does these days, when you can watch the ghettos of once-great cities and the villages of Vietnam burn each night on your new TV set—now in color. Charlotte is calmer than those places, for sure. But still you see bank robberies and muggings and assaults. You know someone who lost his kid in Vietnam. A local DJ gets robbed in the bathroom of the White House Inn downtown. Someone robs a bank in the popular Park Road Shopping Center. An FBI report in August shows Charlotte has the second-highest murder rate in the nation and the fourth-highest rate of aggravated assaults. It's national exposure—but not the kind the chamber wants.
It's an election year. For white people, this is Nixon country. Law and order and low taxes. George Wallace makes a third-party run again, but his anger and overt racism don't play well in affluent and affable Charlotte. Wallace gets 18 percent of the vote in Mecklenburg, Nixon 52 percent. Nixon's hard line against school busing draws cheers from crowds when he speaks at Central Piedmont Community College in September. Not far away, Julius Chambers and other lawyers at the city's first integrated firm build their appeal in the 4-year-old case of Darius Swann, the Johnson C. Smith University professor who challenged his son's assignment to a mostly black school. The kid passes a mostly white school to get there. It's been 11 years since Dorothy Counts endured vicious taunts and death threats to integrate Harding High School. Still, most black students remain at all-black schools. Chambers knows this case could change all that. But it won't be easy getting Charlotte and the rest of the country to accept busing. And a victory in the courts, which will come in the next year, will mark only the first battle.
Around Christmastime, you huddle close to the TV with your family to watch the Apollo 8 launch. For the first time, men leave Earth's orbit. You see the rockets burn red, then white across a blue Florida sky. You wonder what's possible and what the future will hold.
Chuck McShane is a freelance writer based in Davidson. Email him at chuckmcshane@gmail.com.
---