A Look at the New Pure Pizza in Midwood
Owner Juli Ghazi hopes to open doors in early July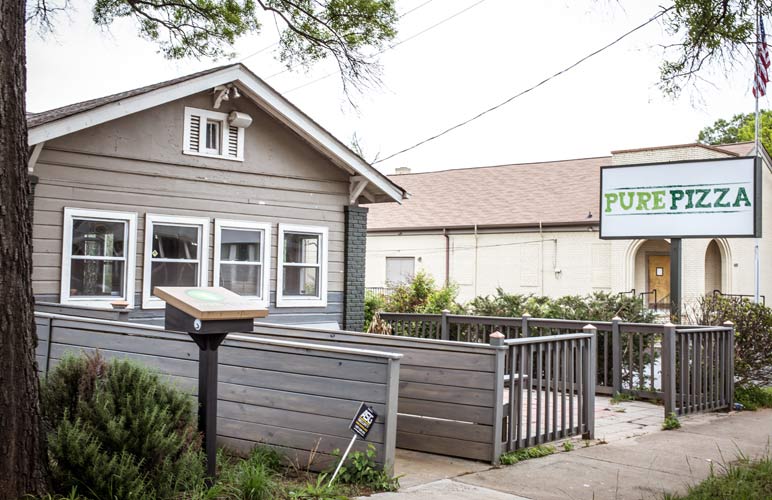 Pure Pizza's Juli Ghazi says she's hoping to open the new Plaza Midwood location around the Fourth of July. This will be the second restaurant for the sustainable, organic pizza place, but the first with its own designated building. The original Pure Pizza opened in 7th Street Public Market back in 2012. The new space will include indoor seating for 42 people and fit 20 to 25 diners on the patio. Ghazi also has plans to cultivate a greenhouse and farmers' market behind the former Lulu building. Here, she answers a few questions about her philosophy, the restaurant opening, and the neighborhood.
Charlotte magazine: Why did you decide to open your second location in Plaza Midwood?
Juli Ghazi: We wanted to be here from the very beginning. It worked out that we landed in the market; it was fantastic. [When] we launched the brand, we realized really quickly we needed a second space, and this was the first neighborhood I started looking in. But there wasn't any available retail at that time; it's hard to come by. … We actually stated working on a site over in the Area 15 part of NoDa, and that unfortunately didn't work out. But … I was at Soul having dinner the night that we realized that project wasn't going to happen, and I ran into Fabrice [Dinonno, former owner of Lulu]. He and I had been friends for a long time, and me and my business partner sat out there [on Lulu's patio] many times for lunch when we were coming up with the plans … and we would say, 'Oh my gosh, this would be the perfect place.'
So then Fabrice, when I saw him that night, he said, 'Hey, how's it going?' And I said, 'Hey, it fell through.' And he said, 'Why don't you buy my lease?' I was like, 'OK, don't tease me, because I love your place.' … So he, the landlord, and I met. It was a really great opportunity. He still had 10 years left and he was just ready to retire. It wasn't that business was bad or anything along those lines. He just had been here for 10 years, [and] he was ready to retire.
CM: Speaking of Lulu, it was a beloved neighborhood spot. Does that add any extra pressure to what you're doing?
KRISTEN WILE
Paintings by local artist Josh Brown will hang above a table
with napkins and silverware.
JG: I think that's our desire, to be a neighborhood staple. We have created such a loyal customer base at the market. We want [to be] a place for anybody, everybody just to come and experience us, and us experience them, in a really cool space. … Show up as you are. Just chill out, listen to good music, have some great food, enjoy a good time with friends. And I think that was also a lot of what Fabrice was able to was able to [create], a place where everybody felt welcome. He did such a good job with the front of the house experience that people wanted to continue to come back. I also think, too, that because of our friendship, that there is a definite loyalty that I have with him on transitioning the space into something that he would be proud of. He put so much effort, so much work and love into this place, that I'm [hoping] to make him proud that he made the right decision. Even though I know he's happy off on his motorcycle. We are adding a Lulu pizza on [the menu] in honor of the space, with housemade pimento cheese [and] fried green tomatoes, because that was definitely a beloved menu item that he had.
CM: What other new menu additions can we expect?
JG: We definitely increased the options for the gluten-free; we've increased options for vegan and vegetarian items, because those are increasingly more and more requests that we get. We're in such limited space at the market and limited space where we can present our menu, so we've taken to the opportunity to expand that. We have added on brunch, for Saturday and Sundays, which, if you come to the market and know about our brunch items, you can get them, but we just don't have them published. We'll be doing … breakfast pizzas, omelettes, they'll have all kinds of specials, from house-made cinnamon buns, you name it. We have that on the brunch menu.
Something that's fun that we'll be doing is from 4 to 6 p.m. here, and you can only get these menu items between 4 and 6 p.m.: It's called H'Angry Hour, and that is going to be like our little happy hour, because the guys, they're really intense when it comes to their capabilities. It gives them the chance to do some really fun, off-the-wall, small-plated types of things that are going to be a little more labor-intensive in the kitchen, which is why you won't be able to get them during our peak hours. So we'll have a fun little H'angry Hour with different specials and things you can come and get during that time, and that menu will change up weekly.
CM: You're pretty big into sustainability; you said you'll have a greenhouse and garden out back that the staff will all work to maintain. What else can we expect to see here?
JG: There can't be this disconnect between what's happening down in the shed and what's happening up here. So anybody that works here will have required time where they have to get their hands in the dirt. They have to love the plants. … We're working with Kris Steele at Crown Town Compost, so all of our kitchen and our restaurant's food scraps, Crown Town will come by and pick up, they'll haul that off. They've got commercial composting. They'll turn it into soil and bring it back to be used in the greenhouse.
What this space is really about—pizza is the vehicle, but it's really about the celebration and education and getting people connected into what it truly means from the farm to table. What it means when you see your food scraps and you know that they're gone [to be composted], and it's coming back and going into the soil and you've got your tomato and the tomato comes back and there it is on your plate. That's the full circle of what the farm-to-table experience is.
CM: What's your favorite pizza on the menu?
JG: My favorite is the wild mushroom on sprouted, add sausage and jalapenos. So good. Our best-seller, hands-down, is the Chorizo. It's just so different, so good. But I don't know, we've got new ones that are coming on the menu that I'm telling you are just amazing. They're really amazing. Geno D's deli pie [with mozzarella, capicola, salami, sausage, garlic, and tomato], that one is in the ballpark.
CM: What can you tell us about your inspiration in decorating?
JG: I'm working really hard to repurpose as much as possible. … Reinvented Charlotte, they have been so amazing to work with. They were able to distress all of these chairs; the tabletops are made out of reclaimed barn wood, and they're also making several sets of doors for me out of reclaimed barn wood. These light fixtures that we're using … I've got five or six [that] came from a farmer down in Georgia. Those are tractor turbines. We've got other light fixtures that are made out of egg crates from the 1930s; the sink in one of the restrooms is a galvanized metal old wash bin that you would wash your clothes in back in the 1940s. So we've really tried to take things that had one life form and work with artists to turn them into another life form.
Chefs Chris Reinhart and Austin Crum will move over from the market to run the Midwood location's kitchen. They'll start interviewing staff soon, Ghazi says, and hope to be on target to open in early July. Before then, here are some more new pizzas to look forward to: the She Rex, with mozzarella, mushrooms, onions, peppers, and fresh kale with lemon vinaigrette; the Fat Tuesday, with mozzarella, Cajun cream cheese, andouille sausage, shrimp, red onions, and peppers; and the Full Boar, topped with mozzarella, sausage, chorizo, andouille, bacon, and pulled pork.