A Look Back at the the Timeless Carson McCullers
In 1937, an unconventional woman moved to Charlotte and began working on her best-selling novel. Eighty years later, it's hard not to wonder whether she'd be accepted here today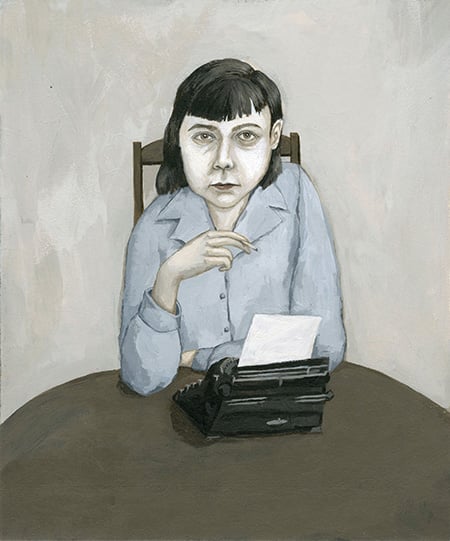 ON A CHILLY AFTERNOON some time ago, a 20-something writer, flask of sherry concealed in a pocket, walked the streets of Charlotte in search of material to use in her novel.
As in other novels with a strong sense of place and time, the city would serve as a character in the story—its smells, sounds, and sights as evocative and informative as any person.
Carson McCullers spent the fall of 1937 through the spring of 1938 living here, as she drafted the outline and first chapters of her debut novel, The Heart is a Lonely Hunter. The book became an instant best seller in 1940, launching McCullers into a Bohemian-literary-Brooklyn fame that involved splitting rent with Gypsy Rose Lee after she moved to Brooklyn and having Arthur Miller and Marilyn Monroe over for dinner.
McCullers was 23 when she moved to Charlotte, and her time here sounds an awful lot like some creative Charlotte millennial's stories 80 years later. She was a newlywed, fresh off a quirky wedding at her childhood home in Columbus, Georgia—Carson wore green for the ceremony. She and her husband, Reeves, made their first home together here, a big city compared to the small Georgia towns where they'd grown up and met. With dreams of New York City or Paris or both, they didn't plan on staying long.
In Charlotte, Carson and Reeves, both aspiring writers, struck the hopeful deal of the young, artistic, and in love: Carson would work on her book for a year while Reeves worked a dull insurance job that supported them both. They'd switch roles every year. Their handicap on the eve of World War II wasn't student loans, but wartime military service for Reeves, and their apartment options did not offer pet spas or rooftop pools.
Their first apartment was a crowded, noisy, miserable-sounding boarding house on East Boulevard (the house, spared by redevelopment, is now the upmarket and delicious Copper restaurant), and their second was an old Pennsylvania Dutch-style clapboard on Central Avenue. It was from these places that Carson worked on her book at the typewriter in the mornings. She then left every afternoon for a walk, seeking fresh air, a few more nips of sherry, and story inspiration.
Think of what the Charlotte of that time offered a wandering people-watcher. Before air-conditioning and before television, the drama of human life, all things banal and bizarre, unfolded daily on a dozen stages on every block: front porches.
Lonely Hunter never names the city it's set in. Later in life, in notes included in an unfinished posthumous autobiography, McCullers suggests it was set in the Georgia town where she grew up. But as you read it—the mentions of roads with Sardis in the name, the city's Greek immigrants, the number of major textile mills present, the character debating a move to Gastonia or Wilmington—well, part of the fun of literature is allowing it to be what we want it to be. This is not a book the chamber of commerce cheerleads. The portrait Lonely Hunter paints of race and class in 1930s mill town life, even in a growing, going-places mill town, is no Epcot. To read the book is to see a lot of what was torn down—and the lack of varnish is part of what makes it a compelling story. McCullers isn't there to sell you the place.
Much of what's alternatingly affirming, fascinating, and borderline depressing about Lonely Hunter is that you could swap out references to record players for Spotify and Woolworth's for Starbucks and it'd read like it was set in 2017—in Charlotte 2017. A community in conflict over police violence against African Americans, a shrinking working class desperate for health care, the tiny handful of businessmen accumulating wealth—it's all there.
So is the discomfort around sexual identity and what we'd call something like gendered clothing today. That applies not just to a character in the book, but to Carson herself. She favored wearing men's suits on those walks around the city. A biography notes that relatives of Reeves' in Charlotte noticed, of course, that his new bride wore men's clothes, and that it was not to be asked about or discussed, especially since, curiously, Reeves seemed fine with it. (While they were in New York, the marriage ended. They'd later marry again. And divorce again. Along the way, Carson McCullers had affairs with men and women, and her protagonists were often pre-adolescent women dreading heterosexual sex.)
It's borderline Twilight Zone-stuff to consider that the McCullers of Charlotte 75 years ago avoided questions, but her contemporary 75 years later could be asked to show a birth certificate if those wandering walks involved a stop to pee.
McCullers would have turned 100 this year, and I began a campaign last year to spread awareness of her place in Charlotte history, and appreciation for what Lonely Hunter can teach us about where we live. History and literature are delicious drugs for people such as me, but when we're back in real time, it's easy to wonder if Charlotte today would have been able to keep someone like Carson McCullers in 2017. I don't think so. I understand why McCullers didn't stay and never came back.
But my hope is that one of you, one of you who has every reason to leave, will stay and write us a scrumptious novel of Charlotte in 2017. Not the official version. The real version. Dirty and messy and full of the stories behind the bulldozers, the newcomers, the plastic-injection Build-A-World-Class people, the Bless Her Hearts. The city's become its own pageant mom, and in the world of literature, that's no insult—what a hell of a character those type of people make.
I want to cackle and cry with recognition as I read it. You don't even have to ever name Charlotte. Write the truth and write it well, and we'll all be able to see it's set here.
EMILY HARRIS is a freelance reporter with a terminal soft spot for great local books and great local architecture but chose to live here anyway. She hopes your forthcoming novel set in Charlotte includes a delicious send-up of condo developers.