A Look Inside A Late-Night Delegate Party
California knows how to party but not so much about shrimp and grits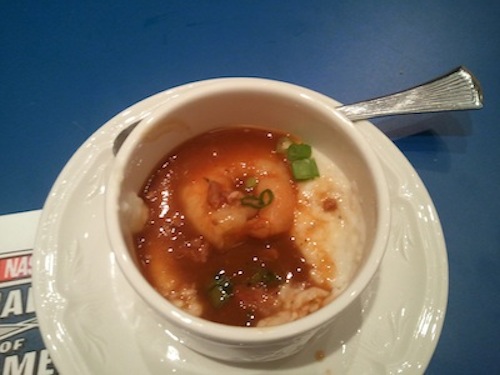 Signs dotting Brevard Street last night near the NASCAR Hall of Fame pointed visitors to the "CADEM Bash." Translation: the California Democratic Party Party.
Officially scheduled from 11 p.m.-2 a.m.—that's actually what the tickets said—most delegates and guests didn't show up until around midnight. Thanks, Bill.
A red carpet-like photo-shoot area greeted the night owls, complete with crazy-bright lights and a colorful, CADEM BASH! backdrop. A few couples commemorated the event. Most people passed.
Carlos, who was manning the cash bar, chatted me up, asking if I had ever been to his home country of Peru. No. Come to think of it, I've never even been to California.
Food lined the perimeter, which is also lined with all kinds of cool racecars (I said it) along a graduated "racetrack." It's weird to think of eating that late at night, because your body thinks you should be in bed. You sample anyway, because it's bite-sized and there.
Upstairs, a "shrimp and grits" bar impressed many. All mixed up in its small ramekin, it looked more like Barbie-sized chili than the Lowcountry S&G I know. One staffer just had a bowl of grits—he had a shellfish allergy. Another called it "the bomb" three times. Some nicely dressed men passed by, practically running to take part in "racing experience" games like changing tires and getting behind the wheel.
Requisite crudités stations lined the lower level, along with salads served in martini glasses and D.I.Y. pulled-pork sandwiches that were warm and flavorful. One lady's whole job was to lift the cover off the pork every time someone wanted to make a sandwich.
Feet throbbing, I took a seat near a very friendly campaign coordinator from Pasadena, Lonnee Hamilton. Her dad had recently moved to Waxhaw, so she planned to drive back to stay with him, and return to the Blake Hotel for an 8:30 a.m. delegate breakfast. That's dedication.
She loved the city. "Everyone here in Charlotte is so nice and polite," she said. "You can just tell you all were really raised right. Even the cops are nice!" Well, they're not all our cops, but we'll take it. As she stood up to make her way to Waxhaw, another delegate—from Florida this time—promptly sat down. Sam, who, I think, thought I was a delegate from Virginia, even though I said my name was Virginia, was nice enough. But it felt a little like speed dating by then. So I got up.
Once a few hundred people rolled in, Eric McCormack (aka Will from Will & Grace) addressed the group, joking that he, being a native Canadian, was proud of moving to California years ago, becoming a U.S. citizen, and scooping up a good American job. He's funny. And short. A couple of hecklers booed when he mentioned Canada. "Don't boo at that; what's wrong with you?" he joked. Rough crowd.
VIPs sipped and swirled from a second-floor glass room that, to me, just looked like "the beautiful people" packed on the Carolina Skytower.
People mingled. They laughed. They took pictures together. Some even danced. The music was great.
One Secret Service-looking man kept popping up everywhere I turned. It was creepy-comforting. I saw him so much I started wondering what I had done to make the questionable person list.
When Lieutenant Governor Gavin Newsom "welcomed" everyone around 1 a.m., that was my cue to head out. Maybe they're still on California time.