A Natural Fit: Nancy Lowry's Style
The Wing Haven volunteer has an appreciation for the past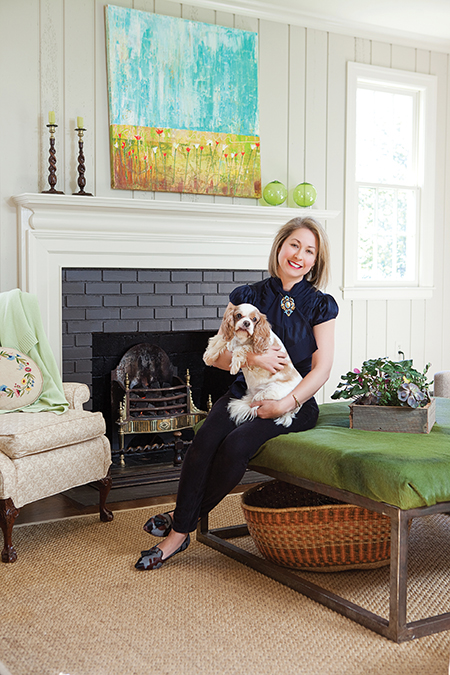 NANCY LOWRY, 37, was raised in rural South Carolina, where she and her sister spent time with two eccentric, older women who were friends with their grandparents. "We didn't have little people to play with," she explains. So they sought out Hattie and Miss Cousin Edna—"Miss Cousin Edna," she stresses. The elderly women were married to brothers, and their children had long since moved away. They had time for little girls and shared their hobbies of feeding birds and gardening.
Seated in the sunny family room of her Eastover home, an Hèrmes bangle adding a pop of color to her casual outfit, Lowry's hazel eyes twinkle with understatement as she relates this tale. The farm community of her childhood was more than "country"—her father, a farrier who worked on champion horses, gifted her with her first horse when she was five. She grew up riding and fox hunting, and she brought her love of the outdoors to Charlotte.
"Hattie actually was friends with Elizabeth Lawrence and Elizabeth Clarkson," she says, referring to the Ridgewood Avenue neighbors whose homes and gardens later formed Wing Haven. Lowry's first visit to Wing Haven was on a bitterly cold December day in 2009 with her one-year-old son. She and an aunt made bird feeders by scooping the pulp from lemons and filling them with seed, reminding them of Hattie's enthusiasm years ago.
Lowry began volunteering at Wing Haven soon afterward, and she's built patronage the way a painter fills a canvas, with an eye that sees a composition through its relationships. Warm and welcoming, she infuses symposiums and farm-to-table dinners with a strong sense of community. And it all started with two friends who welcomed children into the natural world.
---
WING HAVEN JAM AND HONEY // In the fall, volunteers gather mulberries from trees to make jam. It's similar to blackberry or raspberry jam but with smaller seeds. The honey comes from hives on the property; bees have three acres of herbicide-free gardens to explore.
---
PORTRAIT // Charlotte artist Veronica Clark's lively pastel of Lowry's first horse, Straw, hangs in her kitchen. Lowry's father gave her the quarter horse when she was five years old. "He was my best friend for almost 30 years," she says.
---
LETTERPRESS STATIONERY // A handwritten note is a classic statement, and Lowry enjoys setting aside a quiet moment to compose her thoughts. The resurgence of letterpress printing has brought a new generation back to paper. Local company Dizzy Daisy Designs (available online) offers custom designs.
---
HERITAGE RECYCLING // When a farm building was taken down at Lowry's South Carolina home, boards were planed and trimmed for new uses. Lowry used them to create a garden shed, to panel walls in an addition to her house, and for this box, one of dozens built for a Wing Haven workshop.
---
HEIRLOOM JEWELRY // This beautiful medallion of garnets, turquoise enamel, and filigree was awarded to Lowry's great grandfather in 1902. A Czechoslovakian, he received the medal at an open-water swim competition. It makes a striking brooch; Lowry has a collection.
---
This article appears in the March 2016 issue of Charlotte Magazine
Did you like what you read here? Subscribe to Charlotte Magazine »
---