A Night at Girls Only: The Secret Comedy of Women
Not angry enough for The Vagina Monologues? Not old enough for Menopause: The Musical? Then, boy, have we got a girly stage show for you.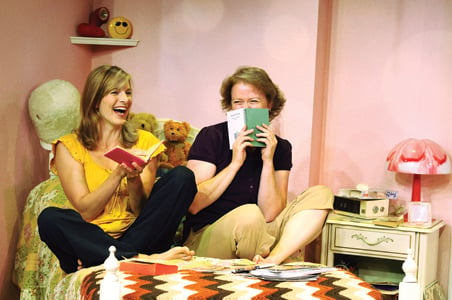 Last Wednesday night, I voluntarily let a complete stranger rifle through my purse in public—and enjoyed it. I guess that's just the kind of mania women are prone to when you put enough of us in the same room. On this particular night there were dozens of women (and a few, unfortunate men) in the same space at the Stage Door Theater to see a performance of Girls Only: The Secret Comedy of Women, which is on an extended run in Charlotte after gaining popularity out in Denver. It was there that the show was conceived by two women who discovered a wealth of comedic gold hiding inside their childhood diaries and decided to turn it into a stage production.
The show they created is a lot of fun—I'll get to that. But what I appreciated most about Girls Only was the little details that the show introduced to the theater-going experience. For starters, all the cocktails available for sale at the lobby bar were "chick drinks" that, while sugary, brilliantly evoked that feeling of being twenty-one again and ordering something big, sweet, and colorful just because you can (and likely throwing it up later). At intermission I discovered that the bathroom usually designated for dudes had been deemed a women's restroom for the duration of the performance, thus cutting the line to the women's room by half and forcing any man crazy enough to attend this shindig to have to walk to another floor to take care of his business.
The music played before and after the curtain was a girl-power mix of the greatest kind: Madonna, Cyndi Lauper, Shania Twain, Faith Hill—the guilty pleasure songs you'd be loathe to belt in front of your boyfriend but that you'll sing without any guilt at all when only other girls are around. I haven't heard all of them played back to back since the wee hours of sorority rush week when I and 200 other girls were pulling all-nighters to decorate campus conference rooms for the next day's onslaught of festivities designed to bring more women into our happy, singing brood. And that is the environment that the two actresses on stage seek to create during the two-hour show: a punch-drunk gathering of a secret sorority.
The choreography of the show is similar to that of the blockbuster performances I used to put on with my childhood best friend in front of an adoring audience composed of our parents—which is exactly how the creators intended for it be. It's one part stand-up comedy, two parts SNL-style skits, and one part musical variety show. The whole shebang is performed on a stage decorated in detail to resemble a tween-age girl's bedroom sometime in the early eighties. The actresses, Bethel Caram and Diana Dresser, were hanging out in their "room" when we entered the theater … wearing only their bras and underwear. I would imagine that is when the two men who had unknowingly accompanied their wives began to realize the scope of their error. They sang an ode to the very bras they wore, as well as ditties dedicated to puberty and dating. There was even an elaborate ballet inspired by the art of putting on pantyhose. The most enjoyable moments come when the actresses ad-lib (including the bit where my purse was invaded on stage and items from it were worked into the improv scene). While at times I wished the dialogue would push beyond PG innuendos and be a bit more adult (perhaps that is just evidence that I came of age in the era of Carrie Bradshaw), the actresses' feel-good femme energy was infectious—like getting a case of the giggles with your BFF because you've stayed up way too late at a sleepover. It was really nice to remember how that feels.
Girls Only is playing now through August 1. Tickets start at $34.50. 130 N. Tryon St., blumenthalcenter.org.