A NoDa Family's Brush With Trending Racism
And a reminder of how good people can be, too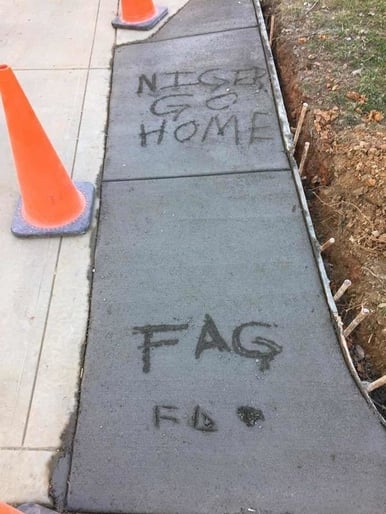 For the record, Ailen and Tony Arreaza don't necessarily think that whoever scrawled "Niger [sic] go home" and "Fag" in wet cement in the driveway outside their NoDa home was specifically targeting them. They can't know for sure. But it doesn't make sense. They're Latino, for one thing. For another, they're man and wife, married with two children. So, what, somebody was staking them out, waiting for just the right moment to write misspelled crudities in their driveway?
They live on North Davidson Street, and drunk morons from the bars stumble down the street after midnight on weekends. Sometimes one will try to break in or leave something gross on the porch. It doesn't take much to imagine one of them spotting fresh cement and deciding to leave a mark.
"It could have been something stupid, like, 'Chris loves Shelley,' or a handprint, or a dick," Ailen told me Sunday afternoon, sitting on her couch as Tony tended to the kids. "And that would have pissed me off. But it wouldn't have made me cry.
"I think it's that the moment that we're living in allows people to freely and openly make the kind of statement like they made in the driveway, and that's really scary."
Intimidation works through big and small gestures, whether it's a national ban on immigrants or racist and gay-hostile graffiti. The Arreazas, especially Ailen, know that better than most. Her Cuban parents were granted political asylum in the United States when she was nine; she's 33 now. Her mother, she explained, was a vocal anti-Castro activist in Havana. She was arrested more than once. Finally, they realized they had to get out of there, and they chose the obvious sanctuary, The New Colossus. They've never regretted their decision. Ailen is the state program director for a Washington, D.C., family nonprofit. Tony makes his living as a musician.
He got back from his gig at a Cuban restaurant in south Charlotte at about 10:30 Saturday night. The family went to bed around midnight. At about 8:30 Sunday morning, Tony looked out the window at the drying patch of concrete that contractors had poured Saturday to widen their driveway. "He said, 'Oh, look, somebody wrote something in the cement,'" she said. "Then I saw what it said, and I just started crying. I've just been so upset anyway these last few days over what's been happening in this country, with people, even American citizens, being turned away, and been thinking, 'These people are not being allowed in their home country?' And then for this to happen …" Her eyes welled up, and she shook her head. "I don't know."
They reported it to the cops, of course. If it wasn't a hate crime, it was at least vandalism. They called their contractor and asked if he could come by later to trowel out the defacing. The contractor said he'd come by in the afternoon. "We don't want the kids to see this," Tony said. Ailen posted a photo of the driveway to Nextdoor and Facebook. Then the Arreazas took their boys, ages seven and four, to church.
When they got back, they discovered someone had come by while they were gone and left more mementos—this time, two bouquets of flowers. The offending words had been filled in and were no longer legible. "I don't know who did it," Ailen said. "It wasn't the contractor." While I was talking with Ailen, a friend of Tony's, a fellow Venezuelan immigrant, came by with a bag full of pastries from Amélie's up the street. The contractor, as promised, came by in the afternoon and began retroweling the concrete.
Ailen walked me to the kitchen to show me something else a mysterious stranger had left. They were two cards fashioned out of white paper, with multicolored balloons floating upward from words written in childlike block letters: on one, "Friend," and on the other, "Neighbor."