A "Passion" for Sondheim
A conversation with director Glenn T. Griffin about QCTC's new musical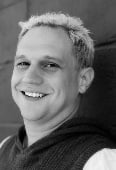 Queen City Theatre Company closes its season with the regional premiere of Stephen Sondheim's Passion. Catch it at Duke Energy Theatre from May 3-19. Read on to find out why director Glenn T. Griffin is passionate about the musical and the man who created it.
Revue: Why Passion? What made you choose it to close your current season?
Glenn T. Griffin: We chose it because of the musical's message of looking beyond the exterior to find love. If you look closely at the entire 2011-12 season, it was actually put together with the idea of loving who you are exactly as you are. In The Irish Curse, we looked at male body imagery, in Xanadu, we had a love story between two people with one of them hiding what they really are in order to love the man she meets. Finally in The Most Fabulous Story Ever Told, I wanted to look at how we learn to love ourselves and others when society tells us that love is wrong. I wanted to see how it makes families out of strangers, and how these families are sometimes a stronger family unit than the ones we are born into. So, I thought Passion, a true love story, would be the perfect way of ending the season.
I'm also a huge Sondheim fan, and this was a musical that I've wanted to direct since I first heard the CD in 1993. Passion is also an incredible piece of theater that won the Tony Award for best musical, and it hasn't been attempted in Charlotte before. I love to give our audiences something that they may not have seen.
Revue: People seem to either love or hate Sondheim. I know which camp you're in. Why? What makes him one of the greats of modern musical theater?
GTG: I love Sondheim. I really believe he is a master of musical theater. I don't believe there are many people out there who can hate Sondheim. He is recognized worldwide as a true master of his craft …
He might be a difficult composer to fully understand, but once immersed in his music and lyrics, [he] is totally worth it. I'm sure one day in the future, if he's not already, Sondheim will be studied in classes in University. Since he writes both the music and the lyrics, there is so much to explore. When Sondheim writes, it is often like peeling an onion. You get layer after layer after layer. Once you think you've discovered what the song is about, you discover more.
Sondheim appeals to the lover of musical theater and to those that simply want to see a story and hear some beautiful music, but it will also appeal to the intellectual who wants to really dive into the musical and get all that they can out of it. I feel that Passion is actually one of his masterpieces. If you listen closely to the songs of Passion, the music and lyrics are simply genius. Unlike a lot of other musical theater writers, Sondheim's lyrics are extremely thought-out and well played.
Revue: The play is generally performed in one act, although the performance in London added an intermission. How will you stage it?
GTG: The production I saw [in London] at the Donmar Warehouse with Elena Roger as Fosca in 2010 was performed in only one act. I like the one act format of the show and will keep it this way. I feel that if the show is split into two, the audience will lose the intensity of the show by going out for an intermission. This musical is like a movie and meant to be taken as one big serving. The whole show only runs an hour and forty-five minutes, so it is no longer than an average movie.
Revue: What's your favorite song from Passion?
GTG: That's a hard question. I love so many of them for so many different reasons. I love the song "I Read" because it is a great character song for Fosca. You truly learn a lot about her character just by listening to that song. Also, the music that goes along with the song gives it this nervous quality which is exactly how Fosca is feeling when she first meets Giorgio.
I also love the song "Is This What You Call Love?" It is Giorgio finally getting so frustrated with Fosca that he just explodes and throws all of these hurtful words at her about his views on love and that they are the opposite of hers. The song "Loving You," which is the song the show is best known for, is simply beautiful. It reminds me of a lullaby. I could go on and on. I love how parts of songs are repeated in other songs to make a point — or they are thoughts that are re-evaluated. he whole show is filled with so many incredible pieces it really is hard to pick my favorite.
Revue: You've seen this play staged before, I assume. What will you do similarly or differently from other productions?
GTG: It's funny you assume I've seen the show before. I actually would rather direct having not seen a show than having another production in my mind, but yes, I have seen it before. I saw it when it was on PBS and I also saw it last year when I went to London. When I'm directing, I like to put the other production out of my mind. I don't want to copy what other directors have done before. I think that is cheating, and as a director, what would be interesting about that?
I hate when you go see a show and it is just a watered-down version of what you saw on Broadway. Of course, it is hard to take the other productions out of your mind, but I have simply gone back to the source material which is the novel, Fosca, and the movie that the musical is based on, Ettore Scola's Passione d'Amore.
I've also just sat with the score for days on end imagining how to do this musical in the Duke Energy Theatre and what I wanted to say with it. If I have to point out one thing that will be somewhat different from other productions, it is that there won't be a hairy mole on Fosca's face like on Broadway. The designer really made Donna Murphy ugly. I feel that they really wanted to hit the audience over the head that this was an unattractive woman with no beauty about her. I think they went a little overboard, but they were also playing in a fairly large Broadway house. The musical is an intimate piece, and will really work well in the much smaller Duke Energy Theatre.
QCTC's Fosca will be plain and sickly as she is described in the book. She would remind you of how Jane Eyre is described … she is easy to overlook in that there is something missing in her that would make men fall in love with her. Fosca's beauty lies deep down inside of her, and the journey of the musical is not only Giorgio's journey but one of self-discovery for Fosca as well. She has been hurt by love in the past and guards her true love well.
Revue: Who should see this play?
GTG: Anyone who wants to see a beautiful love story. Since the musical is based on an 1850s novel, it would remind you of the novels of that time like Anna Karenina, Jane Eyre, and Wuthering Heights. The show will be a very large production for QCTC from the set, lights to one of the highlights of the show — the costumes. We are bringing a large part of the costumes from the original Broadway production, and we are very excited about it. Fans of Sondheim will love it, as well as fans of musical theater. If you have seen other Sondheim musicals like A Little Night Music, Follies, Sweeney Todd, Sunday in the Park with George, or Into the Woods, then you are going to love this musical. Also, there is a real beauty about it. Every time I hear the ending of the show, it really makes my heart break in two. It is so beautiful.
Revue: Tell us about the actors playing the leads. Are they all Sondheim fans? What's their previous experience with his work?
GTG: The three leads are Kristian Wedolowski as Giorgio, Cynthia Farbman Harris as Fosca, and Brooke McCarthy Mize as Clara. I think they all come to the table with a love for Sondheim, but I believe only Brooke has ever done a Sondheim show before, and that would be Into the Woods.
Having grown up in Uruguay where musical theater is not a huge part of the culture, Kristian wasn't too familiar with Sondheim, but he has become a true lover of the man's work. Cynthia has a background in opera, so she has a great respect for the difficulty of the music and lyrics and Passion reminds her a lot of pieces written by Puccini. Rehearsals have been going great, and they are all diving into their characters and working extremely hard.
Revue: Anything else you want to say?
GTG: There are some directors who love the works of Shakespeare and wish to direct all of his works or directors who want to direct all of Anton Chekhov. I'm the same, but I want to direct all of Sondheim's musicals. Each musical is so different and so ingenious. I've had the opportunity of working on several of Sondheim's shows as an actor … Into the Woods, A Funny Thing Happened on the Way to the Forum, and Merrily We Roll Along. I was extremely lucky to be able to work on the revival of Merrily We Roll Along in London, of which Sondheim had a role in. The show was being rewritten as we worked on it, and to work with someone truly makes you into a fan. Watching the brilliance that can come from a man's brain is awe-inspiring. I want to bring these shows to life on the stage and truly celebrate Sondheim and musical theater.
Sondheim changed musical theater forever and helped create it into the modern musical that we have now. Composers like Andrew Lloyd Webber have Sondheim to thank … He paved the way by writing experimental shows in the 1960s like Follies, Company, and Anyone Can Whistle. I would look forward to more Sondheim from QCTC in the future after Passion.
Passion is truly all about passions, and how they control our lives. Sondheim is a real passion of mine. I don't know where musical theater would be right now without him.