A Perfect Fit in Dilworth
Nathan and Courtenay Leehman downsized to a magical block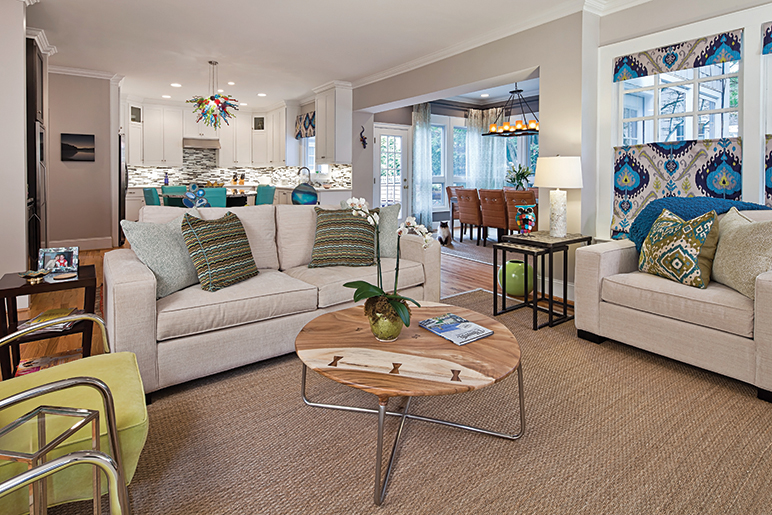 IT ALL began with a pillow. A chartreuse and turquoise pillow in an ikat print inspired the color scheme of Courtenay and Nathan Leehman's Dilworth bungalow. But if you dig a little deeper, you'll realize that everything really began when Courtenay discovered Tom Holley more than 15 years ago on the Dilworth Home Tour.
Holley, the owner of Crazy Jane's, a full-service interior design and retail showroom in South End, designed a home on the tour, and Courtenay liked his style and execution. "It was put together, but not too done," remembers the Wells Fargo executive. When she moved to New York in 1999, Holley traveled there to design Leehman's home. Since then, he's done two homes in Myers Park for her, plus the bungalow, which was selected as one of the featured homes for this year's Dilworth Home Tour in September.
As they're drinking wine while sitting at the island of her newly renovated kitchen, Courtenay and Tom's natural rapport is obvious. They talk over each other in excitement as they reminisce about past collaborations. While all of them have been fun, the Dilworth project is a shared favorite because it's a perfect combination of lifestyle and space.
"They made more spaces out of what the space was," explains Holley. "This is lighter and airier and brighter, but it's still sophisticated."
Before moving to Dilworth, the Leehmans renovated a 4,200-square foot house, complete with a guesthouse, in Myers Park. While they enjoyed throwing large parties (think 150 guests), they found that everyone usually ended up in the kitchen and that they didn't use all of their space. As self-admitted home renovation enthusiasts, they were open to a new project. When they visited Brenda and Robert Reuter, former Myers Park neighbors, in their new Dilworth home, they knew where they wanted to be.
"We just weren't aware that there were still neighborhoods where you could sit out on your front porch and see your neighbors. Your kids can just run around, literally, while being within walking distance of everything in town," says Nathan, who owns Ultra Running Company in Myers Park. "We have tickets for the baseball games and the basketball games, and after, we can just walk home or take the light rail."
Nathan's daughter Samantha, now 11, was up for the move and for finding new friends. So when Brenda told Courtenay a house was on the market a couple of doors down from them, the Leehmans put in an offer immediately and brought Holley and architect Jessica Hindman of Studio H in to begin work on their future home.
They worked as a team with Courtenay, as she pulled everything together with the general contractor from the Historic District Commission review to the sourcing of the appliances, the plumbing, and the landscaping. Together, they created a welcoming space that seamlessly fits into this front-porch neighborhood. The footprint of the home, which dates back to 1901, remained unchanged, but the configuration of space was altered for modern living.
Now the kitchen is larger, opening up to the living room and dining room. "I can still be over here cooking, chatting with everyone, but they're not under my feet," says Courtenay. "We even went so far as to put in a guest trash can and a chef trash can."
The dining room sits where a screened porch used to be. A low-maintenance concrete dining room table with stainless steel legs balances out the whiskey leather dining chairs accented with silver, horsebit-inspired pulls on the back. While the table is new, the chairs are from their Myers Park home, as Holley tried to reuse everything he could.
The living room has a custom chenille, down-filled. off-white sofa that is extra-soft to sit on, and a matching chair that cradles the famous ikat pillow. Two custom-designed chartreuse, leather Paris club chairs and a sunburst nickel ceiling mount add contemporary flavors to the space.
New custom white cabinets and white quartz countertops replaced the former kitchen's navy palette, An Alaska white granite island, punctuated with custom leather robin's egg blue stools and a colorful, handblown glass chandelier, mirroring artist Dale Chihuly's work, add colorful punches.
The casual atmosphere allows kids to run in and out of the house without worry, while its design ignites impromptu gatherings with neighbors. "I will at any point in time have 10 kids in here, then they'll all leave. They're like a little herd. We just text each other so we know where the children are," explains Courtenay. "Someone will come home with too many steaks. We'll throw them on the grill, and people will come over and bring a side."
The upstairs continues the casual and contemporary vibe of the home, as sculptures by Mark Ferri, one of Courtenay's favorite artists, sit in an original alcove in the stairwell. Samantha's room features a bookcase that also serves as a door to a secret room, where a trundle bed can accommodate overnight guests. A curtain divides the hidden space, allowing for storage as well as a playroom. Courtenay says the kids almost always migrate to the secret room after watching a movie downstairs.
Down the hall from Samantha is the master suite, which was one of the more challenging parts of the renovation. Originally, the master bedroom was downstairs. A prior renovation moved the master bath to the front room of the house. Nathan and Courtenay wanted a private retreat, so they moved the master upstairs, turning the original master suite downstairs into two guest rooms.
"The footprint of the original Jack and Jill bath was consumed in making the (new) master bath and laundry," explains Courtenay. "The two bedrooms (upstairs) were modified in size to create a larger master bedroom and master closet." Courtenay hung her grandmother's chandelier in the master closet for extra fun.
Chris Mullis of Mullis Tile & Marble, Inc. designed tile frames from a motherof-pearl glass pattern around the new master bathroom mirrors. The tile echoes the tile in the glassed-in double shower. The suite exudes luxury, yet it doesn't feel overdone or extravagant, and that's exactly what the Leehmans wanted. "We're not trying to build McMansions," Courtenay says. "We're trying to keep the houses true to the neighborhoods."
In the backyard, an understated fire pit and patio await conversations over a bottle of pinot noir, Courtenay's favorite wine. A small garden on the east side of the house renders squash and herbs, and a recently built garage in the back corner offers more storage and can be accessed through an alley. They've put plans on hold to install a car lift to facilitate two cars, as Courtenay likes parking on the street so she can see her neighbors when she goes to work in the morning.
"We have all this great interior space, but we live on the porch," says Courtenay.
As for Holley, he's still bringing pieces over and moving things around to find the perfect fit. The latest is a natural driftwood floor lamp for the front porch.
"He doesn't bring us too many duds anymore," says Nathan. "There was a little bit of a learning curve with me, but Courtenay will tell him exactly what she thinks."
"I trust Tom implicitly," says Courtenay. "We have a very similar aesthetic."
---
The Dilworth Home Tour 2015
The Dilworth Home Tour 2015 is September 18-19; Friday 6-9 p.m. and Saturday 10 a.m.-5 p.m. Tickets will be available for $20 via PayPal. or at Paper Skyscraper, Park Road Books, Dilworth Drugs, Mayobird, and Ultra Running Company. Tickets also will be available for $25 at most of the tour homes during the tour. Courtenay Leehman is the chairman of this year's tour, and Tom Holley of Crazy Jane's designed three of the seven homes on the tour.