A Photographer (and Golf Newbie) Discovers John Daly
On the trail of one of the sport's most legendary and flamboyant characters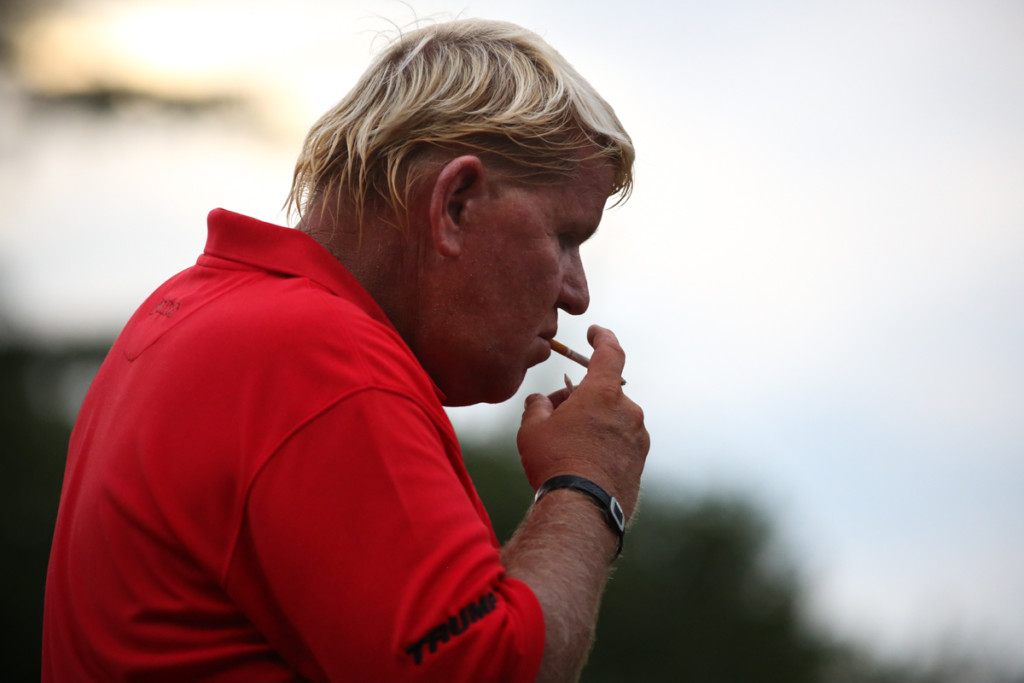 I WAS LATE getting to the course Friday. The afternoon rounds had already started, and I was walking alongside the 12th hole to see what I could see. About 300 yards in front of me, through a thicket of pine trees, I saw him dressed in red.
"That must be John Daly," I thought.
The first time I played golf was in 2005 at the course on Camp Lejeune while serving time in the Navy. I remember that I played about three holes and decided it was more fun to drive the golf cart. I haven't played since. Needless to say, I've been behind the learning curve covering the PGA Championship this week. Here's a little nugget to show you just how little I know about the game: I didn't know anything about John Daly. Didn't know who he was. Didn't know why so many people cared about him. I didn't even know he existed. But during the first few days of this week at Quail Hollow, I kept hearing his name, mostly for not-so-great-reasons. So I read about him, and especially his drinking and smoking. A friend of mine who is a golf fan filled me in about Daly's past and present transgressions. I decided that the less I know the better.
I grew up in rural Ohio, on the banks of the Ohio River. Steel mills and old warehouses dotted the terrain. At my exit off of State Route 7 in Rayland is a small golf course called the Fairway River Links. It's a small course and I passed it nearly every time I left my house. If you Google it, the first two reviews are, "Nice course, reasonably priced," and, "Tee boxes are terrible, fairways are fair, greens are slow." This is a course where the blue-collar mentality persists. It's funny to me that a white-collar sport has such a blue-collar hero. Daly is almost a caricature of a kind of golf that a rich person thinks a poor person would watch. Nevertheless, after I learned about Daly this week, I started to picture him, with his millions, on that tiny course next to a polluted river, cigarette hanging from his lips, teeing off from a terrible tee box.
I made the decision to follow Daly for the rest of the day as he teed off on 13. His ball sailed wide right and bounced outside the ropes, about 10 yards in front of me. I took this as a sign from the golf gods that my decision was sound. Fans huddled around his ball and began chatting like school children about what they would say to Daly when he came over to hit his ball. As he approached, though, they all stayed silent. His bright red shirt and red polka-dot pants clashed with the subdued greens and blues behind him. A PGA official pushed the onlookers back as Big John hit his ball back into play.
As I followed him to 15, I saw a woman wearing shorts with the same red and black polka-dot pattern. I walked up to her in between strokes and asked who she was and why she was wearing the shorts. She gave me a strange look and replied, "Oh because that's my fiancé." If I had been more observant, I would have noticed the many Daly-ites chatting her up at each hole. One was nice enough to hold an umbrella for her while it rained. I told her I'd seen a video of Daly singing "Purple Rain" on stage with Darius Rucker from earlier this week. She told me they were old friends and that Daly was a musician too. He has three albums on iTunes.
It seemed like everywhere that Daly went, a once-docile crowd turned into wide-eyed golf groupies. "Come on there, Long John. Birdie this hole and get the hell out of here," one gentleman yelled from behind an umbrella. Another tried to hand John a Budweiser as he made his way to the third hole.
In the early evening, while Daly's group was on the second hole, air horns blasted across the course. I was too tired to ask why. There's a lot to learn about golf, I've realized, and you can't learn it all at once. But this is a solid piece of information I picked up Friday: Air horns mean there's a storm.
About two hours later, after the weather delay, Daly arrived at the ninth hole, his last of the day. He hit second in a group that included fellow PGA champions Vijay Singh and Rich Beem. A few clouds were still churning as he took one last drag off his cigarette and stepped up into the tee box. Daly glanced at his ball and took a big swing. The small crowd of die-hard Daly-heads let out some hoots and hollers as the ball sailed down the fairway, landing far left of the green near the bunker. Daly finished with a bogey and score of 8-over-par for the day, 11-over for the tournament.
He wasn't a favorite to win at Quail Hollow, and the people that came out to see him didn't expect a miracle. They were out here to see Daly smoke cigarettes and get testy with PGA officials. They came to see him live out the title of his most popular song on iTunes: "Hit It Hard."
Logan Cyrus is a photographer in Charlotte.