A Preview of Legion Brewing's New Cellar Series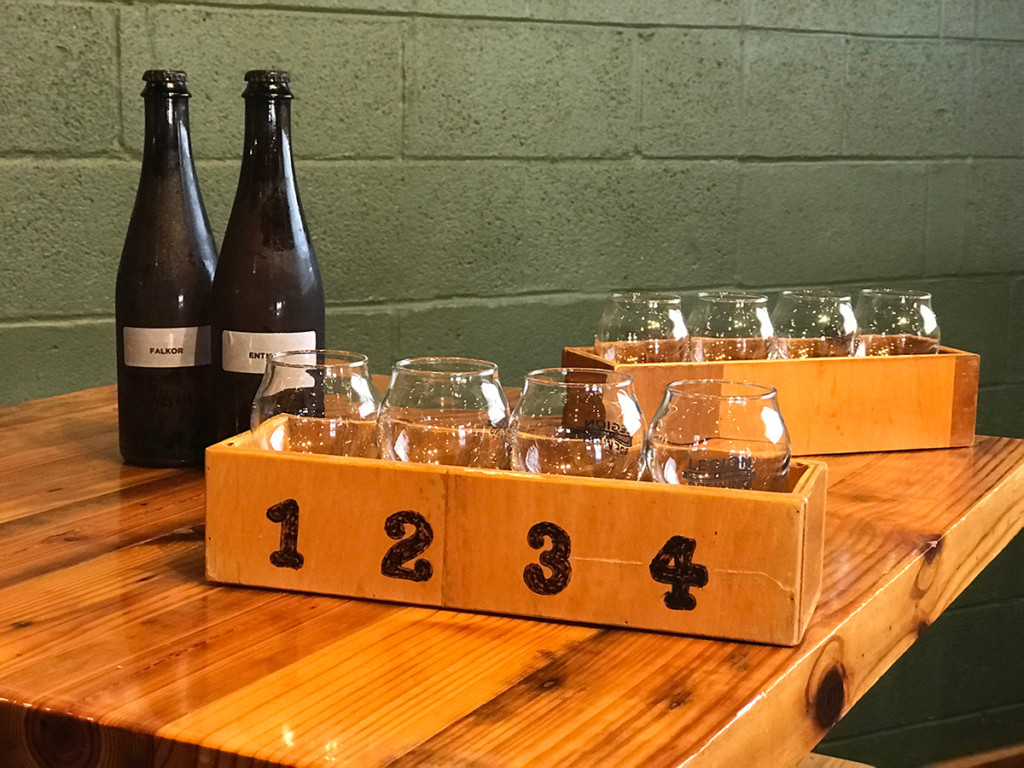 Cellar master Patrick "Patty" Lodge gave Charlotte magazine a behind-the-scenes look at Legion Brewing's sours program and upcoming cellar series ahead of the August 31 release of two new brews. Here are six more things to know about their sour beers and what else Legion has in the works.
1. It's an ode to tradition. Sours are having a moment, but the tart, tangy beers are actually one of the oldest style of brews in the world. "It's inspired by Belgian traditions—we're just putting an American interpretation on it," Lodge explains. "Sours are in their heyday here, but they've been out west in wine country for awhile." Most sour beers have some type of fruit in them, and can take more than a year to ferment in a process called barrel aging. (In other words, it's when beer is intentionally spoiled by bacteria—the good kind—to achieve the sour flavor.)
2. Sourness equals complexity. Think of sours as having all of the complexity of wine with the zing of a lemon or green apple. Most sour beers have little or no hops, so they're a great option if you don't like bitter IPAs or you're usually a wine drinker. One of Legion's soon-to-be-released varieties, called Entmoot, has an oak-y flavor with notes of pineapple, but it doesn't punch you in the face like some sours. And, as Lodge says, "it's got dancing-on-your-tongue carbonation."
3. It's super science-y. Lodge comes from a science background; he studied chemistry and had offers to attend medical school when he chose to join the team at Legion three and a half years ago. As cellar master, he assumes a number of roles including (but not limited to) keg machine fixer, lab manager, and yeast activity monitor. He can tell you everything you want to know about ingredients and fermentation techniques, but "I won't tell you how it will taste," he says with a smile. "I'll just tell you how it's made." Much like a sommelier, he wants customers to discover their own favorites.
4. There's a story behind those names. Entmoot is a reference to a gathering of trees from Lord of the Rings, Falkor is the dragon from The Neverending Story, and Ouroboros is an ancient symbol of a serpent. With old favorites like Naughty by Nectar and Banjo the Sea Monkey anchoring Legion's beer menu, you can expect more creative names in the cellar series line-up.
5. It's a special occasion beer. Like champagne, these beers are naturally carbonated in the bottle. Each one is 16.9 ounces—or 500 milliliters—with five to seven percent ABV, and costs around $14. Legion will release Entmoot and Ouroboros on August 31, and Falkor will be available in September.
6. It'll be more than just sours. "Falkor is not a sour beer, which is why we're replacing the whole term with 'cellar' to encompass everything," Lodge explains. Another brew, called Viserion (a nod to Game of Thrones), is in the works too. "It's the first beer we fruited," he says. He's been experimenting with strawberries, blueberries, peaches, and pears, which he says are all in different stages, aging anywhere from six to 18 months, and all part of the cellar series. "We'll be bottling the strawberry and pear soon, which has been fermenting since January."
Entmoot and Ouroboros will be available at Legion Brewing's Plaza Midwood location on August 31, and Falkor and Viserion will be released later this year. Look for at least one new bottle added to the Cellar Series each month