A Q&A With Quentin Talley & This Weekend in Charlotte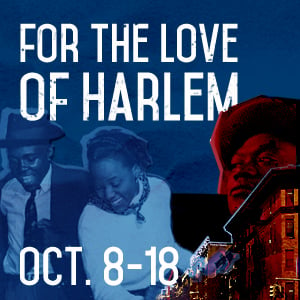 As For the Love of Harlem its ends his run this weekend at Duke Energy Theatre, we talked to Quentin Talley, the man behind the theatre company On Q Performing Arts. Talley talks this show, and what's ahead for the group.
So tell me about For the Love of Harlem, which is currently playing at Duke Energy Theatre.
Well, this one is an original, and it was written by Jermaine Nakia Lee, who is from Charlotte. This is our second time doing this one in three years. It's a large musical. We have a 14-member, professional cast, a '60s band, a whole lot of production, and more. It's a big show.
On Q seems to put a focus on original productions, usually by Charlotteans. Where do you find those writers and artists?
It varies. Most of the time, it's submissions. Sometimes it's just being out and meeting people. We try to do at least one original a year, from a local or nationally known playwright. We represent a lot of voices.
On Q was founded in 2006. What does your company add to the theatre scene here in Charlotte?
We provide a voice for black theater on a year-round level. We give a diverse voice, and we represent the community here.
What can you tell me about the upcoming Christmas show, A Soulful Noel?
It's a fun holiday show, with an On Q flair. It's not a Christmas show you'd usually get anywhere else. But it's family-friendly. Everyone should come. There are the holiday classics, but you get a different spin.
Read about For the Love of Harlem and other weekend events below:
FRIDAY
SCIENCE ON THE ROCKS: FRIGHT AT THE MUSEUM
Discovery Place's adults-only program returns to offer a Halloween-themed night. Spooky drinks and experiments are offered, with costumes encouraged for the event. Must be 21 or older.
TOMMY DAVIDSON
Davidson is known for TV programs like In Living Color and his Showtime specials. See his manic energy come to life for three nights in October.
SATURDAY
NABUCCO
Opera Carolina returns with Giuseppe Verdi's Nabucco. The historical opera is based on the biblical books of Jeremiah and Daniel and focuses on the titular king of Babylon.
CAROLINA RENAISSANCE FESTIVAL
Straight from the 1600s, this festival and artisan marketplace takes attendees back to the time of jousting and jesters. Live entertainment, food, rides, and games reflect the period, and homemade costumes are encouraged.
THINGS THAT GO BUMP IN THE NIGHT
Carolina Voices' Impromptu ensemble marks Halloween with spooky performances of "The Homecoming Queen's Got a Gun" and "Don't Fear the Reaper." The annual show also includes make-up tips from the experts, if you make it early.
FOR THE LOVE OF HARLEM
The Harlem Renaissance comes alive again with this musical, which chronicles the experiences of figures like Alberta Hunter and Langston Hughes. Charlotte's Jermaine Nakia Lee is the artist responsible for the production's book and lyrics.
SUNDAY
VANYA AND SONIA MASHA AND SPIKE
Christopher Durang wrote this Tony-winning play. A Pennsylvania family's trials are documented with humor and sincerity.
101 DALMATIONS
This musical adaption of the tail-wagging adventure is relatively new. See what the pup protagonists do when faced with Cruella de Vil.
SCAROWINDS
SCarowinds is the yearly Halloween celebration from the Carowinds amusement park. Mazes, live entertainment, and monsters at every corner are scattered through the park.