A Q&A with the Visual Artist (!) Behind the Symphony's Next KnightSounds Concert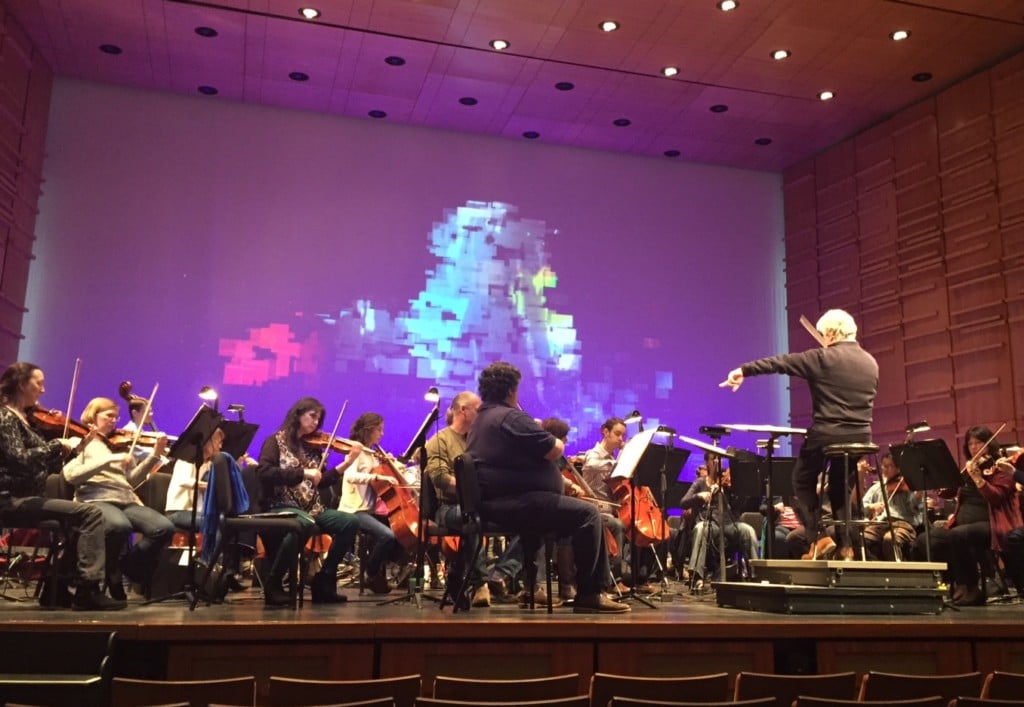 KNIGHTSOUNDS, the Charlotte Symphony's most innovative series, returns Friday (Jan. 29) with another invention, in the form of ¡Sinfonica! The program blends the sounds of the orchestra with a light installation programmed by McColl Center artist-in-residence Ivan Toth Depeña. Some of the layered images will move in real time with the motions of symphony conductor (and music director) Christopher Warren-Green.
Symphony selections come from names like DeFalla, Ginastera, and Moncayo, who are luminaries in Latin American and Spanish music. Depeña, meanwhile, will man the projector with his programmer to create and implement the accompanying visuals. The images are a mix of real-time and planned works that use Microsoft Kinect technology, custom software, and other tech for a singular experience. Here, we speak with Depeña, who divulges on the "why" behind the project and his recent relocation to Charlotte.
What's it been like to experience the symphony rehearsals this week and prep for the show?
I've been doing a lot of running around, testing and tweaking. I was just telling my wife how I think we take for granted how talented these musicians are, just the breadth of knowledge each one of them has. I've been sitting in the audience, watching them, and it's just so inspiring.
You've said that this is your first time creating a work that's paired with an orchestra. What's your goal with this show?
I really want a direct visual connection to the music. The goal is to fuse the two dynamically and match the feel of each piece. I've always wanted to work with music. Music inspires everything I do. It's hard for me to to distinguish between a musical and visual art composition. I wanted to explore that. He's actually fluidly representing the sounds that you're hearing. He's painting the music on the screen.
That spontaneity seems to be a theme in your work.
I'm very interested in the idea of change. I like to see how external factors can change the composition. It's a little bit chaos, chance, and layering an intentional process on top of that.
You've lived in New York and Miami, and graduated with a masters from Harvard. What's it like to now live in Charlotte, where the cultural scene is growing?
That's one of the reasons I enjoy it here. I love the energy, the possibilities, and the blank canvas aspect of it. I'm sort of a DIY guy, liking to build things. I'm interested in how my career and the city evolve simultaneously.
***
¡Sinfonica! will have two performances: a noon matinee on Friday (for just $12) and an evening performance (7:30 p.m., starting at $29) Following the evening show, the lobby of the Knight Theater hosts the work of LaCa Projects artist Leandro Manzo and tapas-style snacks from Machu Picchu.
Other upcoming KnightSounds shows include the following:
* April 15: The Jazz Room at the Symphony
* May 20-21: Romeo & Juliet