A Resurrection on Sharon: Inside SouthPark Church's Transformation
Faced with dwindling membership in one of the city's fastest-growing neighborhoods, a south Charlotte church changed its name, sold its land, and tore down its iconic steeple. The audacious plan divided families and drove away a fourth of the congregation. But could it become a model for the modern church?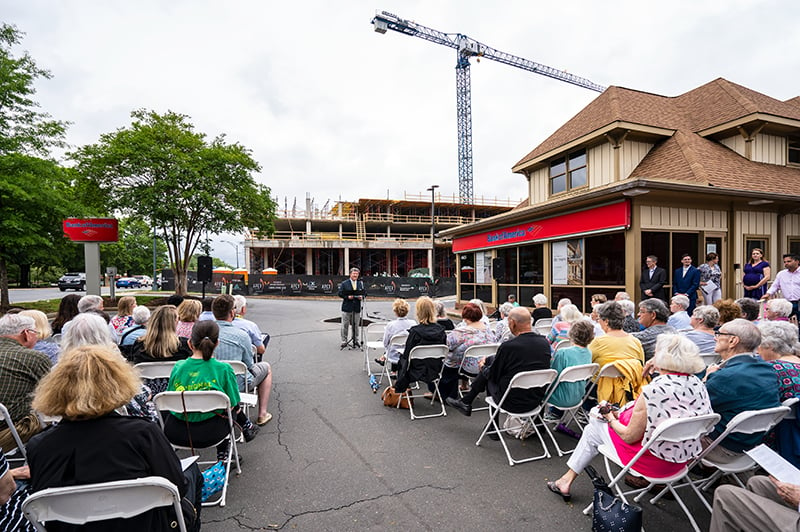 ON GOOD FRIDAY, when Christians mark the crucifixion and death of Jesus as a sacrifice for their sins, gray clouds race across the sky above SouthPark Mall. Tree branches sway, and tumbleweeds of fallen pollen threads skip across Sharon Road. Opposite the mall, rusty-red clay stains the footings of an emerging block of concrete where workers in steel-toed boots and neon vests build Charlotte's latest apartment building. The seven-acre site is, at a glance, indistinguishable from the dozens of other construction sites across the city. Trucks beep, machinery grinds, progress hums. Could anything be more stereotypically Charlotte than a tower crane building an apartment complex anchored in the spot where a church steeple once stood?
Sharon United Methodist Church's facade, which stretched dramatically toward the sky, was a landmark for almost 50 years. Before GPS or Google Maps, it was an actual navigational aid—Go up to the ski slope church and turn left—and, to the congregation, a spiritual navigational aid, a reminder of Christ in the midst of a transforming neighborhood.
The church's evolution intertwines with my family's. My maternal grandparents, Henry and Frances Nichols, helped found Sharon United Methodist in 1966, when cows grazed on the land where the mall stands today and dirt roads stretched past what's now the nearby Harris YMCA. The neighborhood was called Sharon, named after a place in the Holy Land mentioned in the Bible.
My parents married at the church, and my sister and I were baptized there. At my grandfather's funeral, our family sang "When the Saints Go Marching In." My sister and her husband took their vows in front of the same marble altar and suspended gold cross. We piled in the same pew, in the same order, more Sundays than not. As a teenager, I received my Eagle Scout award in the sanctuary, and as an adult I eulogized my grandmother from the pulpit.
Those memories pound me like the clang-clank sound of hammering from across the street. Traffic whizzes by, shoppers scurry in and out of the mall behind me. I'm the only thing standing still on this entire block.
From that vantage point, two days before Easter on the sidewalk of an evolving neighborhood in the City of Churches, it's easy to understand why a congregation with an eroding membership might decide to sell its land to a developer, bulldoze its sanctuary, and stake its survival on the idea of resurrection.
***
WHEN PASTOR KYLE THOMPSON was appointed to lead Sharon United Methodist Church in 2012, the congregation was in the midst of a slow decline, having lost half its members—from a peak of about 1,300 congregants in the early '90s to fewer than 700.
"At some point in our history, the Sharon community transformed to the SouthPark community," Thompson says. It's the Tuesday after Easter, a splendid morning of blue skies and chirping birds, and we've met at one of the three Starbucks within a mile of the church site. "When this was the Sharon community, we were able to be relevant. And we just didn't make the shift."
The key to catching up with the neighborhood, it quickly became apparent, was the church's physical location. The Methodist Church acquired land—part of what became the mall—in 1961 for a church in the area, and traded it to the developers of SouthPark in 1965 for a seven-acre campus at the corner of what is now Sharon Road and Morrison Boulevard. The ski slope church, a low, rectangular brick structure with classroom wings for children and adults on either side of the steeple, opened in 1970.
While the steeple was iconic to SouthPark, and across Charlotte, the church campus did little to open outward toward the neighborhood. With an expansive parking lot and architecture that did little to interact with the street, Sharon United Methodist Church seemed to close itself off to SouthPark, despite the congregation's intentions. On a given week, roughly 700 people would pass through the campus for everything from Sunday services to meetings of community groups like the Boy Scouts or AA. That many people would drive past in just a couple of traffic light cycles at rush hour. "We just really started to wonder if we were being good stewards of the property that God's given to us," Thompson says.
Renovation plans didn't make sense, Thompson says, because that wouldn't solve the fundamental challenge of relevancy in a changing neighborhood. Church leaders heard about First United Methodist Church in Chicago, which built a skyscraper in the 1920s. The church is an anchor tenant, but it leases the rest of the space to others. It was an intriguing idea—and one that resonated with Thompson because of a biblical story about a woman who went to a well to get water and ended up meeting Jesus. "She didn't go to the well to meet God. She went to do an everyday activity: to get water," Thompson says. "We knew we couldn't build a skyscraper in SouthPark. But we started thinking, 'What does everyday life look like in this community? How can we find a way to put ourselves into a position to get to know more of our neighbors?'"
The church's leaders came up with an audacious idea: They would tear down their church building—the iconic ski slope, the venue of all these memories for so many people—and construct a new church with a new name, SouthPark Church, in the middle of a mixed-use shopping center.
The plan, named Dream Big SouthPark, is what led to the tower crane and the concrete footings and the chunks of red clay where the ski slope used to be. Last year, developer Childress Klein and Denver-based private equity firm Ascentris formed a joint venture to buy most of the church's land and create Apex SouthPark, a nearly $200 million development anchored by two 12-story towers that will be home to 345 luxury apartments and ground floor retail and restaurant space. On one side of the property, there will be a 175-room hotel with a rooftop restaurant.
And, in a separate building at the center of it all, the church's new home.
***
THE CHURCH LEADERS' PROPOSAL WAS, from the outset, divisive—even within families, including mine.
"These have been some of the most difficult conversations that Mom and I have had in our marriage," my dad told me on a rainy afternoon in May, a few hours after the church's ceremonial groundbreaking service. "Most, if not every decision related to this project, I've been connected to it or involved in some way."
Mom has been a member of this congregation since she was confirmed in fifth grade in 1970; she's worshipped here for 53 years. When they married, my parents decided they would attend Sharon and, eventually raise their children in the church. (My wife, stepson, and I now attend the more traditional First Presbyterian Church uptown; my sister and her family live in Wilmington and are members of a nondenominational church there.)
Dad, who has served in some sort of congregation leadership role for a couple of decades, supported the idea of redeveloping the church property. "For me, this is a project about loving God and loving our neighbors, with new neighbors that are much different than the ones we had when we first came on the property in the mid-'60s," he says. "There are more neighbors to love, there's more opportunity for us to be connected, but we've got to be a much different church."
Mom, characteristically reticent, wasn't so sure.
"I think of churches that have been around for hundreds of years and they're still where they are," she tells me. "My hope was that 25 years from now I could take my grandchildren there. I struggled with all of it. I'm just not big on change. That's who I am."
She, like many congregants, questioned the Dream Big plan: Couldn't they just renovate? Why does a church care about branding? Will this be worth it?
"Those conversations have not been unanimous," Dad says. "And on some, we've agreed to disagree."
"I like things the way they always are," Mom replies.
But, as she sat on the same red cushion in the same pew Sunday after Sunday, she couldn't deny that the church was in danger of fading away. "You could definitely look at the congregation and see people were getting older. The building was getting older and needed things done to it. Something needed to change," she says. "I thought that if I want the church to survive and grow, I have to let go of the building."
***
WITH BLACK STUDS in both of his earlobes and dressed in a buffalo plaid flannel shirt, skinny black jeans, and slip-on Vans, Kevin Ache is emblematic of the millennial churchgoer the former Sharon United Methodist wanted to attract.
But when he and his wife, Claire, visited the church in 2015 on a job-hunting trip from their home in Arizona, the experience was otherworldly. "Women were wearing hats. That was such a new thing for me. I thought that was so weird," he recalls.
The Aches, then in their late 20s, could tell that the congregation was wrestling with its identity and relevance in the community. "It was likely to be a dying church at some point," Claire says. And yet, they decided to join, with good reason: Kevin received a job offer to be on the church's pastoral staff.
"Since the beginning of time, the church has been put in situations where people have wondered how it's going to make it," he explains. "In the midst of so many unknowns, there were so many people who said, 'I don't know what exactly this will look like, but I'm willing to move forward and trust God in the process.'"
The year before the Aches moved to Charlotte and joined Sharon, the congregation approved, by an 80-20 margin, the Dream Big plan (later called the Love SouthPark initiative). Dad championed the proposal. Mom was a reluctant yes. But the debate caused friction. Friendships fractured. Disgruntled worshipers accused supporters of "selling out Christ," of choosing money over mission. About a quarter of the church's members chose to leave the congregation.
"Your grandfather, before he died, asked me to do everything I could to keep the church alive," Dad tells me. "I said, 'I promise.' Every decision, for me, is couched in that promise."
The church put out a request for proposals from developers, which caught the attention of Chris Thomas, a partner at Childress Klein who has lived in the SouthPark area most of his life and whose own faith drew him to the church's project. "I'm a believer, and I believe that (this vision) was inspired. I don't know how else to put it," he says.
Childress Klein had no presence in SouthPark, and this project offered an opportunity to drive its first project there deep into the submarket. "It is terrific real estate on arguably one of the two most significant intersections in SouthPark," Thomas says. But his own faith was instructive; the "highest and best use" that urban planners, architects, and developers like to talk about took on an entirely different meaning in the context of this project. "We need the faith community to remain a part of our communities," Thomas says. "This was an opportunity to do something special for this church."
Instead of the 700 people a week, roughly 12,000 people will pass through the property when Apex SouthPark is finished by early 2021. "Any church's success is a function of its ability to have people on its campus more hours of the week, more days of the week," Thomas says. "The old campus of Sharon Methodist was not conducive to that."
The $30 million church will be built in two phases. When complete, SouthPark Church will have a 350-seat traditional sanctuary, classrooms and gathering space, a music suite, and a 700-seat performing arts center that will be used for modern worship services and rented out to other groups during the week for concerts and speaking events.
While plenty of modern houses of worship have a presence in shopping areas—including two of Charlotte's largest church brands, Elevation and Forest Hill—partnering with a developer to create a mixed-use campus is highly uncommon. "I think the potential is tremendous," Pastor Thompson says. "One of our goals was to be a model." He has talked with pastors of churches in Waxhaw, Atlanta, Las Vegas, and Belgium about the concept. But Thompson is quick to acknowledge that churches cannot buy their way to relevancy.
"A building is not our salvation," he says. "It's not a magic bullet for growth. It's a vehicle for that. It gives us access to many more people, but if we don't change to connect with our community, a building won't solve our problems."
***
WHEN THE SKI SLOPE STEEPLE came down in June 2018, Mom was in a loud classroom of four-year-olds at a CMS elementary school a couple of miles away.
"I didn't physically see it, which was probably a good thing," she says. Her voice catches, and tears form at the corners of her eyes. "It was hard. That was basically my only church. It was hard to see something that you have so many fond memories in torn down." Childress Klein saved the seven-foot-tall cross on top of the steeple; my dad and a friend loaded it into the back of an SUV and took it to my parents' house for storage.
Without a physical home, the newly rebranded SouthPark Church hosts its services at the Regal Cinemas in nearby Phillips Place. The move, while temporary until the church building is ready in late 2020, offered its own set of challenges. Worshiping in a theater—past Marvel posters and popcorn machines, where middle schoolers were making out in the back row 12 hours earlier—is weird for traditionalists accustomed to a sanctuary with a towering pipe organ and a sense of holiness. "The chairs are comfortable, I'll give it that," Mom says, taking the say-something-nice-or-nothing-at-all approach I'd expected from her.
The impermanent location has made church members think differently about how they interact with each other, and with SouthPark. "It's forced our congregation to view the church as not connected to a building," Thompson says. "Our small groups meet in homes and coffee shops and the YMCA. It's really pushed our congregation to go be a part of the community."
And yet the uncertainty remains. "There are going to be so many opportunities for us to engage with our community, and so many unique opportunities that many other churches don't have," Claire Ache says. "My fear is that once the building is built … we lose momentum and turn back inward to our building."
SouthPark Church's membership has leveled off at around 500, with about 230 regular attendees on Sunday mornings, growing but still modest compared to other large Charlotte churches. Last fall, a capital campaign for the first phase of the building project, which Dad led, raised $1.9 million in four weeks.
"People see the church as a sanctuary," Thompson says. They expect the church to remain the same in the face of a tornado of change around it. "I understand that, but I think there's some faulty logic there. God is the same. Jesus is the same. But as our culture evolves, we have to be smart to reach people. We don't change our message. But we do have to look at the delivery of that message."
Down the street, at the construction site, trucks beep and machinery grinds and progress hums. Concrete and steel and, yes, hope rise from the ground. The rest, Thompson says, has to do with faith. "Our theology is one of death and resurrection," he says. "Some things have to end so that others can begin. That's been our message for 2,000-plus years. That's our underlying brand."