A Savior For the Excelsior Club?
Venerable West Side club under contract for preservation, broker says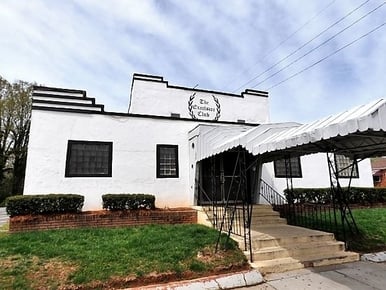 The Excelsior Club, a decaying music and cultural venue on Charlotte's West Side that's served as a hub for African-Americans for decades, may have been thrown a lifeline. An unnamed buyer in California agreed Wednesday to buy the 7,000-square-foot property and the building on it, Steve Robinson of New River Brokerage confirmed this morning. New River is a real estate company that's handling the potential sale of the property, which was listed at $1.5 million.
Robinson cited real estate license law in declining to name the buyer or sale price but did say, "My understanding is that the primary inclination is to preserve the club." He said he hopes to be able to announce more within the next two weeks: "The community wants to know."
The club, which has been closed since 2016, occupies what once was a seven-room, four-story house at 921 Beatties Ford Road that was built in the 1910s. In 1944, a man named Jimmie McKee, who grew up in the nearby and historically black West Side neighborhood of Biddleville, bought the property with a plan to turn the structure into an entertainment venue for the city's black residents.
Over the succeeding decades, the Excelsior became a cultural and political lodestar for the black community. It was a membership-only club that catered to Charlotte's black professional class: doctors, lawyers, educators, and business owners. Louis Armstrong, Nat "King" Cole, Sam Cooke, and James Brown were among the entertainers who performed there, and the club evolved into a required stop for political candidates who courted Charlotte's black vote as well. Beginning in the late 1940s, dozens of local and state political candidates make campaign stops there, and Bill Clinton made an appearance at the Excelsior during his 1992 run for the Presidency.
McKee sold the club in 1985 and died shortly thereafter. It passed to a series of owners, including N.C. Representative Pete Cunningham, whose widow and legislative successor, Carla Cunningham, has said she doesn't have the money to renovate the building. The Charlotte-Mecklenburg Historic Landmarks Commission imposed a one-year demolition moratorium on the building that expired June 12.