A Sexplanation Is Being Offered
Pre-Valentine's Day speed dating event hopes to help singles find love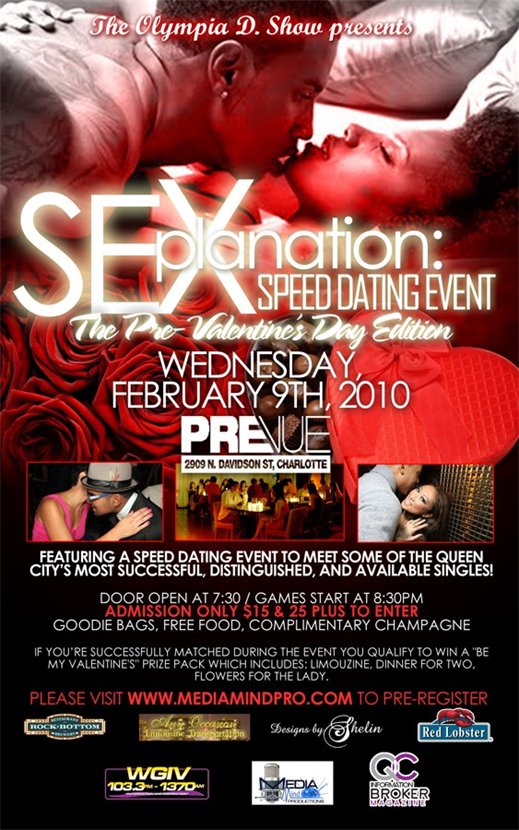 "Sexplanation" is certainly an attention-grabbing name for an event. It's a speed dating event at that, so I guess the organizers figure that single people will be more likely to respond when they see sex. Tomorrow night (Wednesday, February 9) you can meet single men and women at this event and put your worries away if you've been dreading the notion of being single on Valentine's Day.
It wouldn't be a bright idea to meet someone tomorrow and be in a relationship by next Monday, but if you happen to find that someone catches your eye at Sexplanation, it could give you something to look forward to. The event is being held at Prevue Lounge in NoDa (2909 N. Davidson St.) and doors open at 7:30 p.m. with the games starting at 8:30 p.m. It's for singles 25 and older and admission is $10 in advance (there's still a little time to register online) and $15 at the door. Go to www.MediaMindPro.com for details.
Your admission also gets you complimentary food and champagne as well as a goodie bag, so all would not be lost if you don't make a match. If you do make a match, you'll be registered to win a "Be My Valentine's" prize pack with limo services provided by Any Occasion Limousine, dinner for two from Rock Bottom or Red Lobster, and flowers for the lady from Design by Shelin.
I went speed dating for the first time back in 2005. We were working on a singles issue for Charlotte magazine, and one of the articles I was assigned to write was to recap my experience speed dating. I went to two speed dating events about a week apart, being put on by two different companies. While attending the events, I didn't tell anyone I was a journalist because I didn't want them to act differently or uncomfortable (plus, I wasn't going to be revealing any names). Before going, I remember telling my friends "I'm going speed dating…it's for work" as some sort of precursor to keep them from judging me. But to my surprise, I enjoyed it. And I ended up making a couple of matches, one of which I went out with several times after. Even though it didn't become serious, she was an attractive, intelligent young lady whom I had things in common with, which is what you look for in a date. So I learned not to have preconceived notions about new-age dating methods. I haven't gone speed dating since, but I would recommend it because the best thing about it is that everyone in the room is supposed to be single and looking, so that's already two things working in your favor.
There's an unrelated speed dating event taking place tomorrow at Crave Dessert Bar for single professionals ages 25-38, but that event has sold out. However, the Pre-Dating.com site lists more upcoming speed dating events in Charlotte. Click here for details.