A Slice of History Found at Open Kitchen
West Charlotte spot has served up classic Italian fare for more than 60 years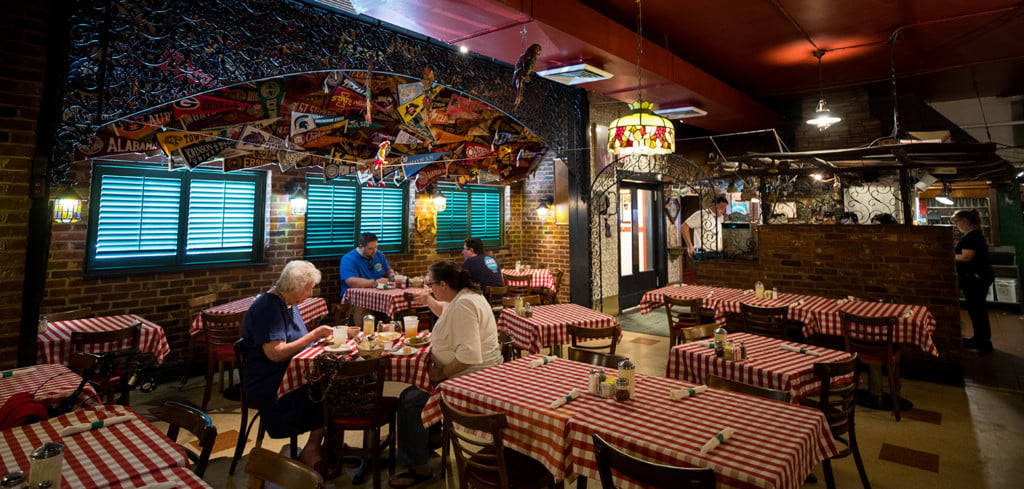 "WHEN I STARTED driving in 1954, I started going to Open Kitchen," says 79-year-old Neill Wilkinson. "That's just where you went on Friday nights."
Wilkinson would drive his black 1946 Ford Mercury from his family's home off Sardis Road across town to the then-new Open Kitchen on West Morehead. His parents didn't like the new international flavors. "They didn't eat stuff like that," he says. But he spent many nights with friends—and the occasional date—eating pizza and hanging out around the red checkered tabletops.
Many of Wilkinson's young dining companions attended Central High School with him. The school no longer exists, but these days, on the third Thursday of each month, the class of 1956 meets for lunch at the Open Kitchen. "We used to have a bigger crowd," he says. "Last Thursday, there were just nine of us."
Wilkinson's story sounds incredible, but Open Kitchen's coowner, Christina Skiouris, hears these kinds of stories all the time. "We still get newcomers in here," she says. "But I think at least half are regular customers." And Skiouris would know. Now 64 years old, she's worked at the restaurant since she was a child folding pizza boxes and rolling the silverware into paper napkins.
Restaurants are the family business. Her grandfather, Constantine "Gus" Kokenes, came to Charlotte from Greece at the age of 14. In the 1920s, he ran a diner called the Star Lunch in uptown, where Skiouris' father, Steve Kokenes, and uncle, Speros Kokenes, worked growing up.
Speros launched a few of his own restaurant ventures around town before opening a small spot on West Morehead Street in 1952. He started the restaurant as a curb service hamburger joint, in what had originally been a gas station, across from the Coca-Cola bottling plant. He called it the Open Kitchen because diners could walk straight into the kitchen. "Health code laws were a little different then," Skiouris laughs.
Shortly after the restaurant opened, Speros convinced his brother, Steve, who had been living in Washington, D.C., to move back home and go into business with him. In D.C., Steve had tried the pasta and pizza dishes at restaurants owned by recent Italian immigrants, and was hooked. When he returned to Charlotte in 1954, he insisted that the Open Kitchen begin serving something he called "pizza pie."
It was Charlotte's first taste of pizza and, unsurprisingly, the restaurant became a fast favorite. "People didn't recognize the smells," Skiouris says. "They hadn't smelled garlic. They didn't know what pizzas were." At the time, the restaurant's red checkered tablecloths were the latest trend.
Much of the charm of the Open Kitchen comes from how little it has changed since those days. Roy Michaux, a Charlotte attorney who grew up in Greensboro, recalls first eating at the Open Kitchen when visiting the city in the 1960s. Those memories are one of the reasons he still enjoys going today. "I'd imagine that it's basically like it was 50 years ago," he says. "And I like that."
Like many Charlotte neighborhoods, though, the area the restaurant is located in has seen its share of changes over the decades—especially in the rise and fall of its wealth and safety. In 1967, as Skiouris' uncle, Speros, was leaving work one night, he was carjacked in what was seemingly an attempted robbery. He was murdered just a few blocks away, and his shooting remains one of Charlotte's most mysterious cold cases.
Today, it's a different neighborhood. Even the name of the area has changed. Its newest iteration is FreeMoreWest, popular among the millennial crowd and filling up fast with new restaurants and flipped homes. So much is dramatically different from the Open Kitchen's early years.
Stand in the restaurant's parking lot, beneath the shadow of its red and green "The World Famous Open Kitchen" sign, and you'll see a gleaming skyline that didn't exist in 1952. You'll hear sounds of cars rushing by on nearby I-77, which didn't appear until the 1970s. Across the street, a sprawling apartment building is under construction and is set to open with 300 new units in the fall. But step inside the restaurant, and a half-century melts away.
Dark green shutters block the world outside. Red brick walls with low arched doorways lead into dining rooms filled with tables covered in the red checkered cloths. A ceiling near the cash register features black-and-white photos of celebrities, several signed from visits to the restaurant. Another wall is covered in college pennants from around the country. A miniature jester appears to be cycling on a high wire over diners' heads. Frank Sinatra croons over the speakers.
"Everything in here is still definitely my father's personality," says Skiouris with a smile. "The eclectic look is definitely him." Her father, who Wilkinson describes as a "lively and friendly man," ran the 250-seat restaurant until his death in 1983. There's a painting of him on one wall, grinning in a bowler hat, horn-rimmed glasses, a polka-dot bow tie, and a bright red vest—an outfit he used to wear to work most days.
Today, Skiouris and her coowner brother, Dean Kokenes, continue to pay tribute to the restaurant's two founding brothers. There are images of them on the walls and plans to keep the business in the family. Skiouris hopes that her son will one day take her place at the helm.
The menu also remains the same, with the founders' favorite dishes still being served. "There have been little tweaks here and there," says Skiouris. "Now we have fettucini. We didn't have that in the beginning." But dishes such as the traditional lasagna topped with melted mozzarella, which is the biggest seller, or the signature Mama K pizza, named for Skiouris' grandmother and piled high with meat and peppers, remain favorites decades later.
One big change came in 1978, when Charlotte passed liquor-by-the-drink sales. "My father sold drinks for a nickel on the first day," says Skiouris. "You couldn't legally give them away, so he just charged five cents." Today, most diners order a glass of Chianti or a bottle of the Italian beer Peroni to accompany their dinners. There's a small bar in one room, but you won't find any fancy craft cocktails on this menu.
In some ways, it's what's not on the menu that makes the Open Kitchen stand apart. There aren't gluten-free pizza options or vegan cheese offerings. The bread baskets are far from artisanal—they include Lance cracker packets—and the heaping servings of pasta and pizzas could be called anything but "small plates." The place that was once groundbreaking for serving up some of the city's first international fare is now unapologetically a far cry from Charlotte's shiny and new restaurant scene. And that's exactly what makes it a favorite for so many. "The food is good, the staff is wonderful, and I like the old ambiance," Michaux says. "It's not all glitter. That's what makes it great."
Skiouris agrees. "People walk in here all the time from places like Boston or New York and say, 'This is exactly what we've been looking for,'" she says. "They want the feeling of a local, hometown restaurant."
The Open Kitchen serves up that feeling in spades. Several of its servers have been there for decades and call diners by their first names. George Yeorgoulias, who greets customers at the door many nights, has worked at the restaurant for 51 years. "A lot of them, I may not know their names, but I know their faces," says Skiouris, who rings up diners' meals at an old, gold cash register many nights.
She's watched couples who had first dates in the dining room bring their children to the restaurant, and she's seen children grow up and return with their own families. "I have a number of good friends who talk about taking their dates here on prom night," Michaux says.
Skiouris may have more Open Kitchen memories than anyone, but she likes knowing that she's far from the only one who considers this a special place. "They still come here for birthdays and anniversaries," she says. "I believe them when they tell me how much this place means to them."
Sarah Crosland is the author of the book Secret Charlotte, featuring some of the city's most unusual history.