A Stay-at-Home Summer Guide for Charlotteans
20 ways to still have lively and dynamic dog days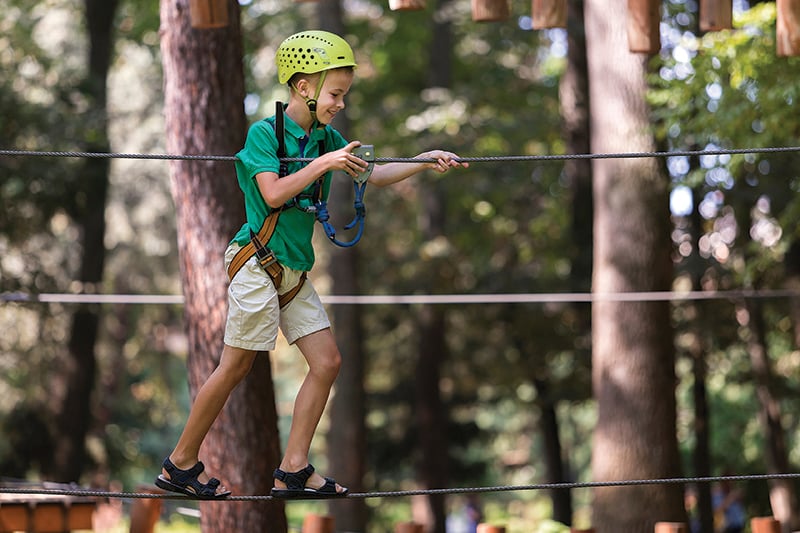 FROM A FROLIC in a populated Freedom Park to a zoom down a Whitewater Center zip line, Charlotte is typically an active summer city. (Also: Remember when "zoom" had only one meaning as a verb?) Not this year. COVID-19 has changed our reality in 2020, and this season—normally a fun-filled break for families—wasn't spared. But the staff of Charlotte magazine still believes lively and dynamic dog days are possible even when you have to spend most of your time indoors, and we've got the list to prove it. Below, you'll find a call to (tan) arms for Charlotte's dejected denizens. Welcome to a Stay-at-Home Summer. Grab a frosty beverage and some tanning lotion. Both are still necessary.
---
Toast to Captain Jack.
On a hot summer day, crack open a cold Captain Jack, a year-round staple of Olde Mecklenburg Brewery, and honor Charlotte's version of Paul Revere. This popular pilsner at the city's oldest brewery is named for James Jack, a young Colonial-era tavern owner who, outraged by the news of a British massacre of colonists at the Battles of Lexington and Concord, volunteered to deliver the Mecklenburg County declaration of freedom on horseback to the Continental Congress in Philadelphia. Captain Jack has become a favorite local brew, of course, but he symbolizes much more: the freedom of a people tired of tyrannical rule. (Liberation is something all of us have been longing for these past few months.) A statue, The Spirit of Mecklenburg, also honors him at Little Sugar Creek Greenway park at 4th Street and Kings Drive near uptown. The brewery has opened again, but you can also get the beer at local grocery stores and to-go at the brewery. Olde Mecklenburg Brewery, 4150 Yancey Rd. —Virginia Brown
---
Up your gardening game.
Outdoors, socially distant—what a wonderful activity gardening is during the spread of an airborne virus! Early summer, through mid-July or so, is a perfect time to plant a host of vegetables, like eggplant, summer squash, cucumbers, peppers—and tomatoes, which thrive in the abundant sunlight of June and early July. Once the calendar closes in on August, get your fall garden ready: lettuce, spinach, kale, cabbage, and Brussels sprouts, which require you to plant deeper in drier soil. Plant rows a week or so apart to avoid a wasteful surplus, and revel in the fact that you needn't visit the supermarket to enjoy fresh produce. —Greg Lacour
---
Find your favorite flavor of ice cream.
Don't want to linger inside? No problem. Get these treats to go.
For the no-frills soft-serve fan: Family-owned in Charlotte since 1967, Mr. K's in South End serves up good, old-fashioned soft-serve in three flavors—chocolate, vanilla, and a twist of the two. Order it "blitz"-style with your choice of toppings, which include gummy bears, pecans, sprinkles, Butterfinger, M&Ms, and more. Mr. K's serves sundaes, malts, shakes, and other sweet treats, too. 2107 South Blvd.
For the adventure-seeker: Two Scoops Creamery is known for homemade, "secret" family concoctions like Cookies by the Sea, Krazy Kake, Nana Delight, and Boom. The Plaza Midwood mainstay, owned by three Charlotte friends, serves unique, fun, funky flavors. Take your ice cream to go or have a pint delivered.
913 Central Ave.
For the lover of locally sourced ingredients: Not only is everything made fresh on-site at The Local Scoop in Ballantyne, but the ice creams (with rotating flavors like Vanilla Bean, Sea Salted Caramel, and Nutella Truffle) and gelato are made with locally sourced milk from Jackson Farms and Homeland Creamery.
5355 Ballantyne Commons Pkwy. —V.B.
---
Stay cool.
As of press time, we could only hope that the state will have lifted the stay-at-home order by summer, because if summer 2020 is anything like 2019 … Oy. Experts suggest basic steps to keep your home as cool as possible: Close windows, blinds, drapes, and doors to unused rooms. Set ceiling fans to rotate counter-clockwise to draw warm air up and circulate cooler air. Change your HVAC filter regularly, and make sure your unit has been serviced recently. Grill outside when you can to prevent the stove or oven from adding to house heat. Keep your thermostat no lower than 75 degrees when you're not home to avoid taxing the unit and to keep power bills within Earth orbit, anyway. —G.L.
---
Get inventive in (and out) of the kitchen like Charlotte's chefs.
When summer temperatures hit their peak, turning on the stove or cranking up the oven is unbearable. That's why we asked a few Charlotte-area chefs to share recipes that will make us look like bosses with spatulas:
Grilled Barbecue Joyce Farms Chicken
From Chef Jim Noble
1 whole Joyce Farm free range chicken
¼ teaspoon sea salt and fresh ground pepper
Olive oil
½ cup Noble Smoke "Lex" Barbecue Sauce
Light grill. "I use a Green Egg, so I will use a mix of natural lump charcoal and some wood chunks," Noble says. "I suggest Carolina Cookwood chunks and coal from here in North Carolina."
Wash and dry the chicken. At the cavity at the bottom of the chicken (near the legs), get a chef's knife and split the "H" bone from the femur on both sides of the backbone, all the way up to the neck. Then, flip the chicken and finish removing the chick back bone.
Turn over and split into two halves.
Lightly coat chicken with olive oil and season skin side liberally with salt and pepper.
Add to the grill, skin side up. Keep temperature around 350-400˚F. Turn over after 30-40 minutes, skin-side down, and coat with barbecue sauce.
Cook another 10 minutes and turn over once again. Sauce skin side.
When cooked through, remove from grill and let rest 10 minutes, basting with Lex sauce again to taste.
Cut into pieces and serve with a little sauce on the side. —V.B.
Grilled Peaches
From Rob Clement
Executive Chef, The Porter's House
Start with clean grates and a hot grill.
Cut your peaches in half, remove the pit and cut the two sides in half again. Each piece should have two flat surfaces.
Sear each flat surface for two to three minutes, then rotate to the other flat surface for the same amount of time.
Transfer grilled peaches to a rack, brush lightly with sorghum syrup, and sprinkle with coarse salt or, if you have it, the chili-lime salt Tajin.
Pork with Peaches
From Scott Walker of the Grinning Mule (formerly of Heist Brewery)
Brine pork for 12 hours. Roast on grill over low heat for approximately two hours, applying plenty of wet rub every 35 to 45 minutes. Remove and rest for two minutes, then fan-slice pork and spoon peaches over top.
For the brine:
1 pork loin, cut in half
1/2 cup pineapple juice
1/4 cup apple cider vinegar
1/4 cup salt

1/4 cup sugar
4 cup water
For the wet rub:
1 12-oz. pilsner beer
1/2 cup honey
1/4 cup pineapple juice
2 cups brown sugar
1/4 cup whole grain mustard

1 teaspoon cayenne pepper
1/4 teaspoon red pepper flakes
2 tablespoons melted butter
Melt butter and mix all wet rub ingredients in a bowl. (Spoon rub on loin if you don't have a brush.)
Peach marinade:
6 peeled and cored peach halves
2 tablespoons brown sugar
1 tablespoon fresh mint julienne


(or cilantro)
2 tablespoons fresh lime juice
1 red onion julienne cut
1 red Fresno pepper
Salt
Mix ingredients together and refrigerate until use. When pork is pulled to rest, remove peach halves and grill. Once peaches are caramelized, quarter the cooked halves and add back to the marinade. Spoon when ready to serve.
ALTERNATE: Add lettuce cups to make tacos around the grill or pool.
"Pork loin and peaches are easy to get and cheap around June in our area. The pepper and mint combined with the caramelized spice and sugars are a great combo to pair with any beer or cocktail."
---
Celebrate the crape myrtle.

One of Charlotte's signature flowering trees makes its big debut in June. The eye-catching hot coral pink crape myrtle blooms line streets and parks. We spoke to
chief city arborist Tim Porter about one of the Queen City's ubiquitous summer trees:
CM: What should we know about the crape myrtle—or is it crepe?
TP: I see both, but I tend to go with "crape." Crape myrtles are one of the most common in Charlotte, accounting for 16 percent of the city's street tree population. Roughly 25,000 crape myrtle street trees grow within city limits, according to the city's street tree inventory. Second on the list is willow oak, followed by red maples and Bradford pears.
CM: Other than their bright colors, what makes them so popular?
TP: Crape myrtles are extremely resilient and hardy, and they tolerate urban environments better than most other trees. When there's a difficult planting location with less than ideal growing conditions, crape myrtles are often a great choice. They can be overused in the landscape, though, and their hardiness can detract from efforts to increase species diversity.
CM: What's a fun fact about the crape myrtle?
TP: They bloom at times most other trees don't bloom, and blooms typically last much longer than other flowering trees in the South, such as dogwoods and redbuds.
CM: We talk about banding our oaks and growing concern for the age of our oak canopy. Are we caring for our crapes well enough?
TP: Don't top crape myrtles! [Ed.: "Topping" is the practice of removing the tops of trees.] Crape myrtle root systems can live on long after the tree above ground dies or is removed. The tree will often sprout from stumps and roots for years after removal or death. I've seen new trees grow back in the same location from the same root system that a previous tree was removed from. —V.B.
---
Feed baby birds with Carolina Waterfowl Rescue.

From blue jays and robins to chickadees and cardinals, Carolina Waterfowl Rescue takes in more than a thousand orphaned and injured songbirds every year. They also welcome domestic and exotic ducks for placement, do nuisance referrals, and offer bird, duck, and goose rescue assistance. Each year, CWR provides housing, food, and medical care for more than 50 types of baby birds. That means they can use some help. Volunteers dedicate three hours a week to one of four shifts daily—seven days a week to make sure these fluffy little ones get the nutrition they need. For information on volunteer opportunities, email songbird@cwrescue.org or visit cwrescue.org/baby. 5403 Poplin Rd., Indian Trail. —V.B.
---
Refresh with a summer cocktail.
Not all restaurants are open and bars remain closed, but you can still have your favorite cocktails at home. Pick up a cocktail kit curbside at Bardo in South End (1508 S Mint St.), and make Amanda Britton's raspberry mojitos in your kitchen, or swing by Fin & Fino (135 Levine Avenue of the Arts #100) for a box of the bitters, tinctures, and garnishes you need to recreate Brittany Kellum's tiki-inspired libations. If your bartending skills need some refining, book a virtual cocktail class with Tamu Curtis at Liberate Your Palate. She'll deliver a cocktail kit to your doorstep with a Zoom link to the class. For a cocktail demonstration and good company, check out Stefan Huebner's virtual happy hour at Dot Dot Dot and learn how to make variations of his favorite daiquiris. Cheers! —Taylor Bowler
Meet the birds along the Raptor Trail at Carolina

Raptor Center.
Rough-legged hawk Aletta (rhymes with cheetah) is just one of dozens of birds who, after surviving serious injury in the wild, now call the Carolina Raptor Center in Huntersville home. Aletta is just one of 81 residents of 37 different species—they include eagles, falcons, owls, and vultures—at the Center, one of the most well-respected of its kind in the nation. Until it reopens, tune into Facebook at 11 a.m. on weekdays for an Avian Home Adventure. 6000 Sample Rd., Huntersville. —V.B.
---
Donate.
In this time of virus, cash donations are especially important, as they allow large nonprofits—like Foundation For The Carolinas' and United Way of Central Carolinas' COVID-19 Response Fund and Charlotte-Mecklenburg Schools' COVID-19 Relief Fund—to direct resources as the situation on the ground changes. The nonprofit connector organization SHARE Charlotte maintains a list of coronavirus-specific needs among the more than 400 organizations it represents, from letter writing to check-ins for the elderly to bookkeeping from home. For information, go to sharecharlotte.org and click on the top banner, then follow the links. —G.L.
---
Have your own Queen's Feast at home.
At press time, Charlotte Restaurant Week was slated for July 17-26, with participating restaurants still joining the lineup. In the spirit of #thegreatamericantakeout, grab your Queen's Feast to go and add some pizzazz to your at-home dining routine. Enjoy gnocchi Bolognese, grilled octopus, beef tartare, or chocolate hazelnut pie, and support the local chefs and restaurant owners who've been hit so hard by the COVID-19 restaurant closures. For event information, pricing, and a list of participating restaurants, visit charlotterestaurantweek.iheart.com. —T.B.
---
Spend some time in Freedom Park.
Opened in 1948 in honor of Charlotte's World War II soldiers, 98-acre Freedom Park in Dilworth is known for the gorgeous cherry trees at its entrance. Tons of room for picnics and reading make this popular "central" park one of the city's most beloved. During a typical summer, you could walk, run, or bike the paved trail that meanders around a 7-acre lake or play on the basketball courts, soccer fields, and tennis courts. Usually, the park hosts a variety of events like Festival in the Park in fall and during summer: concerts, including jazz, draw crowds to the covered amphitheater. But right now, walkers, runners, and cyclists: Keep it moving! One more warning: Watch out for the park's infamous goose poop, which is still congregating in the park. —V.B.
---
Get your wiggles out.
If months of home confinement have your little ones itching to get up and move, sign them up for virtual lessons at Arts+. The faculty at Arts+ (formerly Community School of The Arts) has worked since the onset of the pandemic to make art and music lessons available online. SingPlayMove lessons are for children ages 3 through 6 and their families, and they teach kid-friendly songs, moves, and tips for making music on your own at home. Visit artsplus.org/programs for more information. —T.B.
---
Take in a concert from your couch.
Summer is typically the season for outdoor concerts at PNC Music Pavilion or Charlotte Metro Credit Union Amphitheatre. In lieu of shows packed with disease vectors, several local music venues will host virtual concerts instead of in-person performances. The Evening Muse and The Milestone have pivoted to video. In April, The Milestone held a "digital benefit" with performances from Mike Watt of The Minutemen and fIREHOSE, J. Robbins of Jawbox, and local acts like Dollar Signs, Late Bloomer, and Dylan Gilbert of Hectorina. —Andy Smith
---
Get

organized.
Think of summer organization as the new spring cleaning. Take this time to tackle the heaps of junk under your bed or purge your kids' closets of outgrown clothes and shoes. If you need someone to walk you through the process, contact an organizational pro to help you decide what stays and what goes. Julie Bertram, owner of The Organizing Pro, declutters pantries, garages, playrooms, attics, and more. After a months-long stay-at-home order, it's time to put everything back in its place and get our houses ready to host friends again. —T.B.
Learn a new skill.
The Charlotte-born company SkillPop, known for classes in a variety of fields, has switched to a virtual format over the past few months. This summer, take a class like "Instagram Workshop," "Makeup Made Easy," "Home Decorating Basics," "How to Care for Houseplants," or any of the season-specific ones available at skillpop.com. —A.S.
---
Chill out with a cold brew or iced coffee.

You may not be able to have meet-ups or work remotely at Charlotte's coffee shops right now, but you can still enjoy warm-weather pick-me-ups. Below, see how to get cold brew, iced coffee, and more on the go, with spots located across town:
Drive through CupLux at 3115 Freedom Drive and score any number of cold go-to pick-me-ups, from iced lattes in flavors like hazelnut and matcha to signature selections like Iced Honey and Oates. On really hot days, opt for the Cold Brew Slushee, made with local milk, cold brew, and vanilla bean syrup. (You can also get these delivered through Postmates for a fee.)
Made with Joe Van Gogh beans and roasted in Hillsborough, the refreshing cold brew options at Central Coffee come with or without ice or even bottled. Brick-and-mortar locations include South End (1700 Camden Rd. #101) and its original spot in Plaza Midwood (719 Louise Ave.), but as of the stay-at-home order, the shop has also become mobile: You can email info@centralcoffeeco.com and get your order delivered if you're within 5 miles of one of those shops.
The Hobbyist, which Bryson and Julie Woodside own in the Villa Heights neighborhood, sells drinks for curbside pickup and delivery. Signature options include lavender-vanilla lattes or an iced flat white, made with oat milk, cinnamon, and honey. Teas are also available and include green, white, oolong, and herbal options. To order, call 704-526-0073 or download the Cloosiv app, which supports local coffee shops and bakeries. 2100 N Davidson St. —V.B.
---
Read books written by your neighbors.

Lounging on the beach with a good book is quintessentially summer. This season, you can still do the "good book" part, at least. Here are three books by
Charlotte authors released since last summer that'll provide an escape from your porch:
The Life & Afterlife Of Harry Houdini (Simon & Schuster) by Joe Posnanski
The celebrated sports journalist dives into the mysterious life of the famous magician—and why he continues to captivate us.
A Conspiracy of Bones (Scribner) by Kathy Reichs
The adventures of the author's famous forensic anthropologist, Temperance Brennan, continue with a new story that takes place here in Charlotte.
Kindness and Wonder: Why Mister Rogers Matters Now More Than Ever (Dey Street) by Gavin Edwards
We could all use more kindness right now. Edwards looks at the legacy of Fred Rogers in his most recent book. —A.S.
---
Throw a virtual dinner party.
Under social distancing, event planners and others who gather people into groups for a living have fallen back on connection-by-video. Helen Apple Edwards and Carrie Spicher from Spark by Design offer custom online "party packs" with handmade posters, postcards, scented candles, playlists, and customized digital backgrounds. Spark By Design also offers four types of packs: happy hour, brunch, Southern supper, and Charlotte-themed night in, with caricature artists, magicians, and comedians as popular add-ons.
Each party pack comes with ingredients, digital instructions, and tips for success (like making sure you're front-lit). "You still want to dress up, wear your lipstick and your makeup," Edwards says. "It's such a private party experience, you really do feel like a VIP," Spicher says. "It's almost more personal this way."
Looking to host your own? Just support local businesses whenever possible. "If you were going to host an event on your own," for example, Edwards says, "like an 'uptown night,' you could each get takeout from a restaurant uptown." —V.B.
---
Turn your backyard into a sports venue.

When the parks are closed and you long for the great outdoors, it's time for some DIY adventure. Here are three ways to transform your backyard into a sports complex while also shopping local:
Ropes Course
If your yard has two or more trees, tie ropes to them, attach anchors, and hone your balancing skills. The U.S. National Whitewater Center's Outfitters store ordinarily carries brands like Sterling and Black Diamond—but at press time, the store remained closed under the state Stay-at-Home Order. (You can always purchase equipment directly from the companies.) You can also purchase adventure gear and accessories from Great Outdoor Provision Co. (4275 PARK RD.), a small chain of adventure equipment stores in North Carolina and Virginia. Whatever gear you buy, we recommend you keep your makeshift course safely near the ground.
Soccer Arena
Major League Soccer is coming to Char-lotte, and it's only adding to the sport's popularity in the QC. Play It Again Sports (8500 Pineville-Matthews Rd.) has a local location, but you can also purchase anything you need online. Find balls, cleats, goals for your yard, and even shorts in both used and new condition.
Cornhole
OK. So this one's not as high-impact as the previous offerings. But some of us need a game that doesn't require putting down our beer. If you invest in your own cornhole set, it's important to note that some of our most prominent sports teams (outside of the great sport of cornhole) have their own sets: The Carolina Panthers have one in the NFL Shop, the Charlotte Knights licensed a set through Victory Tailgate, and the Charlotte Hornets sell a set in the NBA Store. —A.S.