A Tale of Two Diners
Father, son bridge the generation gap in the restaurant business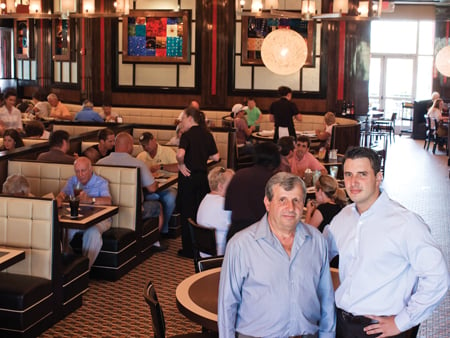 Angelo Kaltsounis, thirty-nine, is trying to explain the worst night of his life. Seventeen years earlier, he had to tell his father he was going to New York and leaving Charlotte and the family business, the Landmark diner.
He's hunched over a small table in Big View Diner, the Ballantyne restaurant where he's chef and part owner.
Big View is light years from the classic Greek diner. Giant red, triangular stanchions support the building on all sides, suggesting a hexagonal space station. Above the entrance, a tower not unlike one of the Gates of Babylon stands three stories tall. The future meets the ancient past—it's a fitting metaphor for Angelo's mission at Big View: reinventing the traditional diner with skills honed at some of New York, Atlanta, and Montreal's finest restaurants.
Inside, a glitzy vista with seating for almost 300 includes a sports bar, dining room, party room, and, de rigueur at every diner, a long, serpentine counter. Taking a break from the kitchen, the intense Angelo Kaltsounis—neatly parted jet-black hair, freshly scrubbed face, a beauty mark, still looking like every mother's son, even with a designer dress shirt open a few rakish buttons at the neck—takes pains to describe the night he declined his birthright.
By February 1994 he'd known for months that he'd been accepted at the Culinary Institute of America. But he dreaded telling his father and his uncles that he was leaving. He'd left it until the very last minute: a Wednesday morning, 3 a.m., at the end of his shift as he was saying goodnight. He was due up at school in two days.
"I have a vision," he told his father, Athanasius "Tommy" Kaltsounis, then forty-six. "I want to struggle like you did. I want to do something you'll be proud of."
Tommy didn't understand. Struggle? This is exactly why he had been standing on his feet since 1971—first in New York, washing dishes, busing tables, serving, cooking, working double shifts, saving money, never taking a day off in thirty years; then buying a diner in Charlotte, holding onto it for a couple years, flipping it, continually trading up until finally he had the money and the credit to build his own place, Landmark Diner—so Angelo, his son, would never have to struggle!
Angelo explained that he was paying for tuition himself; he wanted no help from his father. This still did not compute for Tommy.
Angelo lowers his voice to a conspiratorial whisper. "You see, everything with the Greeks is destiny."
"I was my father's 'out,' " he says, smiling sardonically. "See, these guys work their whole lives, always with the dream of one day 'getting out' … being relieved, able to step down and work two days a week instead of six or seven. I was my father's 'out.' " That was Angelo's destiny.
He pauses. "And I never said 'no' to my father."
Many times he could have. When other kids were playing Nintendo, nine-year-old Angelo was flipping eggs at Big Village, Tommy's first lunch-and-breakfast place in Charlotte. By the time he was twelve, Angelo was pulling his own shift at Tommy's next location, a burger joint.
Tommy's no slave driver. Tanned and sandy haired at sixty-three, an amiable smile never leaves his face. He doesn't look like he's done anything in his life worse than spoil his grandchildren.
But back in the day, "he made my ass work!" laughs Angelo.
Like many Greek sons, Angelo, even at fourteen, was on the fast track to marrying early and marrying Greek. To make sure nothing would cause Angelo to be diverted from the eventual meeting of these goals, he was conscripted into service at his uncle's fish camp in Pineville, mopping and busing tables every day after school.
"There was no going to high school games, no soccer games, no hanging out on weekends," he says, narrowing his eyes. "From the time I was very young they had my life all planned out for me."
Angelo learned to keep his own counsel. Mopping and busing tables is a lonely business, with lots of time to think. From the bottom, Angelo looked up the food chain, studying the workplace hierarchy. Whatever he was going to do with his life, he wanted to lead. "I studied the great men … Napoleon … Alexander," he says.
All these leaders, including his father, had one thing in common: a period, before their success, of intense struggle. So if struggle is part of the formula for success, then that's what he would do.
Angelo may have had a hard time selling this formula to his father and uncles standing outside the family restaurant that February night. One thing, however, they understood: tonight was his last night at Landmark.
Larry, his youngest uncle at thirty-four, only eleven years his senior, the uncle he was closest to, began, "I wish you all the luck in the worl—" and couldn't finish.
"I realized at that moment what I meant to them," Angelo remembers.
"My father never showed emotion," says Angelo. But outside his dark restaurant, Tommy couldn't look his first born in the face. "He didn't want to break down."
Angelo did not intend to come back to Charlotte. "But my father didn't know that."
Fathers know. Before Angelo's Honda pulled into traffic, Tommy had one last thought. "I didn't think I'd see my son again."
Which is exactly what Tommy's mother and father thought in Greece on December 31, 1970, the night Tommy, twenty-two (the same age as Angelo when he left home) boarded a jet for the United States.
Forty years ago Tommy's dream "was to make a business—any business—with my brothers," says Tommy, his speech still warmly accented. Born near Karpenisi in 1948, he didn't have the luxury of being a baby boomer. After World War II ended, the country barely caught its breath before it was plunged into civil war.
His parents' farm was a dead end. "Miserable," he shakes his head. After a full day's work, they'd produced nothing to sell, just enough to feed themselves. "I'll be honest," he half smiles, "I can't wait to leave out of there—to go anywhere to see better days."
On January 1, 1971, just weeks after his mandatory two-year hitch in the army had ended, Tommy landed at JFK with his young bride, Maria. He found work at a diner on Long Island washing dishes.
One thing, however, they understood: tonight was Angelo's last night at Landmark.
"It was the only thing I could do!" he laughs. "I had nothing. I didn't know how to say, 'Good morning.' I had to start as a dishwasher!"
Nine months later, Angelo was born. Maria stayed home with the baby and learned English watching I Love Lucy and The Partridge Family.
And here began the mind- and body-numbing decades of exhaustion. Tommy worked two jobs, one from 7 a.m. to 3 p.m., the other from 7 p.m. to 2 a.m. In between the cooking, busing tables, and serving, there might be just enough time to come home, shower, grab a few hours' sleep, get up, and start all over again. There were no days off.
At the end of each week he called his brothers back in Greece, keeping alive the hope and the dream that they would one day reunite in their own venture.
After eight years in New York and two more children, Tommy became wary of the city's rising crime. A countryman living in Charlotte convinced him it was a better place to raise children. But the move south ushered in the hardest seven years of their lives. At Big Village on Camden Road they had no money to hire help. Angelo, nine, was pressed into service. Maria, pregnant, had to work right up to her due date, squeezing herself sideways behind the counter.
Then Tommy found a nice lot on Central Avenue. He bought it with money he'd saved and borrowed, then held onto it for a few years until he could raise the money to start building.
The bank lent him almost $750,000 to build a restaurant and some rental properties across the parking lot. He hired the workmen and contractors and built it himself. When it was completed, in 1990, he called his brothers, who had by then moved to New York. "All my brothers had to do," he says, smiling proudly, "was come down to open the doors."
The Landmark, named for one of the better diners Tommy had worked for on Long Island, proved successful. Within a short time, it permitted the Kaltsounis brothers, Tommy, Larry, and John, to build houses on the same Weddington street. A few years later they went back to Greece and brought their parents home to Charlotte.
Tommy's dream was complete. He was in business with his brothers.
"Had I not left I would have lived my whole life with what-ifs," Angelo says. "The best years of my life were in New York." Those years began on the banks of the Hudson River at the Culinary Institute of America. Angelo quickly found his passion and made an important friend. Like Angelo, Stratos Lambos's father was Greek and in restaurants. "All we talked about was restaurants," says Angelo, "and the Greek restaurant we were going to open one day."
At the small, elite CIA, near FDR's Hyde Park estate, few of the students had to take jobs during the two-year program. Angelo did, waiting tables in the city all weekend. Exhausted, driving back to school in the wee hours of Sunday night, the only thing that kept him awake was dodging deer on Route 9. He felt lucky if he could grab three hours' sleep before his first class Monday morning. He was making good on his promise to struggle like his father.
Then, in 1995, the CIA gave him something even better than its sheepskin. For six months, in between his first and second years of school, it placed him in an internship at the Rainbow Room.
Sixty-five floors above Manhattan's Rockefeller Center, Angelo flourished. From the kitchen, he could look out on the main dining room where Duke Ellington, Billie Holiday, and Frank Sinatra once performed. On any given day, Angelo might be serving the Rockefeller grandsons or shaking hands with a visiting celebrity thanking him for preparing lunch. One day it was Bill Gates; the next it was Paul Newman.
After graduation, Angelo reckons his real education began. He took a job in Manhattan with one of the most respected Greek restaurants in New York, Periyali. Angelo, a quick study, was soon promoted to running one of the owner's other restaurants on Long Island. It was his first opportunity to lead, and he won rave performance reviews. But after a year and a half, he no longer felt challenged.
Returning to Manhattan, he won a position at Milos, a new high-end Greek restaurant a few blocks from Carnegie Hall. For three months he trained at the Montreal location. When Milos debuted in New York, Angelo was sous chef on the opening team.
Stratos Lambos, his CIA friend, was working for Charlie Palmer, a pioneer in progressive American cuisine. His flagship New York property, Aureole, occupied a turn-of-the-century brownstone on Sixty-first Street between Madison and Park once owned by Orson Welles. Stratos suggested that Angelo come to Aureole and "do a stage," restaurant speak for working a few days gratis to audition. After Angelo worked the line, management offered him a job.
Things couldn't have been going better. Not only did Angelo have a position at one of the top-rated restaurants in the city, but he was also working side by side with his buddy. When Angelo's brother, Frank, graduated high school he came up to New York and enrolled in pastry school. He also joined Angelo and Stratos at Aureole.
While Frank was going to school and working at Aureole (for free), Angelo invited his brother to live with him rent-free. Between the brothers' expenses, rent, food, utilities, and commuting, Angelo was hard-pressed but happy. "I never ate so many hot dogs in my life!" he laughs. "Why? Because they were cheap!"
"I was on my way," he smiles. Finally, "I saw I was able to survive and even compete with some of the finest."
In 2000, Charlie Palmer pulled Angelo into his office and offered him a plum assignment. Palmer wanted him to be in the starting lineup for an Aureole on the newest culinary frontier: Las Vegas. In a few short years, Aureole Las Vegas, with a four-story, temperature-controlled glass-and-steel wine tower, would top off
Charlie Palmer's empire of restaurants, hotels, and spas.
It was a career-making offer laden with salary, benefits, incentives, and celebrity. One hardly needed to deliberate over accepting such an offer. But Angelo didn't take it.
"I couldn't," he says, smiling sadly. "That's when I got the call."
Angelo doesn't remember exactly what his father said on the phone that day. Come home. I need you. Tommy had worked the graveyard shift for too many years. Pushing his body beyond sleep, eating the wrong things at the wrong times, he had some health issues that couldn't be ignored. He was past fifty, and he'd developed a heart condition. He needed to exercise his "out."
A million thoughts raced through Angelo's head. Excuses, defenses, rationalizations, justifications for taking up Charlie Palmer on his offer. Hadn't he earned Vegas? How many opportunities like this come up in a lifetime? What did it all mean now—CIA, the Rainbow Room, Periyali, Milos, Aureole, his training under master chefs, discovering the artist inside himself, his dreams of glory—what did it all mean now that he'd have to go back to Charlotte, to the graveyard shift at Landmark?
"He went back to Landmark because he loved his family," says Stratos. "But he couldn't have been happy. His whole reason for leaving Charlotte was wanting to do something different!"
Angelo returned home. Whether it was just out of blind obedience or not, he doesn't say. "I put my head down and worked," he says. Angelo took over Tommy's shift. Tommy started working two days a week instead of six.
A year later, Angelo was tempted again. Pano Karatassos of the Buckhead Life Restaurant Group offered him the executive chef spot at his brand-new Atlanta restaurant, Kyma. Along with a generous benefits package, the position included use of a well-appointed home in Atlanta.
But he was resolute. "I wanted to be the son I'd been to my father before I'd ever left," Angelo says. At twenty-nine, to complete the role, he moved back in with his parents.
Working the third shift at Landmark, he renewed the bond with his uncles. He thought about them, fresh off the boat from Greece, no one willing to show them anything. They had to fight for it! No one gave them an opportunity. You had to pay for an opportunity. And he remembered everything they had freely shared with him, all the wisdom they had poured into him. His own father landed in New York and started as a busboy. But he'd work five extra hours for free, to watch, to learn in the kitchen until they said, "Get outta here!" Because Tommy had that hunger.
But that hunger was linked to a purpose. "When those Greeks landed in New York, there was fear," says Angelo. "Fear of being in a strange place. Fear of not knowing the language. And fear of having nothing. He never wanted me to have to be at
that place."
Over the months, as Angelo held down his father's old shift at Landmark, he reflected on Tommy's life: from nothing he had created something. A diner, a property, an entity to feed his brothers, his family, and the children his children would have. Reflecting on these things, Angelo realized he was more than just his father's "out."
For the next two years, Angelo showed up to work third shift. He never let anyone down, but his heart still wasn't really in it. CIA, New York, Milos, Aureole were all distant memories. They might as well have never happened.
In October 2001, he turned thirty. He didn't feel good enough about himself to go out, to date. He just showed up for work. He agrees that anyone who saw him behind the register saw a zombie in a tie and jacket.
Then he got the other phone call. The phone call that "reminded me of where I was and where I'd been."
Stratos had grown restless working in Atlanta. "Come to Charlotte," urged Angelo.
Stratos moved to Charlotte in 2001. By the following year, he, Angelo, and Frank were talking about opening a Greek/Italian place. Tommy was skeptical. He couldn't see hybrids, but he expressed his opinion in a very low-key manner. "He's so wise," says Stratos. "He offered his criticism in such a way that we listened. 'Be careful,' he said. He never spoke down to us. He spoke to us as men." In 2003, they opened Ilios Noche on Providence Road. Angelo, still committed to Landmark, worked both places. He did lunches at Ilios Noche then worked until 6 a.m. at Landmark. He kept this up for the better part of a year, then threw his hands up. At Landmark, in 2004, when he finally howled, "I'M LEAVING!" it was the anguished cry of a man who'd paid enough dues.
In 2006, when Ilios became too small for all three partners, they opened Nolen Kitchen in Myers Park. They also began talking about a diner concept. From the beginning it was to be Angelo's baby. "Angelo just knows what a diner is having been with his father all these years," says Stratos.
Tommy thought a diner was a great idea—but not something as ambitious as Big View. The sheer scale of it made Tommy think back to the times Angelo, working side by side with him, would say, "One day I'll open my own place with my own ideas."
"Well, he was a little kid then," Tommy chuckles. "So I said, 'OK, I wish you luck. But when exactly will all this happen?' "
After seeing his sons and Stratos persevere with Ilios Noche—open the restaurant, retool the menu until they won a loyal following, then repeat their success in Myers Park with Nolen Kitchen—Tommy felt it was his duty to give them, particularly Angelo, his complete admiration and confidence.
"I have to give him credit to go ahead, not to be scared," he says, beaming. "He did a great job. He stayed in the restaurant business. But he went to school to learn how to do it right."
Inside of a year, Big View's business plan and investors were put together. They broke ground in 2008; in May 2009 Big View Diner opened.

Wednesday night is kids' night at Big View. While the main dining room buzzes with parents ordering dinner, a buffet supper is served to children in the party room where Mulan is playing on a large pull-down screen. Kids are coloring and Joy, a pert waitress originally from Dallas, has rouged her cheeks like Mulan and is shuffling around in a kimono serving the children. Envisioned as a way to let mom and dad enjoy a relaxing dinner, the kids keep popping out of the party room, running to their parents' booth to show them what they've colored.
The children underfoot, the servers threading their way across the floor delivering entrées, oldies from the fifties playing, mom and dad feigning surprise at junior's latest masterpiece all conjure a more innocent era when families still ate together.
"What do you recommend?" an older couple asks, looking up into Angelo's face.
"The brisket is beautiful," Angelo says, smiling.
At the next booth, Angelo hoists a three-year-old boy ready for dessert into his arms for a guided tour of the pastry counter. A cookie is plated for the young customer, and Angelo returns the boy to his parents and drifts into the bar, where he resumes his narrative about Big View's first two years.
"Look at when we opened," he declares, sitting down at a small table. "2009 was one of the worst economic times in history!" That Big View survived its first year in such a climate gives him great satisfaction, even validation.
While toughing it out these first two years building the right team, paying bills, responding to customers' needs, Angelo says he has found his place, his "identity." He doesn't wrestle with what-ifs.
He's folded his New York haute cuisine experience into the traditional diner and come up with a new alloy. Breakfast is available all day long. But side-by-side with the ham and eggs is a salad with spindly little onion rings pirouetting on top of tomato, feta, and arugula. Thai calamari, served in a Chinese take-out box with chopsticks. The Triple D, a near square foot of chocolate cake groaning under five scoops of homemade ice cream, caramel, chocolate sauce, nuts, whipped cream, bananas, and cherries for $13.99—or free to anyone who can finish it. And a full-scale, in-house bakery replete with Johnson & Wales interns in white coats scurrying around under Frank Kaltsounis's direction.
Angelo, who has a family of his own now, remains enthralled by all the possibilities. He's buzzed about the twenty new appetizers he's adding to the menu, and a corned beef, pastrami, and turkey sandwich that he promises will rival that of any Manhattan deli's.
Reflecting on the plan he left Charlotte with in 1994—to struggle—he's not so sure that the discipline Tommy planted in him wasn't more effective.
Conversely, he believes his career path has also "proven to my father there's a different way."
"I've followed him, his teachings, his beliefs," Angelo says, "but there's a point where things turn. … Now maybe my dad is thinking, 'it's time for me to follow.' "
Of course, Tommy Kaltsounis finds it difficult to resist the role of consultant.
"He can't be inside this restaurant and not be saying something," laughs Angelo. "It's in his blood: 'What are they doing? Why are they doing it like that? Who told them to do it like that?' "
As he finds himself now shouldering the same burdens his father once did, he says his father's ethic has become a source of inspiration. "My father's work was his sacrifice for us, his family. People today are all working for themselves."
In the age of management tomes and team-building retreats, Angelo says his father's humble background, limited English skills, and lack of higher education prevented Tommy from sharing a comprehensive primer for success with him.
"What he did give us—by demonstration—was that drive within himself," says Angelo, "that drive to explore, to come to the U.S. many years ago, when he was young and had nothing."
With the economy uncertain, with competition keener than ever, with more and more diners "turning into CVS's," as Angelo says, that drive may be all that will get you through weeks and months and years of standing on your feet. The determination, Angelo says, "to be the best at what we do."
"Because," he says, "we're gonna do whatever it takes."