A Tense Debate Over the Elizabeth Neighborhood's Future
Elizabeth residents are about to decide whether they want the neighborhood to be the city's ninth local historic district—and the debate has pitted neighbor against neighbor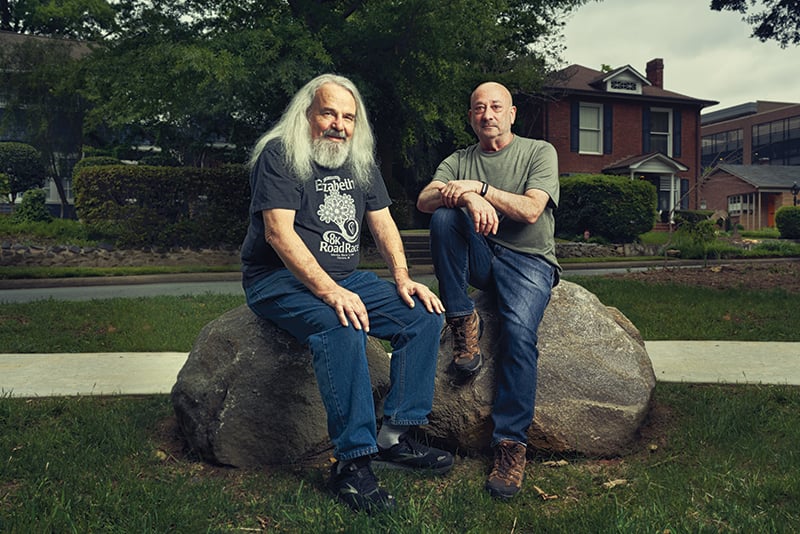 Clifton Settlemyer's porch is the kind of place where long stories unwind. Its rocking chairs face Clement Avenue, built wide to accommodate a streetcar line that never materialized. Old-growth trees shade the street. Three former mayors live nearby. Neighbors stroll the sidewalk, and Settlemyer knows many of them.
His home, like many in Elizabeth, is more than 100 years old, and for nearly 30 years, he's refurbished it in the hope that people can live there for another century. Now, as developers and investors ogle Charlotte's close-in neighborhoods, Settlemyer, the president of the Historic Elizabeth Neighborhood Foundation, isn't fighting to preserve just his house. He's fighting for the whole neighborhood.
Elizabeth's residents are in the midst of a passionate debate about whether to become Charlotte's ninth local historic district. It's a thorny topic, a bramble of bureaucratic intricacies, hypothetical scenarios, and deep feelings about the concepts of house and home. "Historic preservation" sounds far removed from the business of living, but as I spoke to Elizabeth's leaders and residents, it became clear that this wasn't just a debate about the future of old buildings. This was a community wrestling with itself over what it means to be a good neighbor.
The fundamental issue is straightforward: The designation means that external home renovations, new builds, and other property modifications would require approval from Charlotte's Historic District Commission, a 16-member group that would work with the neighborhood to preserve its character and features. Later this year, historic-district proponents will circulate a petition among Elizabeth property owners—not people who rent their businesses or homes. If a simple majority sign, City Council members would vote whether to apply the designation. If they do, Elizabeth would join a club that includes Plaza Midwood, Wesley Heights, Wilmore, Fourth Ward, and others.
Here's where things get complicated: What would Elizabeth look like in 50 years without the designation? What would it look like with it? What will happen to property values, renovation costs, rents? Is this the best way to preserve what residents love about their neighborhood?
Elizabeth, shortly after its founding in 1891, became one of the most fashionable neighborhoods in the city. What made it so then is what makes it so now—proximity to uptown, walkability, and comfortable homes. Elizabeth was Charlotte's second streetcar suburb (after Dilworth); today, the LYNX Gold Line ferries commuters down Hawthorne Lane and Elizabeth Avenue. In 1906, Independence Park opened as the city's first "pleasure ground"; today, every neighborhood resident lives within half-a-mile of a public outdoor recreation area. Walk Score, which considers pedestrian friendliness and distance between destinations, rated Elizabeth 66 out of 100, making it one of Charlotte's most walkable areas.
The neighborhood has never been particularly diverse. As of 2020, nearly 80% of residents were white. The average home price is just north of half-a-million dollars (the county average is $365,860). Opponents of the historic district argue that the designation would put the neighborhood at odds with the city's goals, including housing density and affordability, for in-town areas. Though the area is no doubt wealthy—in 2020, median household income was about $81,000; the county average was $69,000—Elizabeth boasts a variety of housing. Historic quads and multifamily apartment homes nestle among single-family bungalows and a few homes that can reasonably be described as palatial. It has condos and modern apartment complexes. A third of Elizabeth's single-family homes are rentals. (I live in a 101-year-old apartment building in the neighborhood.)
The Elizabeth Community Association aims to represent all these residents—plus business owners and other community stakeholders—but homeowners make up most of its volunteer board. In 2021, the ECA board voted not to support the effort to pursue the designation, but it has tried to avoid becoming a symbol of opposition. Its newsletter has featured voices on both sides of the debate.
Diversity and affordability are hot-button issues, and those who oppose the historic district claim that the designation will drive up maintenance costs, raising the barrier to entry for new residents. "It's just not a very welcoming structure that they're trying to push in," says Evan Kettler, the ECA's vice president.
On the other hand, proponents say, look at neighboring Chantilly, where new-build mansions tower over midcentury bungalows. The average home price there has skyrocketed to $587,000—higher than in Elizabeth. By fending off the teardown-rebuild mania that's transforming neighborhoods like Chantilly and Sedgefield, which adjoins Dilworth, the historic designation could protect the historic, relatively affordable multifamily housing that Elizabeth still has. But it could also drive up rents as landlords adjust to higher maintenance costs.
Neighbors on both sides peer into a frustratingly opaque crystal ball. But they seem to see clearly on this, at least: Historic designation or not, the neighborhood's economic and racial diversity is not likely to change radically anytime soon. As Elizabeth resident and former Mayor Jennifer Roberts recently told Queen City Nerve, "That horse is out of the barn." The part of this debate that really animates some residents is about what the designation means for what they can, and can't, do with their property.
Real estate is the most significant investment most people will ever make, and homeownership is a—perhaps the—bedrock of the American notion of success. A similarly ingrained idea, built into the very premise of this country, is that once the property is yours, you can do what you want with it, within the limits of zoning and other regulations. If you want to build right up to the setback on your land, or grow vegetables in raised beds in your front yard, or build a super-modern tower that robs sunlight from your next two neighbors, so be it.
The historic district designation would undoubtedly squelch some of this freedom. Property owners may have to wait months for commission approval before undertaking repairs. They may be restricted to historically appropriate materials, such as authentic slate roof tiles, which could cost thousands of dollars more than modern alternatives, and would have to wait for approval before building additions or screening in porches.
For some, this smacks of overreach. If you want your house to be preserved in perpetuity, they reason, make it a historic landmark. Some of Elizabeth's homes already are, and the whole neighborhood wouldn't have to bend to a single vision of the future. "Things change in response to changing conditions," Kettler says. "Places that resist change do so at their own peril."
On a ride through the neighborhood, Settlemyer points out several new builds—even hypermodern ones—that he admires, and he notes that the designation would still allow property owners to build modern houses, as long as they meet height and mass criteria. He doesn't want to encase Elizabeth in amber. "I'm not against change," he says, "but when it comes to Elizabeth and what we have here … I don't see any reason for it to change radically now."
Charlotte provides plenty of examples of what pell-mell development can do, proponents reason, so why not set up some guardrails? The local historic designation may not be the perfect tool, but it's the most readily available. (The city's newly passed development ordinance provides for neighborhood character overlays, which allow areas to develop their own parameters to preserve character. But Settlemyer argues that overlays could take years, and collaboration would be no less of a challenge.)
Jim Belvin lived in Plaza Midwood in 1992, when that neighborhood debated—and received—historic district status. He dug into the regulations and vehemently opposed it, mainly because of the bureaucratic burdens. He moved to Elizabeth in 1997 and now favors the historic district. "As I talked to my neighbors that were going through the process of getting their house redone," he says. "I found it wasn't as burdensome as I thought."
It's easy to dismiss Elizabeth's historic district debate as squabbling among the well-off and well-connected about what they can do with their increasingly valuable homes. But at its heart, the debate encompasses age-old conundrums about how one should live in proximity to others.
How much should we abridge our own freedom in the interests of our neighbors? Should my dream house cast my neighbor's dream house in shadow? How much should the concerns of the present weigh against those of generations to come? How can we preserve the best parts of the past while welcoming an unknowable future? Most important, how can we disagree and live in harmony?
"In a way, we're family," Belvin says. "Whichever way it falls, it's a done deal. I don't think it would have any lasting effects in the neighborhood. People will end up getting along."
In Elizabeth, residents deliver banana bread to ailing neighbors and leave out eggplant seedlings for anyone to claim. They may snipe over the proverbial dinner table, but they'll band together when outsiders come knocking. As a Welsh proverb has it, "A little among neighbors is worth riches in a wilderness."
Allison Braden is a contributing editor.