A Tour of NASCAR Driver Angela Ruch's Uptown Penthouse
The Xfinity driver and her husband, Mike, have a new reality show, a new baby, and a newly-renovated suite overlooking uptown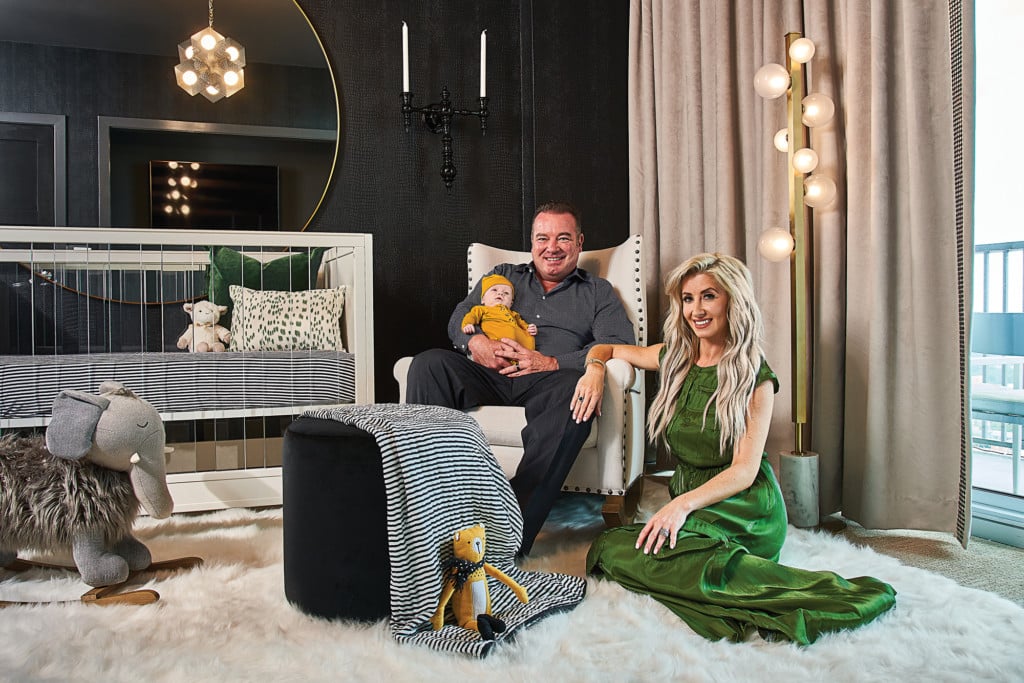 AT THE START OF 2019, Angela Ruch planned to return to the racetrack, and she and her husband, Mike, were ready to welcome a baby girl into their renovated uptown penthouse. Cameras were there to capture it all for their upcoming reality show, The Ruch Life. As they say in motor sports, everything was right on track.
But life happened. Plans changed. In March, Angela made a surprise switch in NASCAR teams and signed with Niece Motorsports. Then the couple got a call that the baby they planned to adopt would be a boy. Designer Summer Tubridy, owner of Onyx Interiors, had just completed a four-month redesign of the Ruch home, which included a baby girl's nursery. It had custom closets filled with baby clothes, a Lucite crib from Nursery Works, and an accent wall with Schumacher Pyne Hollyhock Blush Wallpaper. The room combined all the elements Angela loves: black-and-white, blush pink, and gold accents.
Fortunately, Tubridy didn't have to undo all of her work. The penthouse suite at the VUE Charlotte had an extra bedroom, and Tubridy redesigned it for the baby boy. He arrived on March 9, and the Ruchs named him King. Angela decided to keep the other nursery as is for the baby girl they plan to adopt next.
Tubridy had already worked with the Ruchs for five years, and this was their second renovation of the penthouse. She'd also designed Mike's office at Industrial Timber, a Charlotte-based company that manufactures wood furniture frames, where he's CEO.
With homes in Oxford, Mississippi, and Miami—and two NASCAR Truck Series races for Angela to prepare for—the Ruchs weren't always around to make design choices, so they gave Tubridy complete creative control. "We really had nothing on our wish list," Angela says. "We basically told Summer to furnish our place with everything brand-new, with the look and colors we loved."
Their 3,600-square-foot penthouse has three bedrooms, three and a half bathrooms, and flex spaces for a media room and office. (The Ruchs also own the unit across the hall, where Angela keeps her NASCAR simulator.) Each bedroom has a balcony overlooking uptown's skyline. On a sunny day, light floods the floor-to-ceiling windows. But for a newborn, Tubridy had to create a "cocoon" with adjustable window shades because the light was so dramatic.
Tubridy describes the Ruchs' aesthetic in three words: bold, striking, and unexpected. She incorporated charcoal accents for high contrast against the light stone flooring, textured and patterned wallpaper for an element of surprise, and sculptural light fixtures like the antique brass Roxanne Flush Mount from Arteriors in the living room.
For furnishings, Tubridy opted for clean lines and simple pieces like the charcoal velvet sofa and white marble coffee table from Restoration Hardware and the blush pink accent chair by Mitchell Gold + Bob Williams. Materials like leather, velvet, marble, and Lucite create that touch of glamour Angela loves. Tubridy sourced unique pieces from local and national retailers: The black hammered metal wingback chairs in the living room are from Made Goods, and lighting for the nurseries and living room is from Arteriors. She found edgy art photography like the vintage CHANEL helmet in the living room at These Fine Walls.
Baby King's nursery is covered in Eykon Black Gator skin textured wallpaper, "a very unexpected design for a nursery," Tubridy says, "but it works great for this penthouse design." She placed an oversized brass mirror behind the Lucite crib to make the room feel more spacious. To create high contrast and brighten the space, she brought in a white dresser, a white fur rug, and a white rocking chair. For more color, Tubridy used emerald green accent pillows against the black and white striped linens.
The Ruchs married in 2014 and moved into their home at the VUE later that year. Angela says the view sold them on the property. "It feels like we never have enough time here," she says. "Our (Charlotte) home is an escape for us to unwind and relax, and now with our little Baby King, we are just loving spending every minute with him in our condo."
As of press time, the couple couldn't name the network that will air The Ruch Life, but they post teasers to social media. In the series, expect to see snapshots of the Ruch's extreme lifestyle, their adoption story, and of course, their stunning penthouse.
With King's nursery complete, Angela says it's her favorite room in the condo. "For everyone that knows how hard adoption is, it's so rewarding when it all comes together," she says. For Tubridy, this project represents her clients' fast and often unpredictable lifestyle. "They're up for anything I bring to the table, and aren't afraid to be adventurous and make bold design choices," Tubridy says, "which is what ultimately leads to fabulous and inspiring interiors."
---
Get to Know Angela Ruch
Age: 35
Hometown: Puyallup, Washington
You might know her from: The ARCA Series, the NASCAR Camping World Truck Series, and the NASCAR Xfinity Series.
It's a fast life for Angela, who currently competes part-time in the NASCAR Gander Outdoors Truck Series. This year, she's run two NASCAR Truck Series races, and opened the season with an eighth-place finish at Daytona International Speedway, a career best. As of May, she was scheduled for 12 more races, piloting the #44 truck in the Gander Outdoor Truck Series.
Angela and her sister, Amber Cope, made NASCAR history on October 23, 2010, as the first twins to compete in one of its top three series. Angela is the third generation of Copes to enter the world of racing; her uncle, Derrike Cope, won the Daytona 500 in 1990, and her grandfather, Donald Cope, drag-raced motorcycles.