A Trek to Germany
The Olde Mecklenburg Brewery's owner, John Marrino, makes a beer-centric trip overseas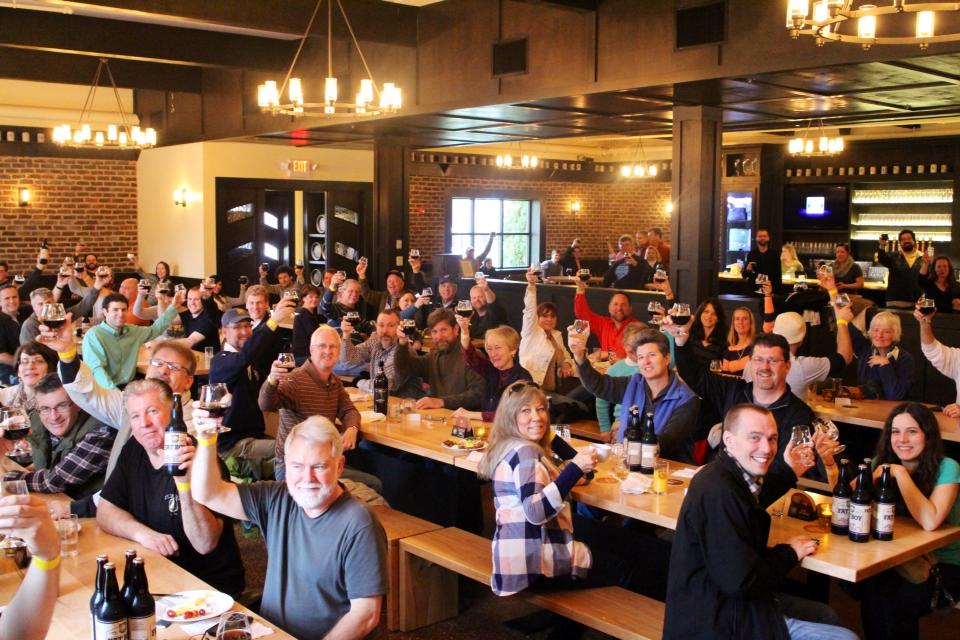 There's an eight acre Biergarten situated outside a giant, arching, echoing Brauhaus in Charlotte – just a few miles from the intersection of Woodlawn and South Blvd and the tracks of the light rail. The sausages are fresh, the pretzels are Bavarian, and the beer is made in-house; inside one of 60 giant barrels. Even the name, The Olde Mecklenburg Brewery (OMB), ties together both Charlotte and Germany—a purposeful move by owner of OMB, John Marrino.
But how does a man living in Charlotte impart the authentic feel, taste, smell, and sound of a German brewery to guests and employees alike? Simple. Marrino takes his employees to Europe and, over the course of four days, Marrino treks through Germany as a way to educate, team build, and bond with his staff; inviting his employees to understand the German essence of and inspiration for OMB.
"We eat and drink and just soak up the culture," says Josh Brigham, sales representative for OMB. "There's just something about the shared experience of going overseas and getting out of your comfort zone."
Among the city stops on the team's itinerary are Frankfurt, Düsseldorf, and Cologne. "It's a very short trip … we get a on a plane on Saturday and we fly to Frankfurt, then we take a train to Cologne and spend the night there. After that, we spend two nights in Düsseldorf before flying home," says Marrino.
The focus, obviously, is beer – especially after several years spent living in Germany was what inspired Marrino to open OMB. "It's a very unique beer culture—nobody drinks anything but Altbier in Düsseldorf and in Cologne it's all Kolsch—so the two cities are quite unique even in Germany …"
Maybe there is something to be said for going back to our roots, and who's to say that same rule shouldn't apply to businesses, restaurants, and ventures. According to Marrino, "I'm just trying to give our employees a first-hand view of what I've been telling them, so they can see for themselves. You can't explain the beer fully without experiencing the sights and sounds and smells …"
You may not be traveling to Germany any time soon, but here's Marrino's German Potato Salad recipe to help give you a taste of it (a main ingredient, he says, is "good ol'fashioned German engineering")
Ingredients:
10 lbs potatoes
3 white onions, diced
1 lb. bacon, chopped
1 cup fresh parsley, chopped
2 tbsps salt
3 tbsps fresh cracked black pepper
1 cup white vinegar
1 cup vegetable oil
1/2 -1 cup fresh chives, chopped
Boil the potatoes with the skin on until tender throughout. While potatoes are boiling, add the bacon to a heavy-bottomed pot and heat over medium low. When the fat has rendered out, add the onions and simmer under translucent and slightly caramelized. Once the potatoes are done, remove from the heat, drain, and leave to cool. Once the potatoes are cool enough to handle, peel the skin and slice the potatoes.
Add the onion and bacon mixture to the potatoes along with remaining ingredients; stir. Serve chilled or at room temperature; serves about 6-8 adults and keeps for about three days covered in the refrigerator.