A Trip on Kentucky's Bourbon Trail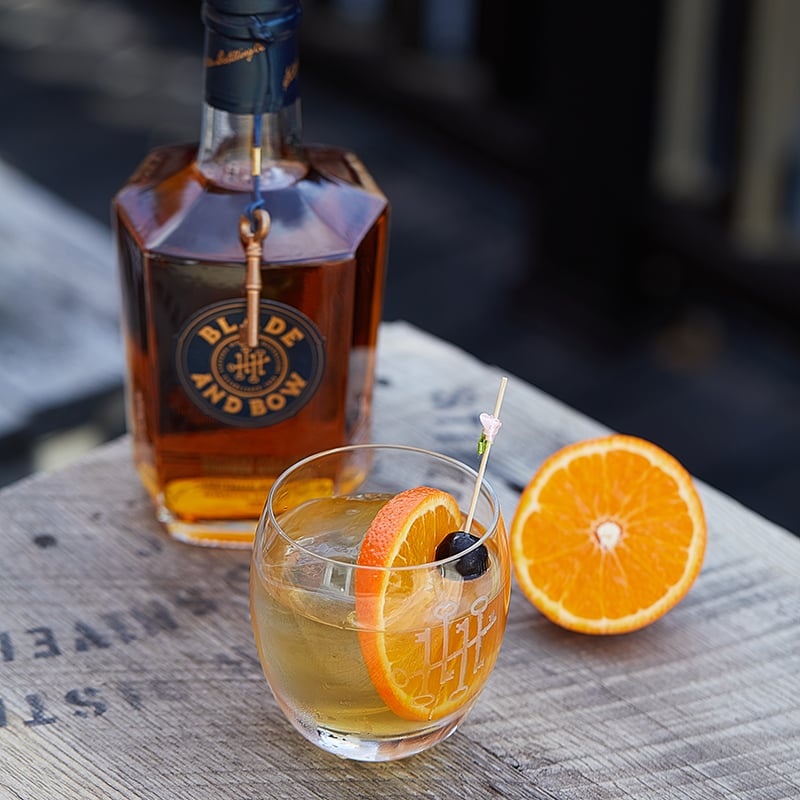 CARROLL PERRY has worked for Stitzel-Weller, a maker of bourbons including Bulleit and Blade & Bow, for nearly 50 years. His first job was in advertising; today, you'll find him at the distillery's front gate, greeting visitors and directing them to the tasting room and tours.
In his mid-70s, the Kentucky native is a veteran of the Vietnam War and of triple bypass surgery (he was back at his post at the distillery not long after). He drinks his bourbon on the rocks or neat, like his daddy did, and remembers watching as the bourbon boom brought hope to an area in which factories and plants were shutting down. He can't believe how popular the booze has become. One demographic, in particular, makes him chuckle and shake his head in a mixture of delight and disbelief.
"The ladies have gone to it!" he tells me at a media event on a March Sunday night, thrown by Blade & Bow. "Now, that shocked me more than anything—the young woman that drinks bourbon. It wasn't that way when I was growing up, no. Not at all."
I met a college girlfriend, Emma, here on Friday night. She went to bourbon before I did, but I like to think I've caught up in knowledge, through a growing collection of 70-plus bottles my husband and I have at home. On Saturday morning, we grabbed some coffee and arrived around 11 a.m. at the first distillery, Maker's Mark. The grounds are steeped with history, yet there's innovation, too—they've built a cellar into the side of a limestone cliff to age some of their single-batch barrels, for example. From there, we went to Willett, maker of my favorite bourbon, hoping to get lucky and find some rare bottles in the gift shop. We didn't, but the tour brought us to see the copper still made iconic by the distillery's Willett Pot Still Reserve bottles, which are modeled after it. After grabbing a quick pizza for lunch, we continued on to Heaven Hill, makers of Elijah Craig, McKenna, and Parker's, among others, and made it back to Louisville in time to meet another friend, Seth, for dinner.
There should be a name for the way time passes when you're with old friends and good liquor. There is, however, a name for the feeling you get when you take your first sip of bourbon: the Kentucky Hug. You'll hear it at distilleries and in tasting rooms as part of the Bourbon Trail education, but it seems to describe more than the warmth in your stomach from the high-proof spirit.
Bourbon, once the drink of choice only for Kentucky soldiers and their daddies, has grown quite a diverse fan club, including ladies like me and Emma. We met a combined bachelor/bachelorette party at Willett, and laughed, recalling the cheap shots from our own 21st birthdays, when we toured Maker's Mark with a group celebrating a newly legal drinker.
Perry sees that growth daily, when guests from across the country—even the world—stop by his security hut at Stitzel-Weller, near the street named after him.
Last winter, he tells me, an Austrian couple visited the distillery. When they rolled down their window, the woman in the passenger seat pointed at him.
"You're Mr. Perry!" she told him.
He was, of course, curious how she might know that.
"Lord, your picture's in every bar in Austria," Perry recalls her saying. He's not sure why, or what the photo might have been—perhaps an advertisement, one from the department where he got his start.
"We must be pretty popular," he says, shaking his head, and beaming with pride.
I feel the Kentucky hug—not in the liquor's burn, but in Perry's love for this golden whiskey that's making this forgotten area rich once again, drawing you in to share the wealth.
---
STAY
The 21c Museum Hotel is within walking distance of many of Louisville's downtown attractions, such as the Louisville Slugger Museum. This modern hotel is also an art museum; you'll find artwork around every corner, and even in the elevators. 700 W. Main St., Louisville; 502-217-6300.