A Trip to New York with Four Charlotte Chefs and a Mixologist
The crew was invited to cook at the James Beard House. What could go wrong?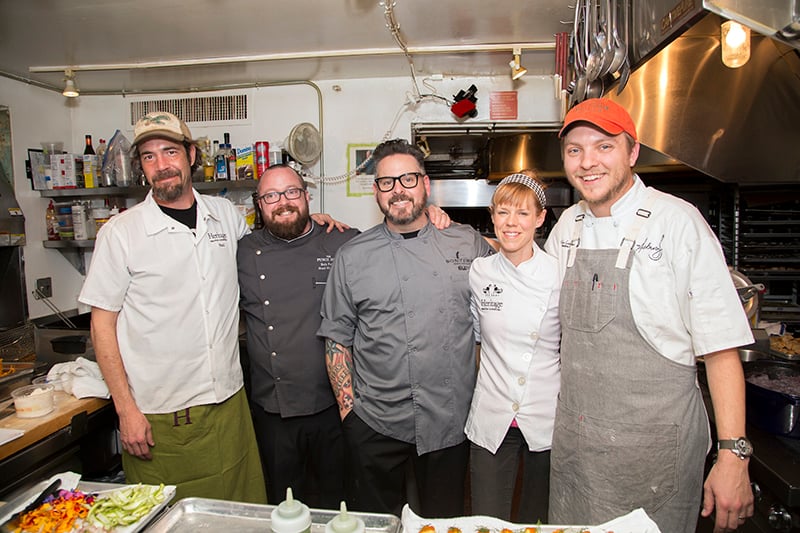 JUST BEFORE 9 p.m. on an April Wednesday night in New York City, three chefs are walking through a small park on their way to dinner. They came here from Charlotte to cook, yet Ashley Bivens Boyd, Chris Coleman, and Paul Verica aren't carrying their knife bags and aren't wearing chefs' whites. Boyd, a pastry chef who usually covers her blond hair with a headband, wears dangly gold earrings beneath a neat bun. Coleman, a Southern boy known for modernizing classic dishes from the region, is in a navy blue button-up and dress shoes.
Verica looks the most out of character. Instead of his usual shorts and a T-shirt with socks and sandals on his feet and a sweaty baseball cap on his head, he's wearing dress pants and a tucked-in blue gingham shirt. "Can you believe I got him to wear Michael Kors?" his wife will ask me later. Verica, whose Waxhaw restaurant Heritage Food & Drink is widely regarded as one of the best in the Charlotte region, smokes a cigarillo between grins.
We're only one block away now from our destination, Eleven Madison Park, one of the best restaurants in the country. Owned by James Beard Award-winning chef Daniel Humm and restaurateur Will Guidara, the restaurant has earned three Michelin stars and earned a four-star review from The New York Times.
A man wearing a backpack is behind us, moving at a much faster pace. In a voice that you'd expect a scolding fifth-grader to use, he tells Verica there's no smoking in New York City parks.
"OK, thank you," Verica responds.
"You should put that out," the New Yorker insists.
Knowing Verica grew up in Philly, I expect a biting response this time. I'm surprised.
"OK, thank you!" the Southern chef says again, this time with a bit more gusto, and lowers the cigarillo to his side.
The New Yorker mutters a response about not seeing Verica extinguish his smoke.
As he speed-walks past us, elbows pointed and his hands holding the straps of his backpack, he adds, with some profanity, "Like you're the only person who lives in the city."
Welcome to New York, chefs.
***
WHEN CHICKEN PRODUCER Springer Mountain Farms approached Coleman last summer about taking a trip to the James Beard House, his answer was surprising.
"I'd like to bring some friends along," he said.
Other Charlotte chefs have cooked in the storied kitchen in recent years. Something Classic, which owns a catering company of the same name and restaurants Halcyon and Fern, sent its chefs to cook there twice. Bruce Moffett has made the journey, and so did Joe Bonaparte, who left Charlotte for Myrtle Beach in 2013.
Coleman's request was different. Then the chef at The Asbury (he's since moved to Charlotte Marriott City Center), Coleman could have gone solo, one Charlotte chef wowing guests with his innovative take on classic Southern cuisine, representing the farms he uses at his restaurant. Instead, he wanted the guests to get to know his home city. No Charlotte chef has ever won a James Beard Award, a fact that irks people in the restaurant and tourism industries here, especially when rival Southern cities Atlanta and Charleston and Nashville seem to bring home plaques every year. Coleman chose to make a larger statement: We're Charlotte, and you don't know what you've been missing.
Verica and Boyd, the pastry chef at 300 East and Heritage, signed on late last summer, and so did Blake Hartwick, executive chef of Bonterra Dining & Wine Room, who'd cooked at the Beard House before. Coleman also enlisted Bob Peters, mixologist at The Punch Room in the Ritz-Carlton, to make cocktail pairings with some of the courses.
"Charlotte has started to come on to the national scene a little bit in the last year or so, and is starting to get some recognition," Coleman says. "We really wanted to make a splash."
***
WHEN THEY FIRST PLANNED out the trip, they built in free time and a few trips to explore other New York kitchens. But like any dream come true, things warp as they become reality.
Verica and Boyd volunteered to drive the wine, equipment, and produce they'll cook to New York, a 14-hour trip on highways ever more crowded. Charlotte-area farmers have grown greens and vegetables at the chefs' requests for this specific dinner, and the chefs didn't trust anyone else to keep it from being damaged or lost.
They arrive on a Thursday morning after very little sleep, meeting the rest of us, who took an easy flight. But this is their night to enjoy the city as guests, and despite lingering fatigue, they're not going to give up Eleven Madison Park.
The maître d', Zach, is expecting us. Verica has been emailing him to set up this dinner, and Zach's done his research.
"Who is Chef Chris?" he asks, before turning to Coleman and expressing his enthusiasm to host the group.
As we sit down, Zach asks questions about Charlotte. The chefs explain what's happening in their city, how things are changing, and how the city's cuisine deserves national recognition. They rarely talk about their own restaurants, instead heaping praise on their colleagues.
"We're trying to lift each other up," Coleman says.
There's a lot to see at Eleven Madison Park. The number of servers, the smoothness of the operation of the front of house, the plates going by—even before a dish is put down, Verica is bouncing in his seat. A guest walks by a trio of servers heading to a table with full plates. As she approaches, the servers turn, backs against the wall, holding their arms at perfect 90-degree angles, looking straight forward, until she passes.
The table tries to guess the ratio of guests to front-of-house staff, which appears to be nearly one to one.
There's a little box sitting on the end of the table. Inside are what look like black and white cookies, but are actually mini-cheese snacks with butter, white and darkened by vegetable ash. We pass them around. They taste like the fanciest cheese straws ever made.
The first dishes come stacked in a hexagonal tower, all but one of the four canapés hidden inside of the woven plates. The server unpacks them, revealing one beautiful plate after another.
"This almost makes me want to try tweezers," Verica says. In his own cooking, Verica has a well-known aversion to placing delicate garnishes on his food— the plates are more natural without them, he believes. This often puts him at odds with Boyd, who runs his dessert program with an attention to detail that only tweezers can satisfy.
Dinner is about to begin. The theme is one these chefs are familiar with: comforting dishes that evoke memories, made with careful attention to detail and quality ingredients. Sitting across the table from one another, Coleman and Verica exchange wide eyes. They haven't spent much time together, but if this is a first date, it's going well.
"I'm just going to be wetting myself all night," Verica jokes.
The dishes are pure in flavor; an oyster sits on a pillow of crème fraiche; morel mushrooms are deeply earthy. A small dish of dehydrated fish, the table jokes, tastes like bacon bits somehow plucked from the sea.
The second course, caviar, comes in a little tin: benedict with spring onion and ham. Boyd takes small bites, trying to work out what might be inside.
Throughout the courses that follow, there are constant refrains of delight.
"Holy crap!" Boyd mumbles through a busy mouth.
"Oh my God," Coleman adds, savoring the flavors.
"So f—— stupid!" Verica chimes in, high praise from him, meaning that the dish tastes stupid good.
As staff comes by our table, the chefs ask questions. Verica wants to know the number of covers, or diners, the restaurant sees in a night.
Zach tells us it's usually between 105 and 115. Tonight, though, we're eating a new menu. The restaurant wants to give the kitchen time to get the menu right, so this evening, they've scaled back to about 85.
Everything is a revelation. Unaccustomed to the level of New York service, when someone at the table gets up to go to the bathroom, the North Carolina chefs joke about how long it will take for the Eleven Madison Park staff to fold a napkin (not very long at all).
As the main courses arrive, Verica says, "I need a million dollars." He wants his own Eleven Madison Park.
"If you get a million dollars, I'll come be your sous chef," Coleman says.
We eat asparagus braised in a pig's bladder, served as a single stalk with a white truffle and potato puree alongside it. It's finished tableside. When the final piece of the dish hits the plate, Coleman and Verica look up and laugh in disbelief.
A single stalk of asparagus on a plate isn't something you'd find in Charlotte. Looking around the restaurant, I can't help but think that despite all of our pride, this city, this restaurant, belittles what's happening in Charlotte restaurants without even trying.
The chefs, however, are excited.
"I'm completely f—— inspired, because you know this is the pinnacle," Verica says. "I have so much to learn, to understand, and grow and teach others. That's the thing that's so f—— beautiful about what we do."
***
THE NEXT MORNING, Friday, is warm by New York standards for April. Today's plan is to prep for Saturday night's dinner at the James Beard House and throw together some chicken biscuits for a friendly cookoff against New York chefs later in the day. Verica is the first to come down to the lobby at 8 a.m., his hair still wet, now wearing his signature black athletic socks and Nike sandals. He sets down his toolbox and knife bag to light his first cigarette of the day while waiting for the rest of the group. Soon, Peters, Hartwick, and Boyd arrive. Verica asks Hartwick and Peters about their evening— they didn't attend the dinner at Eleven Madison Park.
"It doesn't matter how my night was— how was your night?!" Peters says.
Despite his bad knees, Verica bounces on his feet as he recounts not just the food, but the entire dining experience. The chefs had hoped to enjoy another New York dinner tonight, but that got cut from the schedule in favor of networking at the biscuit throwdown at a restaurant called Root + Bone, benefitting Heritage Radio Network, a culinary nonprofit radio station.
A short walk later, the famed James Beard House comes into view. Folks are already delivering the chefs' coolers, stored in another kitchen overnight. Boyd wastes no time unpacking, making piles for each chef and each dinner. Peters sets up the station where he'll make faux cherries using Cheerwine and a process called esterification. Hartwick and Verica are looking over the space and developing strategies. Coleman calls to check in—in the hazy afterglow of Eleven Madison Park, he overslept. In the coolers, there are a few disasters; Coleman's egg whites came too close to dry ice and have frozen into a solid block.
Peters, thankfully, finds a carafe of coffee and brings everyone a cup, easing the morning fog on everyone's faces.
"Is it too early for a cocktail?" Verica says.
"It is until I unpack my stuff!" Peters shouts back, unzipping a backpack full of stirrers, strainers, and other cocktail supplies.
Hartwick tells Coleman about the eggs. Boyd gets to work making tuiles, pastry crisps that will top both a collaborative course and her own dessert course. Verica is cutting a homemade Thousand Island dressing batter into triangles, which will be fried.
Bob's phone rings in the back of the kitchen.
"Bob's love line," Verica jokes as Peters answers.
Coleman begins making his biscuits for the night's competition. Boyd places the last of her tuiles in a box, carefully packed with paper to keep the thin pieces from breaking.
"I'm a little nervous about tomorrow," she says.
"We'll be there for you," Hartwick responds.
Later that afternoon, two cars arrive to take the group to Root + Bone. When Boyd and Verica learn that they'll be doing press interviews, their nerves tingle. They're not looking forward to the ordeal, but understand interviews are a crucial part of being a chef these days.
"It's so important in our business that people are talking about you and people are seeing your face and people are seeing your product," Verica says.
As the group heads into the battle, he puts on his most social face. Peters, the bartender in the group, steps up. He has a knack for conversation and makes small talk with a Root + Bone staffer.
"Where are you guys from?" the staffer asks.
"Charlotte," Peters says, as if that should be enough.
"Is that North or South Carolina?"
Even one of the radio producers confuses the group for South Carolina chefs.
Coleman and Boyd, for the most part, serve the guests. Coleman, with his broad smile and charming demeanor, acts as Charlotte's resident cheerleader, laying on his Southern charm. Peters does the same behind the bar. Hartwick and Verica are in the kitchen, keeping up the supply of chicken and admiring the fancy fryer.
"I have to have one of these," Hartwick says about the multi-level basket that drops into the sizzling oil.
After they eat, guests are asked to vote on which biscuit they liked best, but at the end of the night, none of the chefs has an actual count. They don't need to—the winner is clear. There's no way a group of New York chefs had a chance in a biscuit battle against this group of Southerners.
***
IT'S SATURDAY, the day of the James Beard House dinner. We walk down 6th Avenue, the chefs with their knife kits and toolboxes in hand, Peters with his backpack of cocktail supplies. They're all wearing Charlotte t-shirts, supporting farms or the Piedmont Culinary Guild, and carrying a clean chef 's coat to wear that evening.
They've heard horror stories about how small the kitchen is, and the lack of supplies. Verica jokes about the number of times he'll hit his head on the ventilation hood, which drops down from the ceiling almost to his nose. But he made it through yesterday's prep day without any lumps, and, when we arrive today, he navigates it just fine. Coleman's new eggs are boiled and peeled. Boyd made all of her tuiles yesterday, and the fragile cookies are in an out of the way corner, still carefully packed and untouched.
Coleman eats granola, a take-home gift from Eleven Madison Park, out of a prep bowl.
"We just ate at the number one restaurant in America," he says. "Now we're cooking at the James Beard House. This is surreal."
The Avett Brothers' "Head Full of Doubt, Road Full of Promise," blares from Verica's iPhone.
"This is my song," he tells me.
Decide what to be and go be it, the song goes. Verica sings along, his knife hitting the cutting board with each beat.
Peters finishes his cocktail prep, and is looking to help someone. Verica is spiralizing sweet potatoes.
"I can do that," Peters says, and he takes over. He cranks the handle, but the potatoes simply spin against the blade.
"Maybe I can't do this," he laughs. Verica gives a quick demonstration, and Peters gets to work.
It's 11 a.m. now, and Coleman has his hands in a large bowl, his thumbs running across his fingertips as he thins out the chunks of butter in his biscuit dough.
"I'm just serving my grandmother's three-ingredient biscuits at the James Beard House," he says with disbelief.
He drops the biscuits into small cast iron skillets, which will be placed on each table. He fills another, larger skillet for the rest of the kitchen to snack on.
They're so good, I eat two.
Coleman moves over to help slice strawberries for Boyd's dessert; Hartwick grills cauliflower and cabbage. Verica is carefully wrapping caul fat, a polite name for the intestinal lining of an animal (in this case, pig), around Swiss chard filled with rice, pecans, caramelized onions, and black-eyed peas. It's the way things were done before the introduction of meat glue, used to hold dishes like this together.
"I often get labeled as new school, and I don't like that," Verica says, holding up a spider-web-like piece of caul fat, "so I wanted to do something old school."
Kyle McKnight, former executive chef at Highland Avenue Restaurant in Hickory, is cooking a dinner here tomorrow night. He stops in with his girlfriend to wish the chefs good luck.
"Show them what North Carolina is all about," he says.
When the service staff arrives, the serenity of quiet prep in this tiny kitchen quickly disappears. The calming rhythm of knives hitting the counter is drowned out by dishes clattering and raised voices, the excitement of the day nearly overshadowed by the frustration of the staff, who seem unhappy to be here.
"Can I do any ding-dong work for you?" Peters asks in the kitchen, trying to keep the mood light. He helps line up spoons on a sheet tray for Verica's hors d'oeuvre; each chef will create one that servers will then distribute to diners.
Then, the ghost of James Beard decides to have a little fun in his old kitchen.
The fryer, necessary for Hartwick's passed bite and main course, fried catfish, isn't warming up. A fuse keeps blowing and the fan in the hood keeps shutting off. Verica also needs a fryer; he needs to prep the fried ranch dressing for the group's collaborative dish, a play on New York's beloved pastrami sandwich.
While Hartwick puts a large pot of oil on the stove, a James Beard House employee looks at the fryer.
"I need you to work your magic, man," Hartwick says to the man, hoping someone more familiar with the machine can make it work.
Soon, the fryer is back on, and the chefs are thankful, but still frazzled.
Verica suddenly realizes he miscounted when slicing up a main component of his dish. Boyd seems to sense he's getting flustered.
"I'll fix it," she says. She takes a knife and gets to work re-portioning Verica's food while he works on his pork belly.
Hartwick sets up a vintage meat slicer to cut the pastrami for the collaborative plate. It's an expensive machine that should do the job well. But as Hartwick turns the wheel, the meat doesn't move against the blade. An intense look of concentration magnifies the usual slant in his dark eyebrows as the dinner nears.
A staffer brings up another slicer from the basement. Hartwick plugs it in. The motor sounds like it won't last much longer, but it gets through the pastrami, and that's all they need.
"Who needs hands?" Boyd asks.
"I do," Verica says, scooping oil out of the now-working but dangerously overfilled fryer. Boyd jumps to help.
After a meeting to go over the menu with the chefs, the Beard House staff is setting up tables. One of them picks up two of the boxes of Boyd's fragile tuiles and tosses them onto a counter.
Verica sees it and tells the server to be careful with those boxes.
"It's empty," the server responds.
With a few strong words, Verica makes it clear that the boxes aren't empty. When Boyd checks the boxes, nearly every tuile is broken. But she is one of those people who always overprepares and has two more boxes, full and ready to go. The customers will never see a broken tuile.
***
AS GUESTS ARRIVE, they walk through the kitchen to a back patio and cocktail room. Coleman again acts as the face of the group, smiling whenever a guest takes a photo and thanking people for coming. Peters serves a before-dinner cocktail while the chefs plate delicate displays for the passed bites. Hartwick makes a chicken and pimento cheese croquette; Coleman makes a deviled egg that's a play on lox and caviar; Boyd's creation is a delightful take on the childhood snack of celery and peanut butter; Verica creates a green garlic panna cotta.
"I never thought I'd say something like this," Verica says, "but can I borrow someone's tweezers?"
The chefs share a moment of surprise and laughter as Boyd hands over her tweezers.
At 6:47 p.m., 13 minutes before the biggest dinner of their lives, the chefs pose for a group photo.
"On the count of three, everyone say 'broke tuiles!'" Hartwick shouts.
At 7 p.m., the first server walks out of the kitchen with a plate of deviled eggs to pass around during the stand-up cocktail hour.
Hartwick's croquette is the first to run out of servings, followed by Coleman's eggs. When the last plate of Boyd's dish, a play on ants on a log, goes out to the dining room, Verica is still working on a hotel tray of panna cottas, using the tweezers to place small flowers on each spoon. After Verica's dishes are served, the diners start making their way to tables.
More than 30 of the 78 guests are family and friends of the chefs from Charlotte. One of Verica's regulars from his days as chef at Charlotte's The Club at Longview traveled to New York with her sister just to come to the dinner.
At 7:45, the guests are seated, and the chefs await the final headcount: 79.
"We gotta go!" Boyd shouts as the clock nears 8 p.m.
Local culinary students were supposed to help plate, but they fail to show, so Peters, the mixologist, takes on the job. He helps count and lay out the plates for each course, decorating dishes with spoonfuls or dots of sauce at each chef 's request.
"Chefs, I have open hands and take orders well," he says.
For all of the issues in the hours before service, each dish goes out on time. Somehow the dinner becomes more fun as more courses go out, starting with the pastrami dish and finishing with Boyd's interpretation of strawberry cheesecake.
"Every day I'm drizzlin'," Coleman sings to the tune of the popular LMFAO song as he drizzles a sauce over Verica's dish.
"Next time we do this, remind me to lose weight," Peters jokes.
At 10 p.m., the last of Boyd's desserts is served. The dinner is over. The chefs toast, clap, and come together for a group hug before being introduced in the dining room.
"Thank y'all for coming out tonight," Hartwick begins. The crowd giggles as soon as they hear "y'all."
A table of New Yorkers talks during the chefs' thank-you speeches. Others cheer at the mention of their favorite courses. The biscuits—Coleman's grandmother's simple recipe—get a round of applause. One woman was delighted by her first experience eating catfish. There is no question: New York loved Charlotte.
"I'll never forget this," Peters says to a server.
To celebrate, Hartwick grabs a magnum bottle of champagne, planning to open it with a knife on the patio. He's surrounded by Charlotte friends and family. He brings the blade toward his body, and with a swift surge forward, his arm slides the blade up the bottle.
Whoops. The knife cracks into the neck of the bottle, which breaks. Champagne sprays everywhere and shattered glass falls to the ground. Everyone laughs.
"Nothing works around here," Hartwick says.
It's a statement only those in the kitchen with him understand. To those eating their dinner, everything on the plate worked just as it should, and the message has been delivered: In Charlotte chefs' hands, catfish and collards are good enough for the James Beard House.
Kristen Wile is senior editor of this magazine and editor of Charlotte Home + Garden. Reach her at kristen.wile@ www.charlottemagazine.com or on Twitter: @kristenwile.
---
WHAT THEY COOKED AT THE JAMES BEARD HOUSE
CHEF BLAKE HARTWICK
Fried catfish with barbecue cauliflower, pac choi slaw, pickled ramp aioli, blue corn grits, and hot sauce bubbles
Farms represented: Rogue Farms, Geechie Boy Mill, Carolina Classics Catfish
---
CHEF CHRIS COLEMAN
Chicken and dumplings with chevre gnocchi, beets, arugula, radish, green garlic, and roasted lemon chicken jus
Farms represented: Small City Farm, New Town Farms, Windcrest Farm, The Chef's Farmer, Springer Mountain Farns, Looking Glass Creamery
---
CHEF PAUL VERICA
Pork belly with sweet potato, swiss chard, black-eyed peas, Carolina gold rice, and a Cheerwine glaze
Farms represented: Heritage Farms, Bell's Best Berries, Cold Water Creek Farms, Anson Mills
---
CHEF ASHLEY BIVENS BOYD
Goat cheese and white chocolate cheesecake with strawberries, sorrel, and buckwheat streusel
Farms represented: Newell Farmers Market, Bush-N-Vine Farm, Harmony Gardens, High Mountain Farm, Lucky Leaf Gardens, Cold Water Creek Farms, Wild Turkey Farms, Homeland Creamery, French Broad Chocolate
---
This article appears in the August 2016 issue of Charlotte Magazine
Did you like what you read here? Subscribe to Charlotte Magazine »
---