A Walk Through 'Giacometti: Memory and Presence'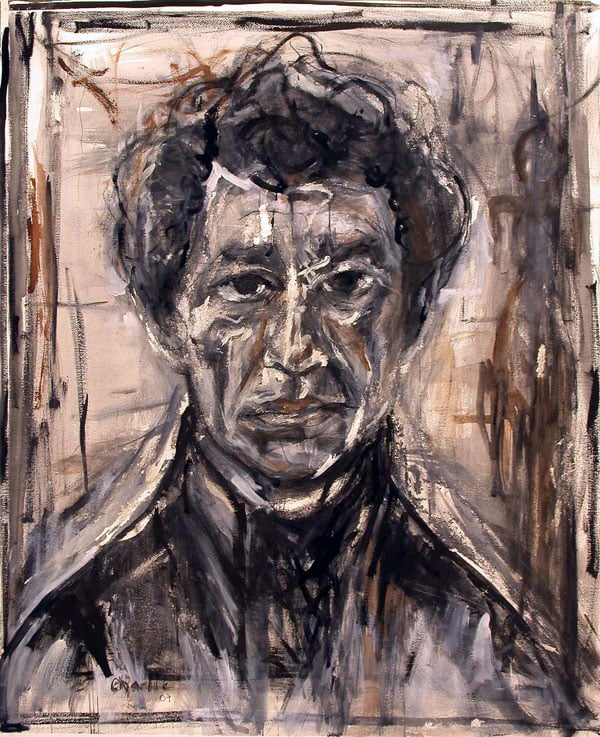 The Bechtler Museum's exhibition Giacometti, Memory and Presence is about to end, so I headed over on a Sunday afternoon to check it out one last time. I do love a chance to visit the museum, with its crisp architecture, polished concrete floors and floating white walls — really, they don't intersect.
The first room introduced the show with wall text that pressed connections between Giacometti and the Bechtler family and sadly made the first of two mentions of Giacometti's market value (second mention was in the audio tour).
I learned the artist had a great family life: an encouraging and skilled artist father, a mother whom he portrayed often, and siblings Bruno and Diego who also adopted creative professions. An oil painting by his father, Paysage enneigé (1908), was thick with creamy but choppy brushstrokes, a method copied in watercolor by Alberto in Navire à Venise in 1920. The opposite wall was lined with images of family and interiors, which showed Giacometti's true skill as a draughtsman, a talent commonly overshadowed by his more popular sculptures.
The next room gave text on Giacometti's 1922 move to Paris and the career that followed. Opposite, a picture enlarged to fit the entire wall showed the crazy-haired artist in his Paris studio. The audio tour informed me that he struggled financially for quite a while, even borrowing money from friends and taking commissions for decorative art from interior designer Jean Michel Frank. The right wall was lined with vitrines holding small sculptures and a white sconce in the shape of a mask, a Frank commission he probably wouldn't have created otherwise. Opposite, small gold studies for the Chase Manhattan Bank plaza in New York City are the first example of Giacometti's signature sketchy, solitary figures (the commission fell through).
I'll call the next room The Annette Room because it was filled exclusively with sculptures and drawings of his muse and much younger wife. Two sculptures of Annette kneeling like an Egyptian pharaoh faced into the next room, where another kneeling man looked back. I thought this was a clever display. The last rooms of the show had great examples of Giacometti's token molded busts and figures, a real highlight.
Entering the last room I was a bit confused. Wall text about Alberto's brothers Diego and Bruno accompanied work by each: a platform with furniture by Diego, and Bruno's hand drawn plans for a St. Moritz chalet that Hans and Bessie Bechtler commissioned. However, awkwardly flanking either side of the display was unrelated art by the likes of Johns, Calder, Miro, and Tinguely.
The mystery of the museum as a whole is its deceptive size, and I'm not alone in thinking this. I overheard another visitor say, "I just don't understand how this building can be so big on the outside and so small on the inside." Thankfully, if it keeps putting on exhibitions like this, dedicated to educating the public about a very influential artist of the 20th century, it won't have to justify itself. Its days are numbered, but Giacometti, Memory and Presence is worth the trip if you can make it.
The exhibit ends Friday.