A Wall of Memories at Pura Vida Worldly Art
Inside a NoDa gift shop, mourners leave mementos for loved ones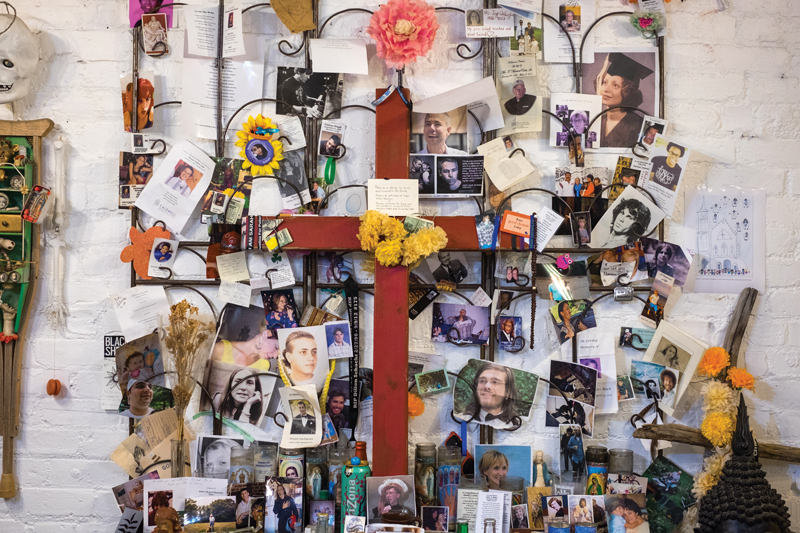 THE CORN BREAD never gets stale.
The square hunk of yellow bread is wrapped in aluminum foil, waiting to be eaten.
Nearly every week, a woman walks into the back room of Pura Vida Worldly Art in NoDa, where the store's owner, Teresa Hernandez, has kept a shrine to Charlotte's dead for six years. And nearly every week, the woman exchanges the untouched corn bread for a fresh, homemade piece.
The corn bread sits next to a box of Nerds, which sits next to an opened pack of Marlboro 100S with two cigarettes left inside, which sits next to a plastic horse named Bubba.
There's an ultrasound picture here, too. The grainy, black-and-white picture lies atop an infant-sized sock.
Hernandez doesn't know the stories behind most of the items left behind on the shrine. She lets people grieve in private.
The empty bottle of Patron tequila, the Charlotte-Mecklenburg Schools lanyard, the bottles of pineapple and lime Jarritos soda, the tobacco canister with a $2 bill and a Pabst Blue Ribbon cap tucked inside, they're all mysteries.
But taken together, the items tell a story.
Hernandez, who was born in Mexico, began the shrine as a Día de los Muertos exhibit a decade ago, celebrating famous dead artists and musicians. For about four years, the weeklong exhibit grew in popularity, and people began bringing in pictures of their own loved ones. Hernandez didn't want to lose any of the pictures or objects left on the shrine, so she decided to leave it up throughout the year.
Six years later, the shrine is no longer just a table with candles burning and a few pictures. Now it includes an 8-foot-tall trellis from Hernandez's garden, covered all the way to the top with pictures of the dead and everything from guitar picks to banana split cake recipes.
Money covers the shrine, too.
Quarters, at least $17 in singles, and a cup full of coins.
One quarter was left by a woman whose mother had the coin in her pocket when she died. How does someone part with an item such as that? "Maybe it's a way to say, 'I'm OK with it,' " Hernandez says. "To say, 'Mom, you're with all these other people now. It's OK.' "
All kinds of people visit the shrine, including children. A handwritten note on an index card in red crayon grieves for "Ms. Joy Washington, my preschool teacher and good friend."
Teenagers leave cans of Arizona iced tea for Barry Bowe, the late principal of Northwest School of the Arts, who often drank from the teal green cans. Most people visit the shrine just once. Others return again and again.
Hernandez watched one group of people bring cigarettes and a lighter to leave at the wall in memory of another friend. But over time, the items would disappear, swiped by strangers looking for a smoke. Undaunted, the group kept replacing them. They brought more cigarettes and another lighter. "One day I said, 'I'm so sorry people keep taking these cigarettes,' " Hernandez recalls. "And they said, 'Oh, I'm sure he wouldn't mind. He's the kind of person who would want to share his cigarettes.' "
---
This article appears in the December 2015 issue of Charlotte Magazine
Did you like what you read here? Subscribe to Charlotte Magazine »
---