A Wedding at Biltmore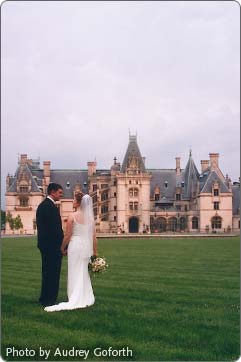 I can't imagine anything more beautiful than a wedding at Biltmore Estate. Growing up in the mountains of western North Carolina, I have visited the Biltmore House several times and taken many tours. It is our very own castle just a few hours away and wows me every time. With over 8,000 acres of land, you can explore many different areas of the estate, including the Biltmore House, the Gardens, the Winery, and the Biltmore Inn.
Biltmore offers several venues for your wedding, with locations to house anywhere from 20 to 550 guests. If you book a wedding at Biltmore to take place now through March 2012, you can enjoy several benefits, including a complimentary two-night stay at the Biltmore Inn for the wedding couple!
Here are just a few of the wedding venues located at Biltmore:
Diana at Biltmore is an outdoor locale that offers a view of the Biltmore House and can accommodate up to 550 guests.
Lioncrest offers an open-air veranda as well as a luxurious ballroom and can fit up to 400 guests.
The Deerpark Restaurant boasts a garden courtyard with indoor dining and can seat up to 200 guests.
For more details and to browse more locations, visit www.biltmore.com/weddings.