Accept With Attitude
The quirky RSVP card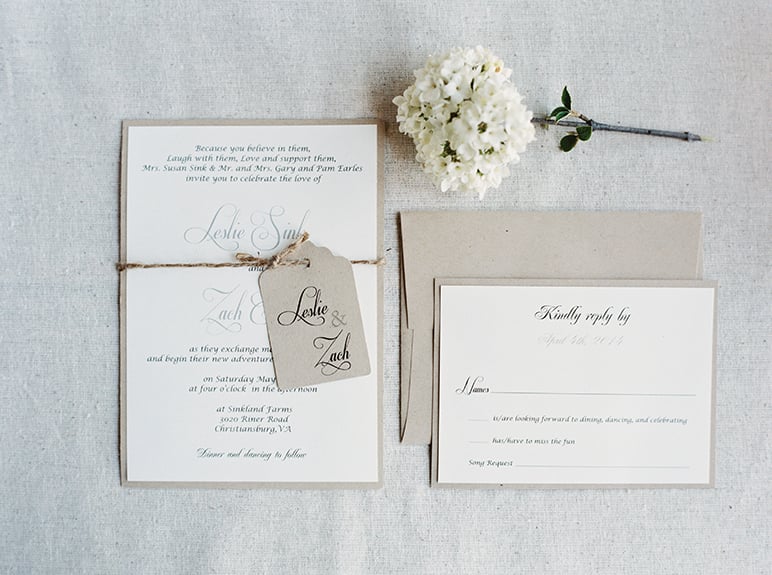 More and more, brides are stuffing their invitations with sassy, creative RSVP cards that go above and beyond the standard "pleasure/regret," "meat/fish" check boxes—a trend worth adopting. After all, inventive reply cards let your guests have some fun as they mark their calendars and set the tone for the awesome time that awaits them. We chatted with Ashley Culicchia Cash, owner of the Charlotte-based event planning company The Graceful Host to find some cool, fresh ideas for jazzing up your RSVPs
Why So Serious?
Guests will get a good chuckle out of any play on those stuffy, traditional responses. "Really infuse your personalities into the reply options and let them have fun with it," Cash says. For a small dose of snark:
Accept with pleasure
Accept with apprehension
Accept with devious plans
Decline with regret
Decline with relief
Decline with total indifference
Other:
Let Them Color
Cash has had brides take the entire design of their RSVP card outside the palette box. "I've had a bride send an RSVP card on black card stock with gold foiling, so we included white gel pens for guests to use," Cash says. This gives guest a keepsake and the invitations a more playful feel. You could also ask guests to draw pictures of themselves (or you and your fiancée) for a sweet, special display at the reception.
Mad Lib It
For pure fun, have your guests participate in a mad lib—have them each write down a noun, verb, or adjective (just one!) and create a goofy, mad-libbed toast for your big day. ("We're so happy that all our sea turtles were able to twerk today.") You don't even have to read them aloud if you'd prefer not to—you can have them printed for guests' seats or to take home with their favors.
Crowdsource the Music
Nothing guarantees a packed dance floor like simply giving the people what they want. Ask your guests what they'd like to hear at the reception, and assemble your playlist from those selections. (Try: "I promise to dance if you play _______ by _______"). You're bound to wind up with crowd-pleasing oldies, Top 40 hits, obscure favorites, and, most important, your guests' unbridled boogie on the dance floor.
Map 'Em
If you've got guests coming from all over, commemorate the distances everyone traveled to celebrate with you. Have your guests either mark their home location on a map or simply write down where they traveled from, and use that to create a "guest map" in place of a guest book—perfect for framing afterward.