Actor's Theatre Announces 2012 Season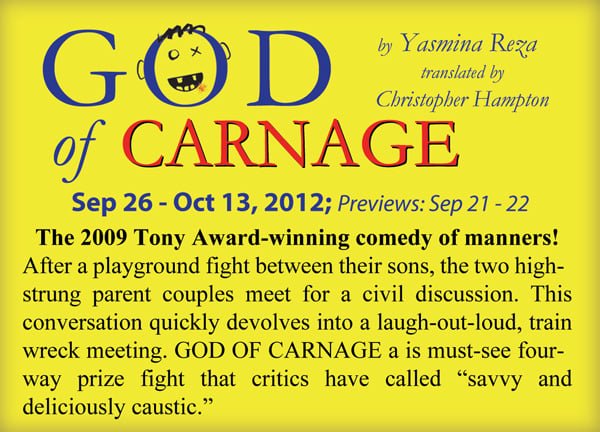 Actor's Theatre recently announced a powerful line-up for its twenty-fourth season. The season opens in September 2012 with the Tony Award-winning comedy God of Carnage, by Yasmina Reza. After a playground fight between their sons, two Type A, overachieving couples meet for a discussion that turns into a grown-up version of a playground fight. It's anything but civil.
Next up is John Logan's 2010 Tony Award-winning Red. This recent Broadway hit is a provocative portrait of expressionist Mark Rothko's ambition and vulnerability. In the play, Rothko just landed the biggest commission in the history of modern art. Over the course of two years, he and his assistant work to perfect his masterpiece.
Third in the season (and perfect for the holiday season) is The Winter Wonderettes, a musical by Roger Bean. It's the feel-good follow-up to The Marvelous Wonderettes from ATC's current season. The girl group will sing "O Tannenbaum," "Mele Kalikimaka," and other holiday hits.
Playing in February and March is a tale of loyalty, deception, and deliverance in the form of Matthew Lopez's The Whipping Man. A Jewish Confederate soldier returns home to find rubble and two former slaves. As these men come to understand each other, they uncover a web of deceit that might cost each his freedom.
The Exit Interview by William Missouri Downs is a National New Play Network world premiere. Professor Dick Figg's exit interview gets off to a bad start, when a masked gunman rampages through campus. It may not sound like it, but it's a comedy.
Closing the season in June 2012 is The Divine Sister by Charles Busch. This twisted tale involves a resolute Mother Superior trying to build a new school for her convent when she re-encounters a former suitor intent on leading her astray.
Early bird season subscriptions are now available; prices range from $78 for a preview package to $114 for a six-ticket package. The flexible package allows you to use the tickets in any way you choose. Take five friends to one play. Take a date to three plays. Go to all six yourself. Visit www.actorstheatrecharlotte.org to order tickets or learn more.