Actress Corinne Littlefield Performs in Style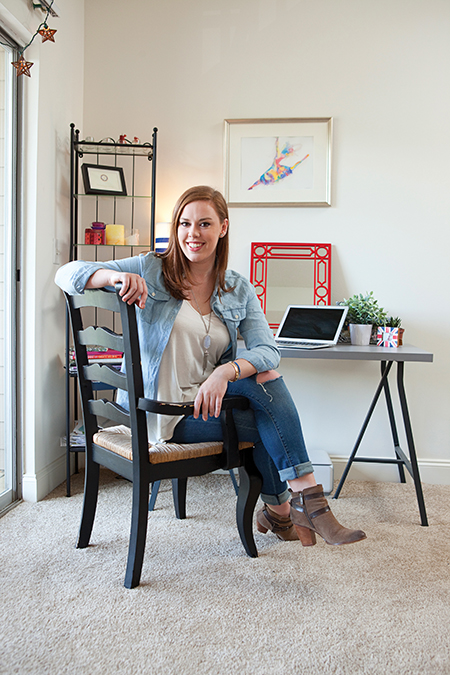 WHEN HER rehearsals end well past midnight, actress Corinne Littlefield likes to sit at her dining table with a glass of Maker's Mark on the rocks and a pile of puzzle pieces in front of her. Clapboard houses, a waterwheel, and carriages in a New England village begin to take shape. She's done this since childhood; "puzzling," she calls it. After singing, dancing, and acting, it's a soothing way to unwind.
The puzzle scene is not unlike her Connecticut hometown, a charming, historic place. New Canaan is home to the New England Academy of Dance, where Littlefield studied dance almost every day of the week (she started ballet at age five). In high school, she landed a role in the school's production of Guys and Dolls that cemented her passion for musical theater. Tall, with long, dark hair, she has powerhouse vocals.
She moved to Charlotte two years ago, when she was 23, hoping the city would provide better opportunities than London and New York, where she'd interned and worked, respectively. "I knew there was a good theater community, and I just took a leap of faith."
Last year, she played Nancy in Central Piedmont Community College's summer theater production of Oliver!, and this month she'll appear as both nun and nightclub singer in CPCC's Sister Act. She can be dramatic; she can be funny. In June she was in Chicago; in May, she appeared in Queen City Theatre's production of the campy musical Heathers.
It's hard to grasp how a person could memorize so much material in such a short time. Fresh air and exercise help—Littlefield has already knocked out every trail at Crowders Mountain. After hiking, she heads home to put together her character like a puzzle, one piece at a time.
---
CATH KIDSTON BACKPACK// Nostalgic floral prints populate this London company's fashion and accessory lines. Littlefield's Confetti Daisy Foldaway Backpack is a good size for day hikes to the North Carolina mountains, with side pockets for water bottles and a front zip pocket for small items.
---
AMERICAN THEATRE MAGAZINE// For inspiration, Littlefield framed these covers of American Theatre magazine. Look closely and you'll see they're addressed to J.R. Sullivan, the former artistic director of Off Broadway's Pearl Theatre Company, where Littlefield interned during college.
---
LADUCA SHOES// Handmade of Italian leather and worn by the Rockettes, LaDuca shoes are Broadway's gold standard. Designed by Phil LaDuca, dubbed "Broadway's Gucci" by The New York Times, a new pair will set you back $200 or more. "My feet wouldn't survive without them," Littlefield says.
---
ELLA B. CANDLES// "I have a slight obsession with candles," Littlefield says. These are made in Charlotte; her favorite scents are No. 10 Sea Mist & Jasmine and No. 11 Lemon Zest & Vanilla. "They smell amazing and burn beautifully."
---
PUZZLES// Paintings by Charles Wysocki are among Littlefield's favorite puzzle subjects. "Where I grew up in Connecticut is like a Norman Rockwell painting," she says. "On Christmas Eve, the whole town goes caroling outside the churches." Filmmakers have spoofed the town's perfection; it was featured in the 2004 movie The Stepford Wives.
---
F&M BASKET// This vintage picnic basket from Fortnum & Mason, a British department store, was a gift from Littlefield's mother. The family has close ties to England and visits often; last September, they went on a walking tour of Surrey. F&M are also the initials of Littlefield's alma mater, Franklin & Marshall College.
---
This article appears in the July 2016 issue of Charlotte Magazine
Did you like what you read here? Subscribe to Charlotte Magazine »
---