Adrenaline Rush Rave, Flip Cup Friday, Dinner Crawl, Queen City Brewers Fest, Super Bowl Parties and More, Jan. 29-Feb. 1
As January comes to a close, come out to these events to make February all that much sweeter.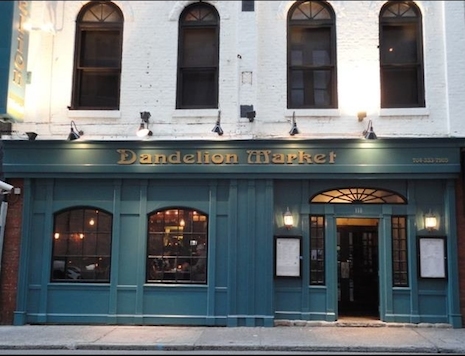 January has come to an end already, Charlotte. Let's welcome February with a big bout of Queen City love. Here are some events that'll make the weekend that much sweeter. See y'all out there.
Thursday, January 29
Young Professionals at International House Kickoff
Join this group of, you guessed it, young professionals for craft beers and networking as it kicks off the year with special guest Roger Baumgarte, author of "Making Friends Across Borders: Pointers on Cultural Diplomacy." The free networking event is from 5:30 p.m. until 7:30 p.m. at Craft Growler Shop and Tasting Room, 1320 S. Church St., ihclt.org
Adrenaline Rush (Rave): Party Like No Other
BAR Charlotte is at it again with "the biggest rave party to hit the Carolinas." Party promoters say more than 1,000 will be here. Attendees can enter a contest to win admission to a "celebrity" CIAA Week party in February. The party starts at 10 p.m. 300 N. College St. RSVP and buy tickets for $10 here.
Friday, January 30
Flip Cup Friday
You'll feel like you're back in college for this one. Join Prohibition and RockHouse Events for a Flip Cup tournament and a chance to win $250 for your team. Enter your team of five for $20 and get the first round of beer free. Your entry guarantees you at least three rounds. Check in starts at 7:30 p.m. and the tournament starts at 8:30 p.m. 200 N. Tryon St., rockhouseevents.com.
Dinner Crawl
The Awesome Adventures Meetup Group is taking you around the world in a whole lot less than 80 days. A $15 meal ticket gets you appetizers at Blackfinn, a special "Taste Your Way Around the World" offering at Whisky River, dessert at Rooftop 210 and free admission into Bubble at the end of the evening. Check-in starts at Blackfinn at 7 p.m. Pay at the event. 210 E. Trade St.
Taste Your Way Around The World
If you want to stick around in one place and eat your way across the globe, Whisky River has a special "passport" for you. Sample food and cocktails from across the globe from 8 p.m. until 10 p.m. Don't forget to get that passport stamped. Your trip starts at 210 E. Trade St. Buy tickets here.
Styles and Complete
Featuring Boy Beats World and Kyle Biddy, Label's Friday night party is letting you in for free before 11:30. The party starts at 10 p.m., so don't be tardy. 900 NC Music Factory Blvd. Don't forget to RSVP here.
NASCAR Hall of Fame Induction Ceremony
Come join some famous faces as the racing world inducts Bill Elliott, Fred Lorenzen, Wendell Scott, Joe Weatherly and Rex White into history. Prior to the ceremony, a special commemorative dinner at the Charlotte Convention Center, which adjoins the NASCAR Hall of Fame, will feature the annual inductee jacket presentation and Squier-Hall Award for NASCAR Media Excellence winner. Fans can buy a seat at a table with a NASCAR Sprint Cup driver. After dinner, the Induction Ceremony will be in the Crown Ballroom at the Charlotte Convention Center and be broadcast live on NBC Sports Network. Tickets start at $45 for general Induction Ceremony admission. The ceremony begins at 8 p.m. The NASCAR Hall of Fame is at 400 East Martin Luther King, Jr. Blvd. and the Charlotte Convention Center is at 501 S. College St. Buy tickets here.
Saturday, January 31
Queen City Brewers Fest
ACEing Autism put together this collection of craft breweries, local artists and live music to help fund its organization working to help autistic children becomes aces on the tennis courts. There are two different sessions, one from 1 p.m. until 4 p.m. and the other from 6 p.m. until 9 p.m. Tickets are $40 per three-hour session and include unlimited beer tasting, food samples and live music. Bojangles Coliseum, 2700 E. Independent Blvd., qcbrewfest.com/buy-tickets qcbrewfest.com/buy-tickets.
Charlotte Minicon 2015
Holy convention, Batman! Charlotte's longest-running comic book convention is in town this weekend. Admission is free with registration and a donation of a non-perishable food item. Bonus: wear a costume for a chance to win a prize. Grady Cole Center, 310 N. Kings Drive. Register here.
Hands-On Cocktail Class
If cocktails are more your style, head over to Dandelion Market for a cocktail-making class. Taught by Dandelion Market's Zy Bradley, bartenders-in-training will make three cocktails, each paired with food. Attendees also receive a gift from Good Eats. Tickets are $40 per person or $75 per couple. 118 W. Fifth St. Class starts at 2 p.m. and lasts until 5 p.m. Buy tickets here.
NASCAR Fan Appreciation Day
Kick off this year's NASCAR cup race with a day of free admission to the NASCAR Hall of Fame. Famous NASCAR drivers will be in attendance. Open from 8 a.m. until 5 p.m. 400 East Martin Luther King, Jr. Blvd., nascarhall.com/events/fan-day-2015.
Signature Saturdays
Taking place the second and last Saturday of every month, this edition will feature live jazz by a local band followed by music from DJ Ngenius. Drink specials include $6 martinis and $99 Moët bottles, and the food menu is available until midnight. Presented by Eddietainment. 9 p.m. until 2 a.m. Free admission before midnight and VIP tables are available. Vapiano, 201 S. Tryon St., eddietainment.com.
Global Soul Dance Party
Dance your way around the world at this event featuring Brazilian, Afrobeat, samba, salsa and more. Admission is $5 before 11 p.m. and $10 after. Petra's, 1919 Commonwealth Ave., petraspianobar.com.
Sunday, February 1
Super Bowl Parties
The name of the game today is Super Bowl Sunday. Check out Dusk Till Dawn's list of Super Bowl parties around town.
Verify dates, times, prices, and other info at the web addresses listed for each event.
Be sure to bookmark www.charlottemagazine.com/Blogs/Dusk-Till-Dawn to stay plugged into Charlotte's nightlife and social scene. Click here to sign up to receive the weekly Dusk Till Dawn e-newsletter.
Want your event featured in Dusk Till Dawn? Follow me on Twitter @Jared_misner and let me know about your event, or send me an email at dusktilldawnblog@gmail.com.