After 16 years, Hops in Matthews closes down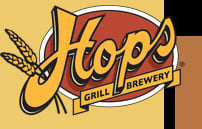 When Hops opened in 1997, the restaurant/microbrewery needed a head brewer. John Bradford applied, despite having little experience. Like many brewers before him, Bradford got his start brewing beers at home. However, he had only been doing it for six months.
"I guess I made a good impression," he laughs.
And Bradford remained the restaurant's only brewer for 16 years, right up until last week, when Hops closed its doors for good. It marked the end of a long journey for both Bradford and the microbrewery. And like many journeys, it was filled with ups and downs.
The East Independence Boulevard location in Matthews marked the 19th microbrewery Hops opened in North Carolina, at the time. (The company started in 1989 with several Florida locations.) While Bradford was working there, at the same time he was earning his degree from the American Brewers Guild.
When he first started out at Hops, the microbrewery was getting a bad rap. For one, they were using dry yeast in beers, and there were a few recipes that used corn syrup.
"Basically, we were using inferior products," Bradford says.
But Bradford helped convince the corporation to change its ways, and soon after Hops rolled out a liquid yeast program and got rid of the corn syrup, brewing all malt beers.
Bradford also had to fight against the theory that all of Hops' beers were "basic," rather than what you're seeing many breweries do today with one-offs and seasonals.
"Every brewery, I don't care who it is, have set recipes that they follow because it's like a brand," Bradford says. "We had a good, solid board of 20 beers we would rotate. We had our four core (beers), but we were also the only (location) that had a pale ale year-round. I take pride in that's one thing I was able to accomplish. At the time, we weren't trying to go after the beer crowd, and that's where I came in, trying to show the craft beer world what we're doing.
"But the unfortunate part was we had 8 taps, but could only run 6 beers at a time. I could never figure that out. It was extremely tough at times; you felt like you were handcuffed."
At one point, Hops was a flourishing brand, with more than 75 restaurants throughout the nation. But trouble began in the early 2000s, and eventually the parent company filed for bankruptcy.
"They just grew too fast, (other locations) were hiring brewers who (formerly) were servers and cooks with no professional training," Bradford says. "At one point, (corporate) was trying to change from an American bistropub and brewery to an Asian fusion restaurant. Suddenly, our three top-selling items were off the menu. It was practically suicide. Honestly, I feel like they gave up about 5 years ago."
There was a small silver lining in the corporation's decline for Bradford, and that was the ability to let him brew new and different beers, such as the cask ESB that Hops had at this year's QC BrewFest and also a winter ale.
"They eased up on the reins the last two years, which was nice," he adds. "They were letting me try something different. But unfortunately, the damage was done a long time ago."
The news of the Matthews Hops location closing came quickly (there are now just three locations left in the country), with many employees finding out only four or five days prior to the company's final day. Bradford, though, was wise enough to already have a plan in place.
"Back in 2003, after the first bankruptcy, I saw the writing on the wall," Bradford says. "So I got my real estate license, and that's how I began making my money. So I'll keep pursuing that."
Bradford plans to continue homebrewing while working in real estate and, while he didn't rule out a return to brewing on a larger scale, it would have to be the right fit.
"I just don't know if another brewing job is the right avenue for me," he says. "Many don't know this, but there's not a ton of money in making beer, so unfortunately I don't know if I can support my family doing that alone.
"But brewing has always been a passion and a hobby of mine, and later became something I got paid for. That was a dream, no doubt. So I wouldn't say the door is all the way closed. I'd definitely love to be a part of helping somebody starting out, being their source material and through consulting."